To all parents out there, it is a great responsibility for choosing a good baby carrier, not only comfortable for your kids but also for yourself. Of course, it's very tough to take care of your kids when they can't walk yet so you need to find the baby carrier products that makes your daily life easier.
There are different types of baby carrier products, but we will introduce you to the best quality and comfort for both babies and parents. You can keep a very close eye on your kids.
10. BabyStep 6-IN-1 Ergonomic Baby Hip Seat Carrier
Carrying your little one has never been easier or more comfortable with this ergonomic baby carrier that offers six different positions based on your child's age. For babies at least three months old, you can carry them in the front inward position, while front-outward is suitable for those six months or older. For a single strap option, it is recommended for at least three months. Additionally, there is a hip seat and back carry option for those at least six months old. You can trust this carrier as it is made with strong cotton and polyester fabric that can accommodate any size and weight.
9. Boba 4G Carrier
You won't need an extra bag to carry all your baby's essentials with the Boba carrier. It has plenty of pockets, including a zippered one for your phone or credit card. You can adjust the chest strap to your comfort level, and it even has removable foot straps and a customizable sleeping hoodie.
8. Baby Carrier-Ergonomic 360
This particular style of baby carrier has received an impressive rating of 4.7 out of 5 stars. It boasts several improvements from its previous version, such as thicker shoulder straps and two safety buckles, which have earned the trust of many customers. The carrier also comes with various features to accommodate babies of different ages, including a newborn, front seat, hip seat, and hooded carrier. This carrier, known as 4cutebabies, offers convenience for parents who can take their child with them whether they stay at home or go outside. It is suitable for babies aged from 0-36 months, and an instruction manual is provided upon purchase.
7. Evenflo Breathable Soft Carrier
There are two positions for the baby when using this carrier – facing in or out. The carrier is designed for babies who can hold their head and neck up unassisted. The exterior fabric is vented and playful, which creates a comfortable feeling for your little one. The carrier is also machine washable, so you don't have to worry about accidents. It is highly adjustable, making it perfect for toddlers as well. Many mothers have praised Evenflo because it doesn't constrain their baby's legs.
6. Infantino Cuddle up Ergonomic Hoodie Carrier
Want to make your baby look cool and stylish? Try this carrier with a removable hoodie design! It can hold babies weighing from 5.4 to 18.1 kilograms, and parents can adjust the size to fit their body with the waist belt. The weight is transferred to the hips for a comfortable fit. One mother, who owns four different stretch wraps, is obsessed with this carrier. Give it a try and see for yourself!
5. Baby Wrap Ergo Carrier Sling – by CuddleBug
This cuddle wrap is perfect for your baby as it provides a warm and close space between the child and the parent, promoting a sense of familiarity and strong connection through the sling carrier. Made with soft French Terry Cotton and Spandex, this wrap ensures your baby's safety with a postpartum belt and adjustable heat regulation suitable for both warm and cold weather. With this wrap, breastfeeding will be easier and more convenient for you and your baby.
4. Infantino Flip 4-in-1 Convertible Carrier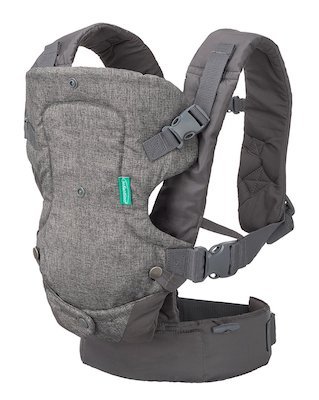 You will be impressed by the versatility of this baby carrier, which allows you to position your baby in four different ways: facing inward in both a narrow and wide seat, facing outward in a narrow seat with head control, and back carry in a wide seat. The convertible seat can be adjusted to fit the wearer's size, with adjustable leg openings, straps, and waist belts. Additionally, the carrier comes with a wonder cover to protect both the carrier and clothing.
3. Six-Position, 360 Degree Ergonomic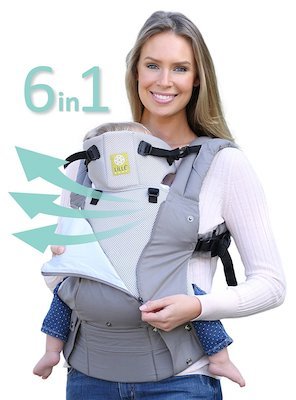 Your baby can stay peaceful and comfortable in these six-position carriers all year round. These carriers are suitable for newborns and infants, as they are supportive and lightweight. The breathable mesh allows air to flow through, while the 100% cotton fabric provides a comfortable environment for your baby. Additionally, these carriers are designed with lumbar support, headrest, adjustable hood, zippered pocket, dual adjustment, generous padding, and more. Many parents appreciate the convenience of being able to carry their baby in six different positions, providing them with peace of mind.
2. Infantino Flip Front 2 Back Carrier, Black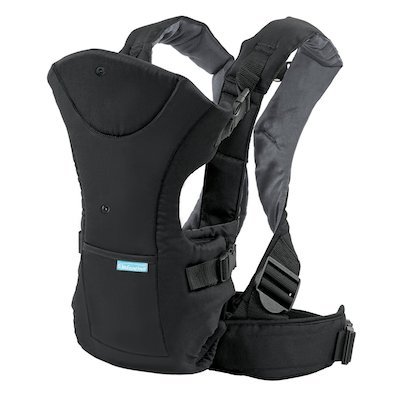 Are you experiencing shoulder pain from carrying your infant all day? The Infantino adjustable lumbar support can alleviate the pressure on your shoulder, making it feel weightless. With dimensions of 10.2 x 12.6 x 3.9 inches, it provides a perfect and compact size for both the baby and parents. The Breathe Mesh material promotes air circulation and adapts to changes in weather. Enjoy all-day comfort with the extra padded strap included.
1. Ergobaby 360 All Carry Positions
This product is an excellent choice for parents as it can be worn in multiple positions and is suitable for all body types. It features a wide wrap-around waistband that supports the lower back and helps alleviate pressure while carrying your child. The design is also great for breastfeeding and includes UPF 50+ protection from sun and wind. Customers who have used this product have provided positive reviews, expressing their love for it.
Conclusion
Your infant is waiting to receive a very warm and heart beating of your body as a parent so let provide them this great feeling of getting close to you. All these top 10 best baby carrier products are amazing and comfortable. No matter where you go, you don't have to be worried about leaving your baby at home anymore.
Best Variable Temperature Heat Gun Review | Detail Indoor Steam Sauna of 2023 | Best Combo Shower Head in 2023 | Detail Rectangle Cake Pans of 2023 | Best Loaf Pans | Best Corner Tv Wall Mount Review | Best of Picture Frames in 2023 | Best Floor Lamps in 2023