Are you tired of labeling a large number of products and having difficulty organizing or tracking inventory? Owning direct thermal label printers is the best solution. Although labeling can be difficult and time-consuming, direct thermal label printers will become handy and make the whole process even smoother. Moreover, a label printer is a great investment for the business which can save time and efficiency in organizing and tracking inventory.
If you are struggling to choose the best direct thermal label printers with numerous options available on the market, we are here to help you. These top 9 label printers and a handy product buying guide will assist you.
9.ZEBRA ZD410
The first direct thermal label printer on the list is from ZEBRA known as ZEBRA ZD410. This product has a dark grey color that weighs around 2.2 pounds. It can be connected through both Bluetooth and USB easily. Moreover, it is very compatible with thermal tag rolls with an inch's core, 5 inches' max diameter, and 2.36 inches' width of max media.
You can use this machine to print papers, but you can also use it to print the tags, labels, wristbands, and tags as well. Additionally, this printer is perfect to use in the big business. Plus, it is also troubleshooting and easy to use.
8.ZEBRA GK420d
Another product from ZEBRA that is also one of the high-quality Thermal Label Printers is known as ZEBRA GK420d. Black is the only color that has been offered. This printer can be connected with a USB, parallel port, and serial. In one second, the paper this printer could print out is about 5 inches. Besides, you can save some money as you do not need to spend money on buying toner or ink because to print paper, it uses thermal technology or thermal label rolls.
This printer can be used to print mails, barcodes, addresses, file folders, binder labels, receipts, name tags, shipping, wristbands, and more. Last but not least, it is compatible with Mac OS, window, Linux, and more. The company provides a 90-day warranty to every buyer.
7.ZEBRA GC420d
ZEBRA GC420d is another worthy investment that should be on your to-buy list. CE and FCC approve this printer. The power of this printer is about 20 V. You can connect this product with a parallel port, USB, or serial. Furthermore, this device does not use toner or ink to print paper but use thermal technology. It is very easy and fast to use this printer as in one second, and it can print 4 inches of paper at 230 dpi.
Also, it is reliable and durable which you can use for a very long time. This printer can work with window 10, Linux, and Mac 10. You do not need to set it up. You can use this printer to create name tags, addresses, receipts, mailing, wristbands, binder labels, file folders, shipping, and barcodes.
6. DYMO 450
Next up, we have another direct thermal label printer from DYMO 450. Using this printer, you can save a lot of money as you do not need to use your money to buy toner or ink because it only needs thermal printing technology to print papers. Moreover, in one minute, it can print up to 51 labels. It can be used to print name badges, asset identification, shipping, binder, mailing labels, files, and more. It is very easy to use this device as you can directly print the label or file in excel, google contacts, Microsoft word, and outlook.
Additionally, you can connect this printer with USB. The computers that this device can connect to our Mac and Windows. The package also includes a USB cable, adapter, an address label starter roll, and a power cable.
5. MFLABEL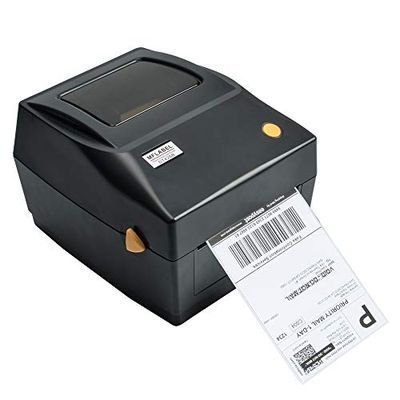 Another highly-rated thermal label printer is MFLABEL. This printer is durable. and reliable. The unit can only work with a window computer but not Mac. This device uses thermal printing technology to print labels, and it does not require ink, toner, TTP ribbon which means you save you some money from that. Moreover, it is perfect for those who have small businesses.
Last but not least, you can also use it to print shipping, mail, binder, files, address, receipt, etc. Assembly is required, but it is straightforward and fast to set it up.
4. DYMO 450 Turbo
This DYMO direct thermal label printer is also one of the exceptional products. You can use this printer for multipurpose such as file folders, name badges, shipping, line address, barcode, and more. This printer prints the exact amount of quantities without wasting any space on the paper. Besides that, to print papers, it does not use ink or toner but uses only thermal printing technology.
Besides that, it is portable which means you can move it wherever you want. Also, you can edit or customize your text or file in outlook, Microsoft word, google contacts, or excel. Plus, it can print about 51 labels in one minute. This device can connect with a window computer or Mac through Bluetooth. Finally, it comes with one power cable, address labels starter roll, USB cable, and one adapter.
3. ROLLO
ROLLO is not any less desirable than the above picks. The printing speed of this printer is very fast, as it is twice as fast as other regular printers. Moreover, you can get to save money as well as when you use it, you do not need to spend money on buying a costly toner or ink, and this machine will print paper by using thermal technology. It is perfect to use it to print bulk mailing labels, shipping labels, barcodes, warehouse labels, receipts, ID labels, files, and receipts.
You can connect it to a USB. Adding to that, it works with Mac and Windows computers. You need to assembly this device, but it would be very quick and fast. The label that is produced by this printer could go up from 5 to 5000 labels per day. It is strong, reliable, and durable. This machine is ideal for shipping couriers. Lastly, this product is suitable to use in both small and big businesses.
2. NETUM
One of the most amazing thermal label printers is NETUM. You can use this machine to print the address, receipt, file, folder, binder labels, shipping, name tags, and wristbands. Additionally, to prevent it from overheating, they have added a big heat dissipation to this device. It is also resistant to any slip as at the bottom of this printer, and there are 4 anti-slip mats. It is small and portable which you can easily move around.
To print papers from this machine, it does not use a toner or ink but uses thermal printing technology. Plus, you can adjust the size of the paper that is printed as this printer has an adjustable function.
Moreover, it can be used with a Mac and Windows computer. Last but not least, it also supports application areas like bookstores, hotels, tax receipts, express logistics, supermarket chains, clothing industries or other business platforms such as Shopify, eBay, and Etsy.
Furthermore, its printing speed is very fast; about 150 mm per second. In each package, it will include one user manual, driver software and setting guide. Finally, it needs assembly, but since a user manual is provided, it will make it easier for you to set up the unit.
1. Arkscan
The first place on our list is the direct thermal label printer from Arkscan. This printer is of multiple uses as you can use this as a barcode label, shipping label, product label, receipt label, etc. It has a high printing speed as it prints papers about 5 inches in one second.
With this printer, you do not need to use toner or ink, but you will need to use thermal printing technology. This device can print the shipping label for shipment work on Shopify, UPS world ship, PayPal, ShipGator, EA, Shippo, SY, and more. This product supports both Mac and Windows so that it can be connected through a USB.
---
Buying Guide
Here are some the important things that you should consider before deciding to purchase a direct thermal label printer:
Speed: Speed is an element you should look into if you want to create a large number of labels in a short period of time.
Size: The two sizes that you should look for are the direct thermal label printer size and label size because that can determine what sizes that fit your criteria the best.
Volume of Output: Depending on the output volume you want to print, choose the size of a direct thermal label printer that can perform within the range of your desired output volume.
Compatibility: Your product should be compatible with many software.
Resolution: The higher the resolution, the better it is.