If your cakes/bread always gets stuck to your old loaf pan, maybe it's time to get a new one. We will list the best loaf pans for your kitchen. Each loaf pan has different looks and distinct benefits. Please take a look at them below.
Best Selling Kitchen Loaf Pans
12. OXO Good Grips Glass Loaf Pan
In addition to the traditional steel loaf pan, some may prefer a glass loaf pan. The OXO Glass Loaf Pan measures 6 inches by 10 inches and features safe grip handles, making it perfect for baking bread, cakes, and other recipes. This pan is thermal-shock-resistant and can go from the refrigerator to the microwave or oven without cracking. It is also BPA and PVC-free, providing peace of mind when cooking for loved ones.
11. Rachael Ray Non-stick Steel Loaf Pan
The Rachael Ray Loaf Pan is a fantastic addition to any kitchen. It lets you easily bake various dishes like cakes, bread, and meatloaf. This is thanks to its ability to withstand high temperatures of up to 500°F and its durable non-stick coating. Measuring 9 inches by 5 inches, the loaf pan also features easy-grip handles that make it simple to take out of the oven. Its steel construction maintains and enhances heat without emitting harmful substances at high temperatures. You'll be amazed at how amazing this loaf pan truly is. Purchase one today to create mouth-watering dishes for your loved ones!
10. Dobi Aluminum Foil Loaf Pans, Set of 50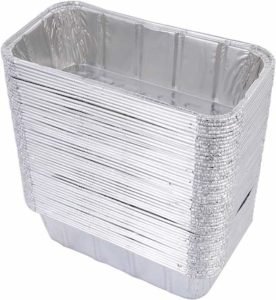 Allow us to introduce the Dobi Aluminum Foil Loaf Pans. These pans come in a pack of 50 and are made of sturdy disposable aluminum foil. They provide great support for bread when rising, resulting in stunning loaves. The aluminum construction ensures even heating and browning, making them ideal for various dishes such as cakes, meatloaf, quiche, lasagna, and side dishes. These pans are eco-friendly and recyclable, making them perfect for picnics, portable stoves, and takeaways. Cleaning up is a breeze as you can toss them away after use.
9. USA Loaf Pan Bakeware Aluminized Steel
The next great loaf pan is this aluminized steel Pan (1-pound loaf). It measures 8.5″ x 4.5″ x 2.75″. This heavy-duty loaf pan is made of commercial-grade and heavy gauge aluminized steel. The unique corrugated surface facilitates air circulation for an even baking and a quick release. To maintain the BPA-free coating, hand washing is recommended. You can do so by simply pouring hot water into the sink and wiping the pan dry with a paper towel.
8. CHEFMADE Pullman Loaf Pan with Lip
This will be your first option if you are looking for a commercial-grade loaf pan. CHEFMADE Pulman Loaf Pan has a lid cover that makes baking easier and faster. You will be surprised how great it is to maintain the temperature with the 0.5mm carbon steel, which is non-sticky and requires less oil. This loaf bread pan is 0.99 lb, ideal for making excellent family dishes, desserts, and other delicacies for parties and gatherings.
Additionally, with the PTFE & PFOA FREE, you will not need to worry about safety and health because this loaf pan won't release harmful substances in high temperatures.
7. Cuisinart SMB-9LP Easy Grip Bakeware Bread Pan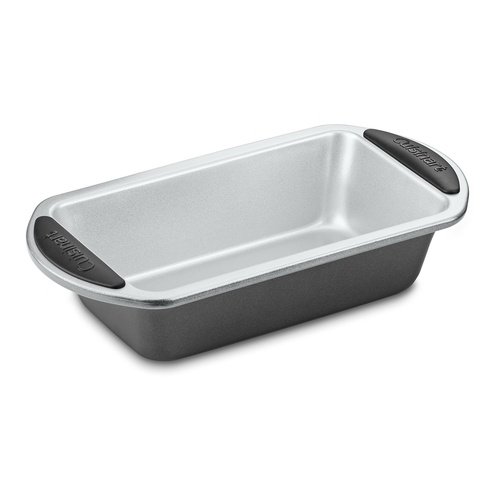 Cuisinart is an aluminized steel loaf pan that gives a fast and even heating in your baking. Its interior is non-sticky even if you forgot to oil the bread pan. The exterior is already coated for easy cleanup. Additionally, the silicon grip handles at the sides give you convenient transport from the oven to the table. This loaf pan is oven-safe to 450 degrees Fahrenheit and has a wide space for baking your bread for safety.
6. Chicago Metallic 2-Piece Healthy Meatloaf Pan
As a 2-piece, this is a 2-pound non-stick meatloaf pan with an elevated perforated lifter. Because of the high perforated lifter, fat will be drained away from the meat while in the making. Moreover, the lifter gives an easy removal of the loaf too. This pan measures 12″ x 5.75″ x 3.3″. And indeed, it has a non-stick coating for easy baking and cleaning up. You can always toss this loaf pan bread and the lifter into the dishwasher for washing.
Related: Top 10 Best Kitchen Cookware Sets.
5. Good Cook Loaf Pans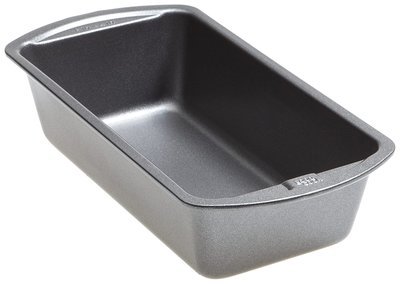 Here is probably one of the most affordable loaf pans on the market. Interestingly, it has 7 different size options from 5×3″ to 9×5″. Whether baking bread/cakes or making side dishes, you can always trust this guy. The thick metal construction does prevent the loaf pan from denting easily. At a great price point, many of the loaf pan's previous customers have reordered this loaf pan so many times already.
4. Wilton Recipe Right Loaf Pans, Set of 2
If you think you'll need 2 loaf pans anyway, why not purchase a set of 2? This set includes 2 loaf pans measuring 12 x 4 1/2 "each. Additionally, this loaf pan guarantees an even-heating performance with the heavy gauge material. It has produced such excellent loaves even for baking beginners. It is offered at a very reasonable price, too. On a side note, this pan does not stick like the others. And cleaning it is a breeze.
3. Farberware Bakeware Loaf Pans, Set of 2
Next, we would like to introduce a bestseller, a set of 2 loaf pans from Farberware Bakeware. These pans are made of heavy-duty steel, providing durability, warp resistance, and superior baking performance. The non-stick coating is coated inside and out, producing excellent baking and browning results and easy cleanup.
It is so sturdy that it can withstand 450 degrees Fahrenheit. However, for long years of use, hand washing is recommended.
2. USA Pan Bakeware Aluminized Steel Hearth Loaf Pan
If you're looking for a relatively larger loaf pan, feast your eyes on this one. It is the USA Aluminized Steel Hearth Bread Pan of commercial grade and heavy gauge construction. It measures 12 x 5.63 x 2.25″. The unique corrugated surface design allows air circulation for an even baking and a quick loaf release. For safety, it is completely PTFE, PFOA, and BPA-free. Amazing pan at an amazing price!
1. USA Pan Bakeware Pullman Loaf Pan
USA Pan is undeniably the top company in this bakeware industry. The last item on the list we highly recommend is the USA Pan Bakeware Pullman Loaf Pan, which is large! This loaf pan gives easy baking perfectly shaped sandwich bread, and it comes in handy during proofing.
Coated with Americoat, this loaf pan provides a quick release of loaves/baked goods and a quick and easy cleanup. The coating is safe for health, too, since it is PTFE, PFOA, and BPA-free. Level up your cooking game with this USA Pan bakeware line loaf pan!
Conclusion
There you have it – a curated list of the best loaf pans in 2023. Almost all of these loaf pans have a product warranty for a limited time. Stop stressing over your indecision. You are ready to bake the most excellent bread with one of these goodies. The Rachael Ray Loaf Pan is a fantastic addition to any kitchen. It allows you to easily bake various dishes, such as cakes, bread, and meatloaf.
How to bake with the loaf pans
When baking with loaf pans, there are a few key steps to ensure that your bread or cake comes out perfectly. Every step is important to get right from preheating your oven to cooling the loaves. Here's a step-by-step guide to baking with loaf pans:
Step 1: Preheat your oven
The first step to baking with loaf pans is to preheat your oven to the temperature indicated in your recipe. This will ensure that your bread or cake bakes evenly and doesn't burn on the bottom or top. Most recipes call for a temperature of around 350 degrees Fahrenheit, but be sure to check your recipe to be sure.
Step 2: Grease your loaf pans
Next, you'll want to grease your loaf pans with oil or butter to prevent sticking. You can use a pastry brush or a paper towel to coat the inside of each pan evenly. Make sure to get into all the corners and crevices so your bread or cake comes out easily.
Step 3: Mix your ingredients
Once your oven is preheated and your pans are greased, it's time to mix your ingredients according to your recipe. This might involve creaming butter and sugar together, adding eggs and flour, or incorporating other ingredients like nuts or fruit. Be sure to follow your recipe closely and measure your ingredients accurately for the best results.
Step 4: Pour the batter into the pans
Once your batter is mixed, you'll want to pour it into the loaf pans. Make sure to evenly distribute the batter in each pan so that they bake evenly. You may need to tap the pans a few times on the countertop to get rid of any air bubbles.
Step 5: Bake the loaves
Now it's time to bake your loaves! Place the loaf pans in the preheated oven and bake for the amount of time indicated in your recipe. You may want to set a timer to ensure you don't over-bake or under-bake your bread or cake.
Step 6: Cool the loaves
Once your loaves are done baking, remove them from the oven and let them cool in the pans for a few minutes before transferring them to a cooling rack. This will give them time to set and ensure they don't fall apart when you take them out of the pans. Once they're cool enough to handle, you can remove them from the pans and let them cool completely on a wire rack.
Step 7: Enjoy your freshly baked loaves!
Congratulations, you've successfully baked with loaf pans! Now it's time to enjoy your freshly baked bread or cake. Serve it warm with butter or jam, or let it cool completely and store it in an airtight container for later. Whatever you do, be proud of your baking skills and enjoy the delicious results!