Heated pet beds do not only keep your lovely cats or dogs warm but also helps to relieve pain from their joints and body. As pet owners, you have to know that pups and senior dogs are not good at regulating their body temperature. That is why heated pet beds are essential for them, and that goes the same with cats. To make it easier for you, we have put together this list of best heated pet beds here. You will find 10 options below, and the choice is all yours.
List of Best Heated Pet Beds
10. Electric Thermo-Pad by ALEKO
The heating element is already a good thing, but the ultra-soft design makes this bed even better. This heated pet bed comes with an internal thermostat that regulates the temperature of the pad automatically. Such function ensures that your pets stay warm in this bed no matter how cold the weather gets. At the same time, it is also warm and cozy to sleep in pretty much any weather as well. The best part is that the outer edges feature the stuffing to add more comfort and security. Plus with the water-resistant and nonslip poly-canvas base, this heated pet bed is amazing.
9. Heated Pet Mat by Farm Innovators
In case you want a heated pet mat for your pet bed, then this is the one. If your pet already has a bed, then all you need is a mat like this to keep them warm. This pet mat works just like the bed except thinner and lighter. It keeps your pet warm thermostatically no matter how cold the weather gets. There is also a red indicator light that shows the operation of the mat so that you know when it works. Not to mention the durable and high impact ABS plastic, this heated pet mat is super tough to have. You can use it both indoor and outdoor, and its quality will not let you down.
8. Heat Pet Bed & House by K&H Pet Products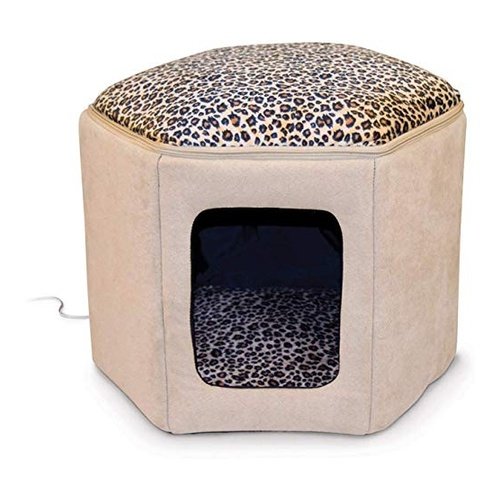 With the combination of both a house and a bed, this option is one of a kind. The awesome thing about this option is the amount of warmth that it delivers along with shelter for extra privacy. Many pets especially cats love a bed like this because they can sleep comfortably inside their own house. This heated pet house features a 4 watts heater that keeps the pet's body temperature warm. The whole unit is very easy to assemble and use, and its quality is simply great. Great performance with a good price, this is one of the best heated pet beds to have in mind.
7. Waterproof Heated Pet by petnf
The awesome thing about this heated pet bed is that it comes with 6 levels of temperature. That allows you to adjust the perfect temperature to keep your pets cool no matter how cold the weather gets. On top of that, it even comes with an auto shutdown function that you can set with a timer. The bed will stop working automatically at the exact time that you set which is so convenient and safe. Speaking of safe, this heated pet bed is also waterproof and flame retardant as well. It is durable and comfortable, and your pets will absolutely love how warm their bed is.
6. Thermo-Snuggly Heated Pet Bed by K&H Pet Products
Warmth is something, but comfort and softness are other things that a high-quality bed should have. That is exactly what this heated pet bed right here has to offer, and its performance is incredible. The special thing about this bed is that it automatically warm your pet the moment it enters the bed. With such a smart operation, your pets will get to stay warm all the time no matter how cold it is outside. Plus with the soft foam walls around the bed, your pets will sleep comfortably in their bed all night long. This is one of the best heated pet beds on the market, so don't forget to check it out.
5. Lectro-Kennel Outdoor Heated Pad by K&H Pet Products
If your pets prefer to sleep on flat areas, then this is the perfect option to keep them warm. This is a heated pet pad that works just as great as the heated bed. It is warm and comfortable, and it is also space-saving to have as well. Just like the bed, it thermostatically and automatically responds to your pet's body temperature. That way, your pets will always remain warm and comfortable as long as they sleep in this bed. Also, you can use it outdoor as well which is extra convenient for the pets. There are 3 different size options that you can choose from, and the decision is all yours to make.
4. Pod Design by K&H Pet Products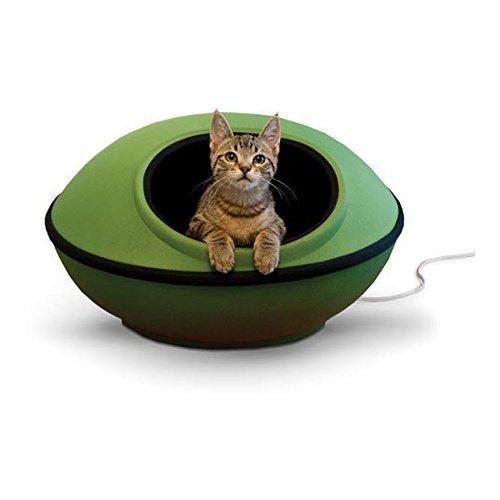 Pod design makes a cute look for cats and puppies, and that is why we recommend this option. This heated pet pod is large enough to fit any cat, and it is super warm and comfortable to sleep in. The entire pod is warm, and your pets can sleep in there all day and night with great convenience. At the same time, it is also durable and long lasting to use as well. You can easily wash it by yourself at home, and the maintenance is very simple. Cute and comfortable, this can be the heated pet bed that your pets will definitely love to sleep in.
3. Heated Pet Bed With Hood by K&H Pet Products
Here we have an all-season bed that is perfect for both cold and hot weather. When it gets cold, you can use the heater to warm your pets as they sleep. Along with that, the soft foam walls will keep them comfortable and cozy no matter how long they sleep. That is not all, there is also a removable hood that keeps the pets extra warm and secure as well. Such design is perfect for all pets, and the comfort and warmth are absolutely satisfying. With both quality and style, you will not regret choosing this bed for your pets.
2. Small Heated Pet Bed by K&H Pet Products
Comes with compact size, this heated pet bed is perfect for small cats out there. Not different from other best heated pet beds in our list, this one is also super warm. It automatically responds to the pet's body temperature, and it keeps your pets warm all night long. Also, it comes with a removable cover that you can easily wash when it gets dirty. The best part is that this heated pet bed is energy efficient which is economical to use. From quality to comfort and price, this heated pet bed has them all for you. Let's take a look and see if this is the heated pet bed that you have been looking for.
1. Heated Kitty House by K&H Pet Products
This is another heated pet bed and house that we think you might like. This one comes with the cute pet house design that gives both privacy and shelter to your pet. The awesome thing is the warmth that it delivers from the floor that functions as the bed. It is so warm inside, and your pet won't experience even a single coldness no matter how cold the weather gets. This heated pet bed is ideal for both indoor and outdoor use, and its performance is amazing. With such quality, no doubt why it is among the best heated pet beds on the market.
Conclusion
Pets are best friends, and that is why we always invest their happiness. With our recommendations above, we are sure you will find the best heated pet beds for your furry friends. Don't forget to share your thoughts and experience with your friends, heated pet beds are great for pets.
Heated Pet Beds Buying Guide
When it comes to heated pet beds, there are a few factors that you should consider. We include them all below, so check them out.
Easy Maintenance: The ability to easily clean and maintain the pet's beds is important. There are heated pet beds that are machine washable which is the most convenient option. If you don't have time to hand wash the bed, this is the type that you should look for.
Heated Element: There are two methods in heated pet beds which are Electric and Self-Warming. The first method requires you to always plug it to the outlet to warm up. The latter use materials that refract your pet's body heat, and use the same heat to keep them warm. Either option is nice, it depends on your preference.
Size: Always make sure that the heated bed that you choose provides room and comfort for your pets. It is good to buy one size bigger so that they have some extra space to move as they sleep or rest.