Small maintenance works at your vehicle do not always need a professional garage. If you are self-taught and have a bit of experience and knowledge, you can perform some work at home in your garage. Changing a tire or checking the car's bottom or the motor from underneath is no rocket science. However, when lifting your car, safety is an essential aspect, and this cannot be done without stable and strong jack stands to hold your vehicle in place while you work on it.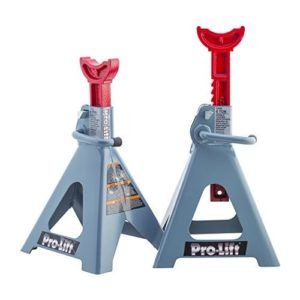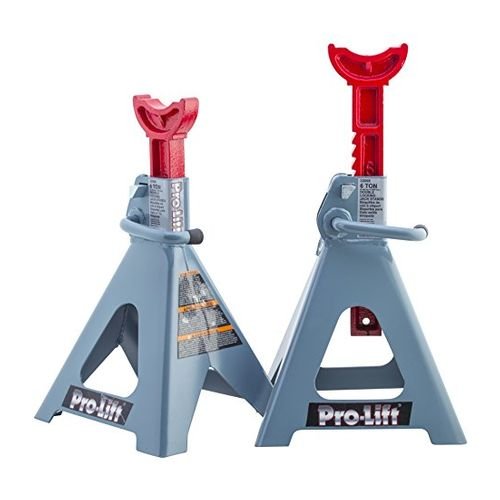 There are many brands on the market; some offer only the jack stands, some have packaged up convenient combos, including a floor jack or even a creeper. It might look overwhelming at first to select the best available product, as at the end of the day most jack stands look the same. To save you work and time, we have tested for you the most recommended jack stands available this year. We have selected only high-quality products meeting high safety standards. Our following review will provide all essentials about our top 10 choices for the best-selling jack stands.
List of Best Selling Jack Stands in 2023
10. Pro-LifT G-4630JSCB 3 Ton Floor Jack Stands and Creeper Combo
Pro-LifT is a leading brand for hydraulic lifting equipment in North-America for over 40 Years. With the G-4630JSCB, they offer a combo for home use consisting of a 3-ton heavy-duty hydraulic floor jack, two jack stands with a wide pyramid base, and a 300 lbs creeper with six casters. The jack stand combo features a steel frame construction for the enhanced strength and durability. It comes with 3″ roller casters for portability and stability.
The Garage Jack can only lift but not support one end of a vehicle. It is essential to use it in conjunction with the pair of 3-ton jack stands to keep the vehicle lifted stable. The jack stand combo is a universal fit and is suitable for sedans, light-duty trucks, and SUVs.
Pros
Bypass mechanism prevents over-pumping
Steel frame construction for strength and durability.
The jack stands come with a 3-ton capacity
Meets industry standards, like ASME/ANSI
Cons
The creeper is not suitable for high weight
9. Torin AT82001B Hydraulic Jack Combo with 2 Jack Stands, 2 Ton Capacity
The Torin AT82001B hydraulic trolley floor jack combo with two jack stands will not disappoint you if you own a smaller or lighter vehicle. The set includes the hydraulic floor jack and two jack stands. They can take a maximum weight of 2 tons or 4000 lbs each. Made from heavy-duty steel, the equipment provides long-term durability.
The floor jack features a minimum lifting height of 5-1/4″ and a maximum height of 13-3/8″. Furthermore, it comes with two large steel casters and two 360-degree swivel casters for convenient maneuverability. The safety bypass system prevents overloading and ensures you a safe operation. With its built-in carrying handle the floor jack can be lifted and carried conveniently. The two jack stands feature wide pyramid foot bases for added strength and stable standing.
Pros
Multi-position ratchet bar for quick height adjustments
Maximum 2-ton weight capacity
Meets ASME standards
Limited 1-year warranty
Cons
Maximum load capacity is only 2 tons
8. Performance Tool W41023 6 Ton Jack Stand Set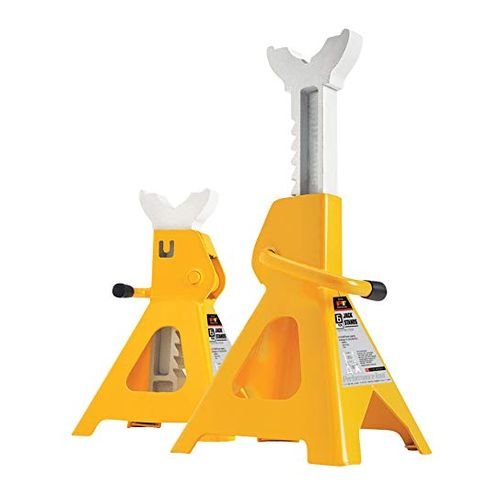 The Performance Tool W41023 set consists of two jack stands, which can support a load of max. 6 tons each. This makes them also suitable for larger vehicles. However, please always check the weight of your vehicle before using the jack stands. The jack stands provide a lift range of 15-1/2″ to 23-1/2″.  They are made from heavy-duty steel with a sturdy and durable steel frame and a wide pyramid-shaped base to provide strength and stability when under load.
The jack stands feature no "safety pin"- type secondary locking mechanism but are stable enough to hold the weight. Performance Tool offers a wide range of additional tools and accessories at surcharges to complete your garage at home as per your needs.
Pros
Max. load capacity of 6 tons each
Heavy-duty construction
Lift range from 15-1/2″ to 23-1/2″
Stable pyramid-shaped base
Cons
The welds need to be checked regularly to prevent them from wearing out
7. AFF 55040 Viking 4 Ton Ratcheting Style Stand
The AFF 55040 Viking jack stand set comes in a bright green neon color, which will brighten up your garage for sure. The unusual color choice also makes them easy to spot when stored away.  The jack stands can support a weight of up to 4 tones each and should always be used as a pair to support your vehicle when it is lifted to work on it.
The stands have a wide pyramid-base for stable standing. The welded construction provides maximum strength and durability. Furthermore, the jack stands feature a locking pawl with a built-in counterweight to secure the ratchet bar at the selected height. The ratchet bar is constructed from sturdy iron to keep the jack stands adjusted, safe, and stable.
Pros
Made from high-grade forged steel
The large saddle allows better support of the load
Welded construction for stability
Bright green color
Cons
Only the two jack stands included in the set
6. Omega 32225B Jack Stand – 22 Ton Capacity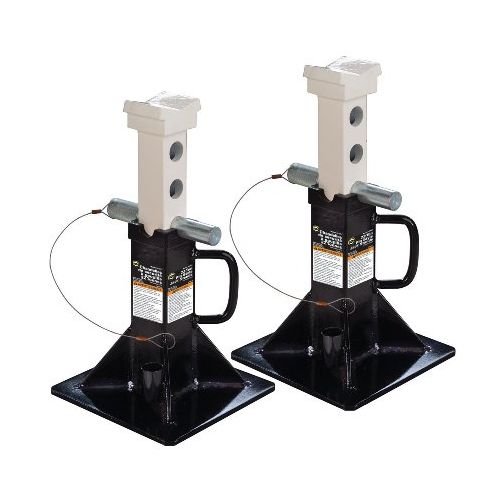 Omega is known for not being cheap but for manufacturing the highest-quality equipment. The 32225B jack stand set is proof of their exceptional quality standard. The jack stands can support up to 22 tons of load, supporting also larger vehicles. The stands themselves weigh solid 63 lbs. The stands were designed with a focus on safety. Heavy duty holding pins secure the saddles in adjustable heights. Furthermore, the strong welded steel construction and the
heavy gauge steel frame prevent the stands from bending and twisting.
The jack stands can support height ranges from 13-1/3 inches to a maximum of 19-2/3 inches. The stable and sturdy saddles support the load while you work on your vehicle. The stands come with a one-year limited warranty.
Pros
Load capacity of 22 tons
Heavy gauge steel frame
Holding pins for adjustable heights
One year limited warranty
Cons
Small and shallow saddle only for load support.
5. Omega Lift 6 Ton Jack Stands with Double Locking Pins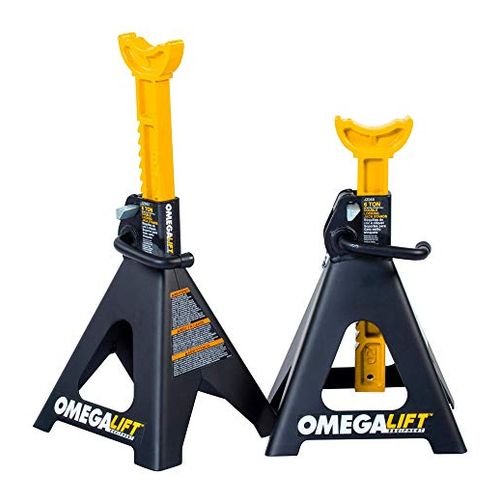 These jack stands from Omega Lift provide you extra safety with their double-locking pins when your vehicle is lifted. The jack stands come in pairs and feature a wide and stable foot base. They can support a maximum load of 6 tons. Constructed with sturdy stamped steel and a welded frame design, they will provide you stable and robust support. Furthermore, the jack stands meet ANSI/PALD standards.
The ratchet bar is made from high quality cast ductile iron. It can be adjusted in different heights from 19-5/8″to a maximum of 29-7/8″. Its sawtooth design allows for quick height adjustments. With both the handle lock and the mobility pin, plus a large saddle surface area, the jacks can provide enhanced load support while you work underneath your vehicle.
Pros
Extra safety with double-locking pins
Ratchet bar with sawtooth design
One year manufacturer warranty
Ideal for small cars, trucks, and SUVs
Cons
The weight capacity of 6 tones is per pair, not per jack stand
4. Esco 10498 3 Ton Jack Stand
The Esco 10498 jack stand is designed with a triangular-shaped base with circular base pads. This provides a stable and safe standing for your lifted vehicle. The jack stand has a powder-coated finish to prevent rusting. The removable flat top rubber saddle protects the car frame better than other jacks stand saddles.
The stand is adjustable to heights from ca.15 to 21.5 inches. You can safely lock the position in the selected height with the included locking pin. The durable high-quality jack stand can support a weight capacity of 3 tones. The stand itself weighs a solid 11.00 lbs. The jack stand is sold as single stand only.
Pros
Capacity of 3 tons
Flat top rubber saddle
Includes a locking pin
Powder-coated finish
Cons
Only sold as a single jack stand
3. Sunex 1410 10-Ton Jack Stands
With a strong 10 tons load capacity, the Sunex 1410 jack stands can also support heavier vehicles like trucks, trailers, agricultural vehicles, and not too large industrial or construction vehicles. Providing a heavy-duty four legs pyramid-shaped steel base, the stands hold their load stable and reliable. The large V-shaped saddles with locating lugs can support cradle axles and other under truck components.
The stands can support heights from 28.1 to q  maximum height of 46.5 inches. Their height adjustment pins are attached to the frame and keep the saddles safely and stable in place while you work. The jack stands themselves weight about a solid 50 lbs each.
Pros
Can support also trucks and trailers
Heavy-duty four legs steel base
Large saddle with locating lugs
Includes height-adjustment pins
Cons
The manufacturer seems to have issues with shipping the boxes
2. BIG RED T46002A Torin Steel Jack Stands with 6 Ton Capacity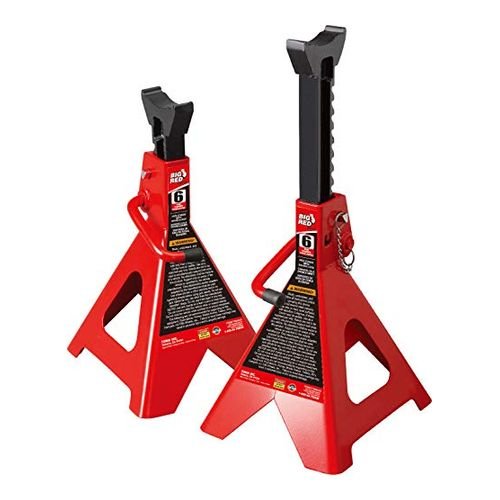 The BIG RED T46002A Torin steel jack stands support a weight capacity of up to 6 tons. This makes them suitable also for heavier vehicles, including jeeps and ATVs. They provide you a lifting range of 15-3/8″ up to 23-13/16″. Their surface saddle holds your vehicle more stable than the smaller saddles other stands include. The jack stands are made from heavy-duty steel with industrial welding for long term durability.
The removable locking support pins add to the security and stability of the jack stands. The stands have a wide pyramid-shaped foot base to provide enhanced stability and strength. The jack stands feature a multi-position forged iron ratchet bar with saw tooth design. With this, you can adjust the height effortlessly and lock the jack stands safely into place.
Pros
Double lock protection feature
Large saddle surface area
High-grade forged steel
Meets ASME safety standards
Cons
Some user reported issues with the welded parts
1. Pro-LifT T-6906D Double Pin Jack Stands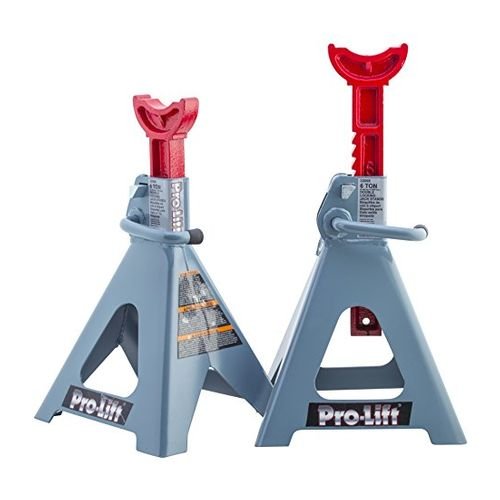 Another product from Pro-LifT is the T-6906D jack stands with a capacity of 6 tons. They feature a double lock mechanism, providing safety by both handle locks and mobility pins to keep the stands adjusted in your selected height and to prevent the load from accidental disengagement. The convenient height adjustment mechanism allows you a smooth upward movement, while the release handle locks the stands safely, supported by the mobility pin.
The stands are constructed from sturdy stamped high-quality steel. Furthermore, the stands include a cast ductile iron ratchet bar and a sturdy stamped steel base. Your vehicle will be lifted stable and safe while you work. These jack stands are suitable for both commercial and residential use.
Pros
Smooth high adjustment mechanism with handle lock
Supports maximum of 6 tons load
Double locks mechanism
High-quality steel base
Cons
The paint chips easily from the jack stands
Conclusion
Buying jack stands will not break your budget, as most products are offered at reasonable prices and with good quality. You should however check the fabricated materials, weight capacity and the easy and convenient handing of the jack stands to avoid disappointment or sub-quality products.
Buying Guide
When reviewing the available jack stands we recommend you to have checked already the weights of the vehicles you wish to use them for before making a buying decision. Make sure you select the right stands matching the weight of your most massive vehicle. If you do not yet own additional equipment or devices, you might want to think about purchasing a combo with a hydraulic floor jack and maybe even a creeper. This will come in handy also when you like to stay with one brand for your equipment.
However, the jack stands should be stable and sturdy for a safe operation. Saving a few dollars by sacrificing on the quality is not worth the risk. Furthermore, a large and stable base is essential to keep your vehicle safely lifted while working. The best is here is a pyramid-shaped stand, as it can take large loads evenly without taking up large space.
Jack Stand Safety Guide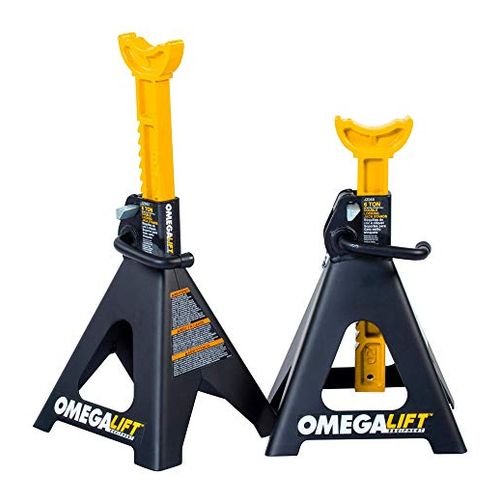 Jack stands are supposed to hold your vehicle safely and stable while it is lifted to change a tire or check and fix issues underneath your vehicle. Hence, safety is paramount. You surely do not want the jack stands collapsing and your vehicle crashing down on you, causing severe injuries. It is recommended not to work alone when lifting your vehicle. Better have a helper with you in case of need.
Please always check the maximum load capacity of your jack stands and verify with the actual weight of your vehicle. In case of doubt, better do not use jack stands if it is not clearly indicated that they can support the vehicle weight. Stable and sturdy high-quality materials are a must to avoid bending and twisting of the stands. Furthermore, always use the stands as a pair for enhanced safety. The saddles must be durable and solid, as the full weight of your vehicle will sit on them. If you purchase a set with a hydraulic floor jack, please also check that this floor jack can lift the weight of your car. The floor jack is never meant to support and hold the weight of your vehicle. Therefore, please install the jack stands immediately once you have lifted your car, truck, or SUV.
Overall Pros & Cons of Using Jack Stands
Pros:
Safety: Jack stands provide a secure support system that prevents the vehicle from collapsing and causing injuries.
Stability: Jack stands provide a stable base for the vehicle, which makes it easier to work on the car without the fear of it tipping over.
Versatility: Jack stands can be used for a variety of applications, including changing oil, rotating tires, and performing maintenance work.
Cons:
Limited mobility: Jack stands can be bulky and difficult to move around, which can be frustrating if you need to change the position of the vehicle.
Time-consuming: Setting up jack stands can take some time, especially if you're working alone.
Limited weight capacity: Not all jack stands are created equal, and some have a lower weight capacity than others, which means they may not be suitable for all types of vehicles. It's important to check the weight capacity of your jack stands before using them.