Maintaining proper grooming habits can be challenging, especially when trimming hair in hard-to-reach areas like the nose and ears. Fortunately, there are a variety of tools available to make this task easier and more comfortable. Whether you're a seasoned pro or new to grooming, having the right trimmer can make all the difference in achieving a clean and polished look. To help you find the perfect trimmer, we've compiled a list of the top 10 ear and nose hair trimmers on the market.
These trimmers are designed to be efficient, easy to use, and, most importantly, safe and gentle in delicate areas. So, say goodbye to painful plucking and uncomfortable snipping and hello to a more streamlined grooming routine.
Best Quality Ear and Nose Hair Trimmers in 2023
10. Professional Ear and Nose Hair Trimmer with LED Light, Silver
Let's start the list with a sleek and modern trimmer from ToiletTree. This trimmer boasts a high-quality steel body that gives it a sturdy and premium feel, combined with stainless steel rotary blades. Notably, it comes with some very useful features such as an LED light that illuminates hard-to-see areas in low-light conditions. It's also fully battery-powered with just one AA battery and has a rotary system that allows hairs to enter from both the top and sides for better precision cutting.
This trimmer has a water-resistant design, making it even more ideal for bathroom usage. It's not just limited to nose and ear trimming either; it can also be used on eyebrows and other facial hairs. Overall, it's a great choice for those seeking a durable, easy-to-use, and premium-feeling trimmer that's also bathroom-friendly.
9. Wahl Lighted Ear, Nose & Brow Trimmer Clipper
Looking for an all-in-one solution for hair trimming? Wahl has got you covered with their latest product. The trimmer boasts a mostly plastic body, but don't be fooled – it feels like a premium product. It's battery-powered by an AA battery, like many modern trimmers on the market, and features rotary stainless steel blades, an illumination spotlight, and a water-resistant body.
But what really sets this product apart is the two multi-purpose heads that come with it. These allow for easy swapping out for different uses or cleaning. With all the basic features you'd expect from a quality trimmer, plus the added bonus of two extra heads, this is a great deal for anyone in the market for a new hair trimmer.
8. Philips Norelco Ear and Nose Hair Trimmer 5100
The Philips Norelco Nose Trimmer 5100 is an exceptional tool for grooming. Made from high-quality plastic, it boasts a sleek and comfortable design. The trimmer comes with Dual Cut technology, allowing for precise trimming, and is water-resistant. Most importantly, it features "ProtecTube" technology, ensuring a comfortable and painless trimming experience. The electronic trimmer runs on a single AA battery and is simple to clean with a quick rinse under the faucet. The package includes 2 eyebrow combs, 1 beard comb, a cutter-width nose trimmer, a detail trimmer, and a carrying pouch, making it a fantastic purchase from a trusted company at an affordable price.
7. ConairMAN Ear/Nose Hair Trimmer
Are you in search of a premium, sleek, and compact trimmer that you can easily carry around? Look no further than this water-resistant trimmer that runs on one AA battery. Its matte finish gives it a sleek and stylish appearance, and it comes with some handy extras, such as a pouch and detachable head for creating edges and lines.
But that's not all – this trimmer also features a unique 360-degree bevel cutting system that is patent-pending. This system ensures that all hair is cut cleanly and evenly, leaving you with a perfectly groomed look every time. Whether you're looking to trim your beard, mustache, or sideburns, this trimmer is the perfect tool for the job.
6. Painless Ear and Nose Hair Trimmer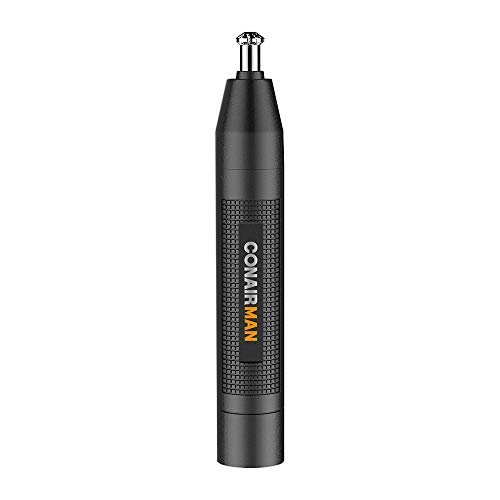 This hair trimmer is one of the best available in the market. To begin with, it has basic features such as being waterproof and rustproof, recharged using a lithium-ion battery that lasts for up to 90 minutes, and has a 4 in 1 multi-function. It can also be used for both wet and dry shaves, and is very durable and quiet despite its compact build.
In addition, this product comes with a lifetime warranty, ensuring that buyers can have peace of mind regarding any possible malfunctions. Overall, this is a premium product that is reasonably priced compared to other trimmers.
5. Detail Trimmer for Nose, Ear, Neckline
This shaver is excellent for its adjustability. The body of the trimmer is made of anodized aluminum, which gives it a smooth feel. It is also portable, water-resistant, and operates on a battery. What sets this trimmer apart is the rechargeable lithium-ion battery and the two additional head attachments that allow for more detailed trimming. Additionally, there is patented blade technology that ensures smooth cuts.
4. Nose Hair Trimmer Professional
This trimmer is a top-quality and dependable option for those in search of a safe and effective grooming tool. What sets it apart is its unrivaled safety features that prevent any nicks, scrapes or cuts during use. Although it lacks LED light illumination, it boasts a durable stainless steel body and is powered by a single AA battery, making it water-resistant and able to provide clean and precise cuts. While it may not have as many features as other trimmers on the market, it still offers excellent value for the money.
3. ToiletTree Products Nose Trimmer with Travel Case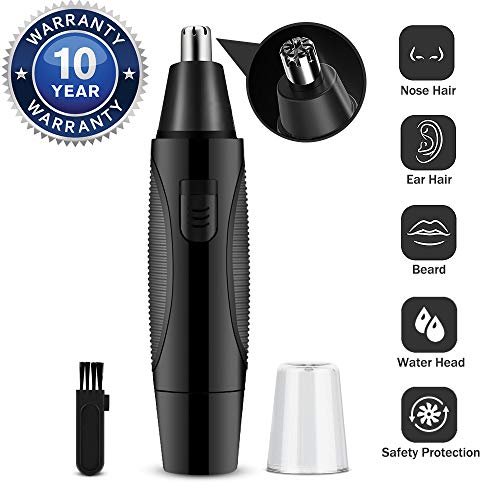 Looking for a high-quality trimmer that's both portable and premium? Look no further than this ultra-portable option! Made from top-quality steel and boasting a sleek silver and black color scheme, it's a favorite among professionals and those who demand the best. And with a built-in LED light feature, you can easily see what you're trimming, even in low-light conditions.
But that's not all – this trimmer is also water-resistant, making it perfect for use in the shower or bath. And with a great cutting system for trimming hairs, you're sure to get the perfect cut every time. Plus, it comes with a premium carrying case that feels as good as it looks.
Best of all, this trimmer is affordable and comes with a lifetime guarantee, so you can rest assured that it's built to last. Whether you're a professional on the go or simply looking for a high-quality trimmer that won't let you down, this option is sure to impress.
2. ToiletTree Products Nose Hair Trimmer with LED Light
This top-notch trimmer is ideal for travel and includes a deluxe travel case for extra convenience. The built-in lights make trimming even the most challenging areas a breeze. The stainless steel blades guarantee durability and pain-free trimming, while the lightweight construction ensures comfortable handling. Furthermore, it is water-resistant, making it suitable for use in the shower.
1. Philips Norelco Multigroom Trimmer
One of the most versatile trimmers. With an amazing DualCut technology that allows trimmer blades to sharpen themselves, requiring no blade oils. The steel blades on this trimmer are also detachable for easy cleaning and is sharp and great for smooth and precise cutting. Moreover, the trimmer runs on lithium-ion battery power, so there is no need for the purchase of extra batteries.
Furthermore, bundled with this trimmer comes a steel trimmer, steel precision trimmer, nose, and ear trimmer, 3 hair trimming guards, 3 beard trimming guards, a stubble guard, a travel bag, and a cleaning brush. So, for the price, this is probably the best trimmer, is overall very premium and gives a lot of value for the money.
Conclusion
Looking for one of the perfect ear and nose hair trimmers is never easy, with millions of choices flooding the market. Even so, there are still the best of the best that could be picked out from the bunch. So, hopefully, this list of top 10 trimmers will be able to help in the purchasing of the trimmer that will suit your needs.
Buying Guideline
Features: Trimmers should at least be water-resistant, with stainless steel blades that cut smoothly and cleanly and operate on battery power. Plus, they should be able to be cleaned for better hygiene, and any extra attachable head is a bonus.
Build quality: Preferably, the body should be sturdy metals.
Performance: Trimmers should be able to offer clean cuts with smooth and precise cuts.