If you like to prepare and cook your Hamburger patties, meatballs, meatloaves, or sausages, minced meat is the main ingredient you need. While you can buy this ready-made in a supermarket or at your butcher shop, you must use the minced meat immediately for food safety reasons. This means you cannot store it for a long time. A meat grinder does solve that problem for you. You can buy your meat in advance, even freeze it for a while, and when you need fresh and juicy minced beef, you can produce it in your kitchen at your home or in your business, "à la minute" whenever required. Meat grinders are efficient and usually come with a strong motor, so also large quantities are not a challenge.
Nowadays, meat grinders are comfortable and safe to use also for hobby chefs. Therefore, it is an investment well worth it for you if you like to cook for your family or to host guests. We have tested the ten most recommended meat grinders and also collect customer feedback about these kitchen devices. You will find our detailed review in the following top 10 list, which will hopefully help you find the meat grinder most suitable for your kitchen.
Best Selling Meat Grinders
10. Kitchener Electric Meat Grinder & Sausage Stuffer
Kitchener is a well-known brand for high-quality meat processing products. Their products are suitable for both professional and private use. Their meat grinder #8 is ideal if you have medium portions of meat to process at a time. Therefore, it is matching perfectly for being used at your home. The grinder is a great helper to prepare minced meat for patties, meatballs, and even sausages.
The versatile grinder is coming with a special stuffing plate and tubes which allow you to produce your own sausages. The accessories include a large stainless steel pan, stainless steel cutting knifes for coarse (3/8″) and fine (3/16″), stuffing plates, four stuffing tubes (3/8″, 1/2″, 3/4″, 1-1/8″ inch), and solid meat stomper to fill the meat safely into the neck for processing. The removable drawer helps you to store your grinder accessories.
Pros
Air-cooled steel gear-driven 120VAC motor
Can process 8 lbs of meat per minute
Waterproof switch for enhanced safety.
Oversized pan and neck
Cons
Can overheat if used for a more extended period
9. Barton 1100W Electric Meat Grinders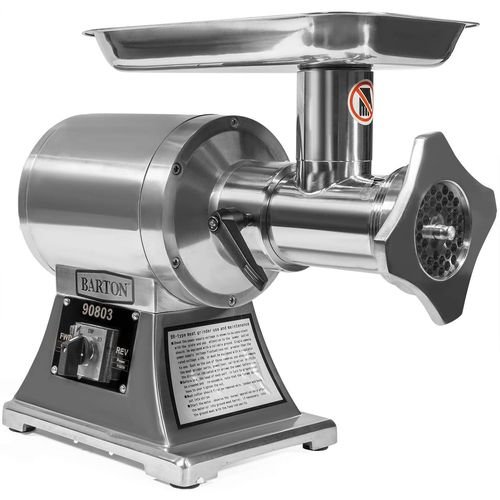 The BARTON electric meat grinder will not disappoint you whether you use it in your restaurant or at your home. No matter if you like to make sausages, Hamburger patties, or meatloaf, the grinder is your perfect assistant to produce the best quality of minced meat. It is easy to assemble and disassemble for a thorough clean after use also into the furthest corner for your perfect food hygiene. The high-quality stainless steel is solid and sturdy so that the meat grinder will serve you for a long time.
The meat grinder comes with two differently sized cutting plates to deliver you the correct consistency of minced meat you need for your products. The blade speed offers 193-225 rotations per minute, enabling productivity of up to 250 lbs per hour. The machine stands stable and safe to provide you a smooth performance.
Pros
Fits for cutting plates #6 and #8
Forward and reverse function
Grinder size 22
Can produce 250 lbs per hour
Cons
Does not have a built-in circuit breaker
8. BBDAY Electric Meat Grinder
BBday designed a modern-looking meat grinder, which is perfect for home use when you produce only small amounts of food for the family dish. We found that the design reminds a bit of a toaster, which makes it look modern and contemporary. The little grinder is perfect for making meatballs, Hamburger patties, sausages, and Kubbe (Kibbeh). It includes all the necessary equipment for stuffing sausage cases and producing the Kubbe. The grinder can make up to 3 lbs of minced meat per minute.
The machine comes with three cutting plates with different mesh diameters: coarse, medium, and fine grinding. You can also grind spices like garlic, chili, ginger, etc. Furthermore, the grinder is made of stainless steel, aluminum alloy, and PP7. All materials are 100% BPA free. With the reverse button, you can quickly unclog the grinder if necessary. The components of the meat grinder machine can be disassembled and combined without effort.
Pros
Grinder engine with 350W
Can also grind spices and vegetables
Includes a wide choice of accessories
FDA & ETL listed to ensure safety
Cons
Should not be operated longer than 10 minutes to prevent overheating
7. Aobosi Electric Meat Grinders with easy One-Button Control
The Aobosi meat grinder comes at an excellent value for money. Versatile and including a wide choice of accessories, this device will make your food preparation easy as never before. The set includes three different stainless steel cutting plates (fine, medium, and coarse), three sausage stuffing tubes, and a plate, plus one Kubbe attachment.
The meat grinder is not only your helper to produce all kinds of minced meats, but also to cut vegetables and spices. Furthermore, you can even mash baby food with this versatile kitchen device. For safe and hygienic handling, the meat grinder also includes a food pusher and a food tray. You can disassemble and reassemble it without efforts for thorough cleaning to maintain a high standard of hygiene after every use.
Pros
One button control and reverse function
Four non-slip suction feet
Can produce minced meats, sausages, and Kubbe
Suitable also for vegetables, fruit, and certain spices
Cons
Not suitable to cut solid materials like bones
6. ALTRA Electric Meat Grinder
The meat grinder from ALTRA provides high quality and excellent value. Fabricated from durable, high-quality food-safe materials, it will serve you a long time. To maintain the highest food hygiene, the grinder is easy to disassemble and assemble for thorough cleaning. The kitchen helper comes with strong crossing cuttings blades, a sturdy three-layer stainless steel housing, and a concealed storage box to keep all accessories at hand.
The meat grinder includes three cutting plates with three different diameters: coarse, medium, and fine grinding. Furthermore, it includes sausage funnels and a Kubbe attachment. The kitchen device allows you to produce up to two lbs of meat per minute. Due to the high quality of the grinder, the meat will be cut and squeezed without destroying its fiber, delivering you delicious minced meats or vegetables and spices.
Pros
Includes many accessories
Made from safe food-grade materials
Includes an accessory box
Features a safety lock
Cons
Not suitable for dishwashers
5. AICOK MG2950R 5-IN-1 Meat Grinder
The probably most versatile grinder in our overview is the AICOK MG2950R. It is not only a meat grinder but features five functions in one device. You can use it as a meat mincer, sausage stuffer, Kubbe maker, vegetable slicer and shredder, and as tomato strainer. The set includes three stainless steel cutting plates (fine, medium, coarse) for grinding meat. Four stainless steel drum blades let you slice and shred vegetables, nuts, cheese, and chocolate. With the tomato strainer, you can produce your tomato sauce or fresh tomato juice.
All necessary accessories are included. For stable and safe standing, the grinder features two non-slip feet with suction cups. The practical handle makes the meat grinder easy to carry. The grinder also features a three-speed switch system. The fast mode is for grinding meat. Slow is for slicing and shredding vegetables. With the reverse mode, you can unclog the grinder.
Pros
Includes three different cutting blades for meats
Comes with blades for cutting vegetables, nuts, cheese, and chocolate
3-speed switch system
Features a handle to carry
Cons
The motor can overheat if used too long time
4. STX Turboforce II "Platinum" Meat Grinders with Foot Pedal
The STX Turboforce II Platinum is a professional meat grinder in top-quality. It comes with an impressive choice of accessories, leaving no wish open. Being at the higher price-end, we have to state that this meat grinder is worth every dollar. Unlike other grinders, it includes a foot pedal control, which can be used optionally. This allows you to hands-free use of the kitchen device.
Furthermore, the accessories include three stainless steel cutting blades, five sizes of tempered steel grinding plates, a sausage stuffing plate with a set of three sizes of sausage stuffing tubes with adapter, one Kubbe attachment, a pair of meat shredder claws, and a burger-slider patty maker press. For the safe stuffing of meat into the neck, there is a solid meat pusher included. All functions are explained in the manual, which features illustrations for quick explanations.
Pros
Can be operated with a foot pedal
Includes a pair of meat shredder claws
Comes with a burger-slider patty maker press
Can grind up to 225 Lbs of meat per hour
Cons
3. BBDAY Electric Meat Grinders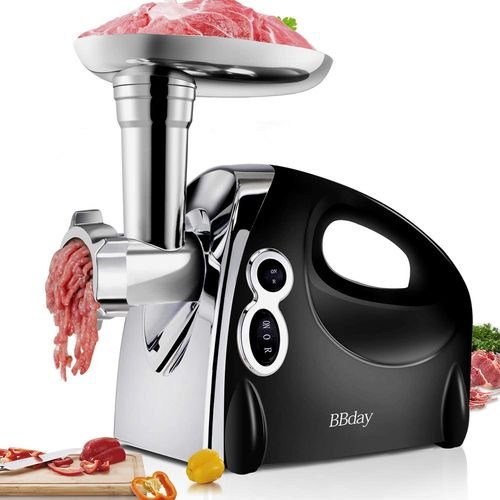 This meat grinder from BBDAY comes with a powerful low noise 100% copper motor with max. 1200W output power.  All materials are high-quality, food-safe, durable, and 100% BPA free. They are made from stainless steel, thickened aluminum alloy, and high-end PP7. The grinder will serve you for a long time. Furthermore, the device is easy to maintain. A reverse button helps you to unclog the unit. All components are easy to disassemble and to clean for good food hygiene.
The meat grinder comes with an ETL safety certification and a limited 12 months warranty. It is multifunctional and serves you also as a sausage stuffer and Kubbe maker. The set includes the sausage and Kubbe attachments, as well as a food pusher for safe handling and three grinding carbon steel plates for fine, medium, and coarse cuts of meat.
Pros
Max. 1200W output power
Includes sausage and Kubbe kits
12 months limited warranty
FDA & ETL listed
Cons
The grinder should not run longer than 5 minutes continuously.
2. LEM Products Big Bite Electric Meat Grinder
LEM is a family-owned US company. Originally they intended to make game processing easier. However, their meat grinders are not only suitable for deer meat but also for any other kind of meat. With their Big Bite Grinders, LEM brings you improved speed that can deliver a premium grind in half the time other meat grinders take.
The grinder housing is made from durable, high-quality stainless steel and comes with a heavy-duty handle for easy moving. The grinder has a built-in circuit breaker. Furthermore, it comes with a stainless steel knife, head, auger, and a large meat pan. The knife's driver cuts for coarse and fine. Three stuffing tubes for sausage making and a meat stomper for safe handling complete the accessories. You can store these in the special storage drawer, located under the grinder head.
Pros
Can grind up to 7 lbs per minute.
Features a storage drawer
Brushed steel finish
Five years warranty
Cons
Does not feature a reverse function
1. STX Turboforce Classic 3000 Series Meat Grinders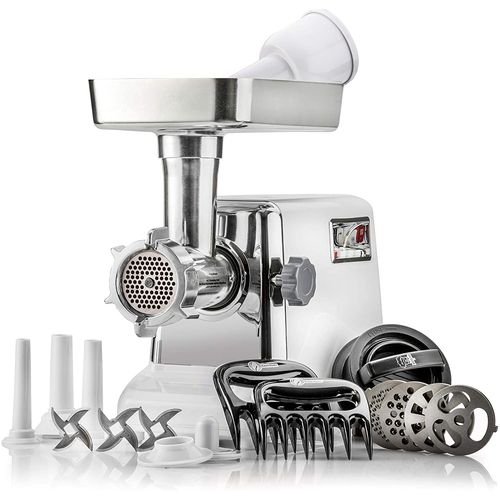 Our last tested meat grinder is from the STX Turboforce Classic 3000 Series. While this meat grinder is designed for home use only, it lets you process and prepares your meat like with a professional grinder. You can process up to 240 lbs of meat per hour. The grinder has the capability of grinding larger portion sizes of meat than other models available. Furthermore, it can process the meat grinding in a shorter time compared to smaller devices.
You will be impressed by the accessories and features included in this set: a large 3 lbs meat tray, a three-speed switch system (high, low, and reverse), and a stop and reset switch (circuit breaker). Furthermore, it includes three tempered steel grinding plates, a sausage stuffing plate with adapter and tubes, a Kubbe attachment, plus two meat claws and a burger-slider patty press.
Pros
Can grind up to 240 lbs of meat per hour
Features 3 Speeds: high, low & reverse)
Includes a large selection of accessories
Long standby time of up to 6 months
Cons
Not suitable to grind bones, vegetables, nuts, or fruits
Conclusion
Minced meats can be a "delicious" affair. Not only in terms of the taste of the cooked products but also regarding food hygiene. When buying minced beef in a Supermarket, you can never know how long the meat is already sitting on the shelf. With your own meat grinder, you can avoid such worries and produce your minced beef fresh and safe at your home or in our business when you own a restaurant or Deli shop.
Buying guide
There is a wide choice of professional and semiprofessional meat grinders available. Many of them are suitable for professional use in your business; nearly all of them are a great kitchen helper at your home. When buying a meat grinder, check the quality of materials to be sure you decide on a long-lasting product. It should also be easy to assemble for hygienic cleaning. A versatile meat grinder that can also produce sausages, Kubbe, and cut spices and vegetables or fruits is surely preferred. Many grinders already include the necessary accessories.
Safety is also an important point to focus on. A meat stomper, large removable tray, sturdy and slip-resistant feet are just a few to name. Furthermore, a safety switch and reverse mode are of advantage for a safe operation. Also, you want a good value for money. Our tested and reviewed meat grinders are also ticking this box, as we focused on quality brands and fair prices without compromising on the quality.
Check this PDF from OSHA of the Department of Labor for a comprehensive safety guide.
How to use a meat grinder
Meat grinders are nowadays very versatile, which means they can perform more tasks than only grinding meats. You can use them also to mash and grind fish, vegetables, fruits, and certain kinds of softer spices like chili and garlic. With the massive choice of accessories available, stuffing your own sausages or producing Kubbe is not rocket science anymore. Therefore, it is worth to invest in a grinder of high quality, as it will serve you many years. Please follow the manufacturer's instructions. Cleanliness and hygiene are paramount to avoid spoiled food.
Therefore, you must clean the meat grinder thoroughly after each use. However, the parts are mostly not suitable for dishwashers. Also, never put your hand into the neck when stuffing meat. Please always use a suitable stomper to protect yourself. Make sure the grinder stand stable and safe and away from wet surfaces. Also, pay attention when assembling the parts of the grinder to make sure they are installed correctly and sit safely to avoid damage or accidents. Furthermore, please always follow the instructions when using the grinder, as they are usually not suitable for frozen or hard types of food (nuts, bones, etc.).