If you enjoy doing your charcuterie boards for parties, or your family loves sandwiches, then you are familiar with the challenge of evenly sliced cold cuts. When using a regular knife, you can barely manage this task. However, with electric meat slicers, your life will be much easier. These kitchen helpers can handle all kinds of food, from meat to cheese, bread, and vegetables or fruits. They save you time and nerves. Furthermore, you and your family will enjoy great-looking sandwiches or paninis. On top of that, your guests will be impressed by your party plates, which will look like a professional chef has done them.
Meat slicers are generally compact and with little weight and will not take up much space on your kitchen counters or cupboards. They come nowadays in attractive designs instead of looking only functional. Those kitchen appliances are available in all price ranges, and many are affordable without compromising quality.
Best-Selling Meat Slicers for Your Kitchen
We have tested the currently best-selling meat slicers to determine if they hold what they promise. Our focus is on home use, but some meat slicers are also suitable for professional operation.
10. Chefman Meat Slicer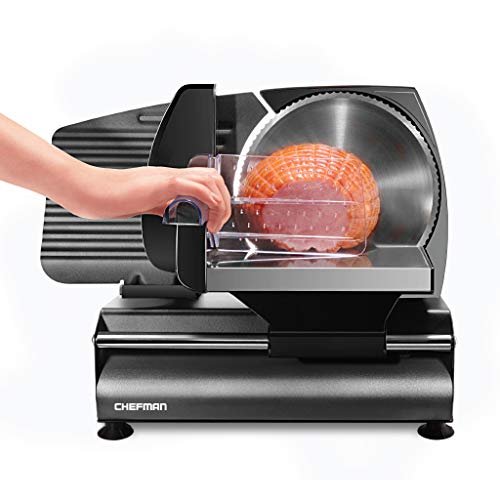 The Chefman meat slicer will serve you well at home in your kitchen without costing you much money. Despite its reasonable price, it delivers good quality and lets you slice your favorite foods easily. You can customize your slice size with the adjustable thickness dial to get the exact sized slice you need. The slicer can handle cold cuts, cheese, bread, vegetables, and fruits thanks to its 180W motor. Sandwiches, charcuterie boards, and bread slices will look perfect and yummy.
The 7.5-inch serrated stainless steel blade is removable and retractable. Keeping the meat slicer spotlessly clean is important. The Chefman features a die-cast aluminum cast, which can be kept clean without effort. The same goes for the steel blade. Safety is important as well. Therefore, the slicer includes a blade safety guard and a food pusher. These will protect your hands from the sharp blade.
Pros
Retractable 7.5″ serrated stainless steel blade
Suction cup, non-slip feet
Space-saving design
It comes with a limited 1-year warranty
Cons
Not suitable for cutting or slicing raw meat
9. KWS MS-10XT Premium Meat Slicer
The KWS MS-10XT meat slicer is a premium product for commercial and private use. It comes at the upper price for meat slicers, but you will quickly understand why this kitchen device is worth the higher price. It includes a 10-inch premium stainless steel coated Teflon blade, which is razor-sharp and slices with precision through all kinds of food.
The Teflon blade also prevents residue from building up when cutting. You will receive perfect slices with a cutting thickness of 0 – 0.4 inches. With the 320W motor power, even more substantial foods like beef jerky will be cut effortlessly. The KWS meat slicer has a built-in sharpener, which hones and sharpens the blade. It features a waterproof On-Off switch and skidproof rubber feet for enhanced safety.
Pros
Cutting Thickness 0 – 0.4 inches
Built-in sharpener
Skidproof rubber feet
320W Motor Power
Cons
Not suitable for semi-frozen meat
8. Sophinique Meat Slicer with 3 Removable Blades
The Sophinique electric meat slicer is a versatile machine slicing food of all kinds. The slicer comes with three stainless steel blades: a serrated blade for hard food and frozen meat, an undulated blade for fresh meat, and a non-serrated blade for soft food like cheese, bread, fruits, and vegetables. The cutting thickness ranges from 0 – 0.6 inches.
All parts, like the blades, food pallet, slide-rod extension, and food pusher, are removable. Therefore, you can clean and sanitize them conveniently. For safe operation, the slicer features solid, non-slip feet, a blade safety guard, and a food pusher to protect yourself when slicing your food. The meat slicer comes with a 1-year warranty and offers customer service.
Pros
Includes three different blades
Adjustable thickness dial
Non-slip feet
Consists of a blade safety guard and food pusher
Cons
Not suitable for commercial use
7. AICOK 7.5″ Meat Slicers
The AICOK meat slicer is another versatile kitchen helper that will not disappoint you. With its built-in thickness control knob, you can cut and slice all kinds of food precisely as needed. This means all food types will be cut perfectly, from sliced ham for deli-style sandwiches to bread. The 7.5-inch removable blade and the die-cast aluminum housing can be cleaned and sanitized conveniently for food safety.
AICOK also focuses on operational safety. Therefore, the meat slicer features sturdy, non-slip feet, a blade safety guard, and a food pusher to keep you from cutting yourself while slicing your food. The slicer also has an additional On/Off switch to help you avoid starting it accidentally.
Pros
Includes a blade safety guard
Suction cup feet
Thickness control dial
Detachable blade
Cons
Meat must be semi-frozen to cut very thin slices.
6. Chef'sChoice Electric Meat Slicer with Tilted Food Carriage
If you are looking for a more professional meat slicer that will not break your budget, the Chef'sChoice slicer is a perfect option. We liked the ergonomic design of this cutter. The slicer features a tilted food carriage for fast and effortless slicing. In addition to your safety, a select button secures the food carriage in the lock position. You can detach all meat slicer parts for easy cleaning to keep your food safe.
The cutter is made of durable, high-quality cast aluminum and stainless steel, including the metal food pusher. The high torque motor and smooth gear drive support you for a convenient slicing operation. The 7-inch serrated blade will not disappoint you, as it manages all types of food, from bread to cheese to meat and veggies.
Pros
Tilted food carriage
High torque motor
It comes with a metal food pusher
Includes a serving tray
Cons
No built-in sharpener included
5. BESWOOD 250 Premium Meat Slicers for Commercial and Home Use
Another professional meat slicer in our selection is the BESWOOD 250. What we noted about this slicer is the premium chromium-plated carbon steel blade. Furthermore, this blade is corrosion-protected and does not need to be sharpened frequently. Cold cuts, meat, cheese, bread, and fruits will be sliced effortlessly. Set the adjustable knob from thin to thick slices (0 – ½ inches).
The meat slicer is easy to clean for your food hygiene. An On/Off switch, skidproof rubber feet, and a blade ring guard add to the safe operation. The package includes an instruction manual, a cleaning brush, and food machine oil. Furthermore, it comes with a specific bread-slicing guard. The meat slicer is ETL and NSF-approved.
Pros
Premium chromium-plated carbon steel blade
Skidproof rubber feet
Suitable also for professional use
USA standard approved
Cons
Higher priced than other meat slicers
4. Elite Gourmet Meat Slicers
The Elite Gourmet premium meat slicer is not only a great addition to your kitchen, but it can also be a perfect gift for family and friends. Made from durable and rustproof premium-quality die-cast aluminum, the slicer will serve you many years. Coming at a great value for money, it does not sacrifice quality. Its sturdy construction and non-slip feet let you operate the meat slicer safely. The food pusher adds to your protection while pushing your meat, cheese, or bread towards the blade.
The slicer includes an adjustable thickness dial. You can select from paper-thin slices to ½-inch thick slices and set the blade as needed. The slicer features a quick-release food carriage and a removable blade for convenient cleaning. Furthermore, the rustproof and retractable cutting blade is also dishwasher-safe.
Pros
Includes a 12-gallon cart to transport the compost
Total composter capacity of 65 gallons
Made from impact-protected plastic
It comes with a two years limited warranty
Cons
The product ranges on the upper price end
3. OSTBA Meat Slicer
If you have young children, you know how vital safety is regarding kitchen devices. You cannot have your eyes everywhere all the time. This burden can be relieved from you when you decide on the OSTBA meat slicer. A unique fissure of this device is the child lock protection switch. Once enabled, the slicer is securely locked and cannot be started accidentally.
Besides this, the meat slicer has further safety features, like suction rubber feet to keep it in place when operated, a food pusher to protect your fingers while slicing, and removable parts to allow you complete sanitation and cleaning of the cutter. The 7.5-inch stainless steel serrated blade allows cutting all kinds of food from razor-thin to up to ¾ inches thick.
Pros
7.5 inches stainless steel blade
Suction rubber feet
Powerful 200W motor
It comes with a child lock
Cons
Some users rate the food pusher as too small
2. VBENLEM 12-inch Commercial Meat Slicers
Some people started a successful food business in their home kitchen. If you think your cured meat or whole-wheat bread will sell well and in large quantities, the VBENLEM meat slicer is perfect. Made from cast aluminum and 203 stainless steel, this is a commercial-grade product. You can also use it for slicing ham, cheese, or even vegetables in your home. Try the active pusher when cutting salad or cucumber; it goes through like butter.
The knob in front lets you adjust slices from 0-6″ or 1-16mm, which is appropriate for all kinds of cold cuts and bread. Use it for your turkey breast sandwich or when slicing fruits for decorating your cake. The blade has an automatic sharpener, so you don't need to take the slicer apart. Cleaning is still easy since you can reach all parts with a brush or sponge.
Pros
Commercial grade
Automatic sharpener
For meat, cheese, bread, and vegetables
Stainless-steel
Cons
It is a bit heavy if you want to store it after every use
1. KWS Electric Meat Slicer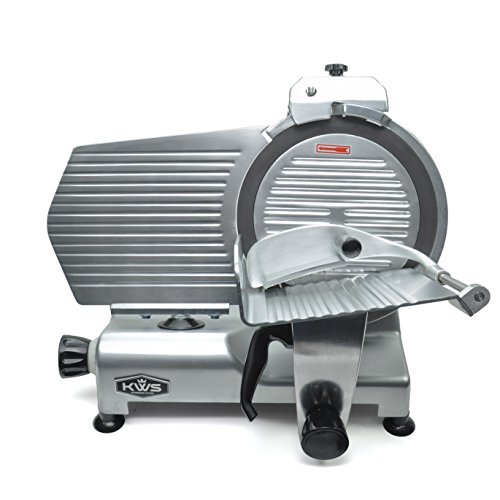 Remember when the first Teflon pan was introduced, and we said goodbye to sticking eggs and other ingredients? Now, Teflon has evolved and is also an excellent coating for blades. The KWS meat slicer has a Teflon blade, making it much more convenient to slice through fat meat or soft cheese. You will see that much less residue sticks on the blade. Hence, the cleaning will be with less effort as well.
This meat slicer is good for home and commercial use alike. If you run a deli shop, you will like this slicer when preparing sandwiches for your customers. At home, it eases the preparation of vegetables or when you make a great roast and want to cut it properly. Your slices can be up to 0.6″ (0-15mm) thick. While the body is made from aluminum alloy, other parts are stainless steel.
Pros
Skidproof rubber feets
Waterproof cover for the switch
440 r/min rotation speed
Dual whetstone sharpener and one extra replacement
Cons
I may have some problems with thicker pieces of frozen meat
Conclusion
A meat slicer can make your kitchen work more manageable than a regular knife. Slicing ham, turkey breast, cheese, or bread the traditional way with a knife usually delivers uneven cuts that are often too thin or thick. You will receive exactly the thickness you prefer with a meat slicer, and each sliced piece will look the same.
A good meat slicer shall not break your budget. We have selected and tested the 10 bestselling devices for their advantages and weaknesses. Each of them convinced us in terms of quality and value for money. If you are looking for a more professional meat slicer, we looked at some models as well and marked these as suitable for professional use in our list.
Buying guide
There are plenty of meat slicers available, and regarding their essential functions, they are not significantly different from each other. Therefore, it is important to focus on quality. As a meat slicer is a device operating with a sharp blade, safety is crucial to avoid accidents in your kitchen. Therefore, we recommend paying attention to the safety features of the slicers. An On/Off switch and a food pusher must be standard when deciding on a cutter. Skidproof feet or even suction feet keep the meat slicer stable while you operate it and avoid both accidents and unevenly cut food.
Removable
As food hygiene is paramount in both your home and your business, the meat slicers must be detachable so that all parts can be sanitized and cleaned to maintain food hygiene. If the blade or food tray is not separable, you should disregard the slicer.
Durability
High-quality, durable, and sturdy, rust-free materials should be preferred. As you handle food and the slicer needs frequent cleaning, cheap materials will not serve you long. Furthermore, select a blade that stays sharp or a slicer with a knife sharpener.
Type of Blade
Additional accessories like different blades, sharpeners, extra food trays, etc., are always welcome in a package but are not standard for most meat slicers. Usually, the more expensive a device is, the more accessories are included.
Sturdy Motor
Meat slicers for home use usually come at a good value for money and are not overly expensive. Slicers also suitable for professional use are normally at the higher price end. However, this has a good reason: these machines are used daily for long hours, and very high quality and stronger motors are needed.
With our top ten list of the best available meat slicers this year, you should get a good overview of the available products, and we are confident you will be able to select the most suitable meat slicer that matches your expectations.