Whether you are a professional or a home handyman, when it comes to cutting wood for building furniture, panels, shelves, and frames, cabinet table saws are a must for accurate outcomes and professional-looking products. There are countless options available. However, as you handle a fast spinning saw blade, high quality, and safety are paramount when working on a cabinet chain saw table. While some products feature only the basics, professional brands also include useful accessories and features. Furthermore, these table saws are manufactured from high-quality materials.
As it can be challenging to keep the overview within the wide choice of options, we have taken our time and tested for you the most recommended cabinet table saws available this year. Our focus is on the quality of the materials and safety and security while using table saws. Our detailed review will introduce you to our top 10 cabinet table saws.
List of Best-Selling Cabinet Table Saws in 2023
10. DEWALT (DWE7491RS) 10-Inch Table Saws, 32-1/2-Inch Rip Capacity
DEWALT is a well-known US brand for power tools of all kinds. The DWE7491RS cabinet table saw is a great tool for your workshop when you look for a saw that can be conveniently stored when not in use but comes with high quality once in use. The 10-inch table saw has a 24-tooth carbide blade with a 32-½ inch rip capacity.
The set includes a push stick, a miter gauge, a rip fence, two-blade wrenches, and a blade guard assembly manual. The rolling stand is designed for easy storage but provides excellent stability when set up. The 15.0 amp high torque motor can cut hardwoods and also pressure-treated lumber. The telescoping fence rails easily extend and retract, while the flip-over ripping fence allows for narrow rip cuts.
Pros
Rolling stand for easy setup
Strong 15 amp motor
32-1/2″ rip capacity
Onboard storage system
Cons
Rather short electric cord
9. DELTA Unisaw with 52″ Biesemeyer Fence
The DELTA Unisaw has a 52-inch Biesemeyer fence system, allowing precision cuts. The Biesemeyer fence is very stable and does not slip after it is locked. Furthermore, it does not deflect under pressure at the back of the fence. This is important regarding both accuracy and safety. The push-button arbor lock simplifies the blade-changing process using only one wrench.
The single-cast trunnion system provides excellent vibration control for a continuously smooth operation. The bevel dial tunes blade reaches a great accuracy of up to 1/4°. The strong 5 HP, 220 V motor cuts hardwoods and products like MDF and melamine effortlessly and accurately. With its bi-level dust extraction, sawdust collection is improved significantly to protect your health.
Pros
Left tilt cabinet saw
Dual-crank controls with locking cams
5HP 220V motor
52-inch Biesemeyer fence
Cons
There were some reports about the unsatisfactory customer service of the manufacturer.
8. Grizzly Industrial G1023RLX – 10″ Cabinet Table Saw
The Grizzly G1023RLX cabinet table saw is a rugged industrial tool indeed. Suitable for professional use, it also fits the workshops of experienced home handymen. It comes with a stable, sturdy, solid iron table and an extension table of 44″ x 27″ size. The underside of the blade is encapsulated for dust collection, and a 4″ dust port is included.
The motor is a 3 HP,  240V, single-phase, 14 amp machine with 3450 RPM. The Poly-V serpentine belt system can transfer power more efficiently and with less noise than a standard V-belt. The table fits Dado Blades up to 13/16″. Furthermore, it includes regular and Dado inserts. It also features a quick-release blade guard and a magnetic safety switch. A quick change between a riving knife & splitter guard is another advantage of this professional cabinet table saw.
Pros
Cutting capacity of 8″ left, 53″ right of the blade
Solid and stable cast iron table
Magnetic safety switch
4″ dust port included
Cons
The cabinet table saw will take up quite some space in your workshop
7. SAWSTOP 10-Inch Cabinet Table Saw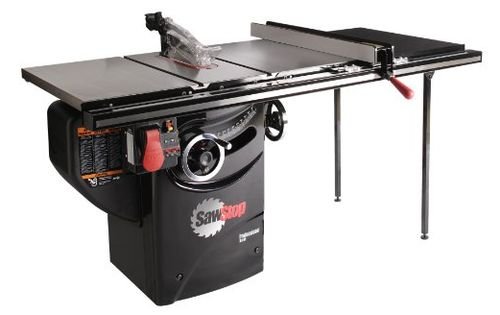 SAWSTOP is another well-reputed brand for tools, and the  PCS31230-TGP236 cabinet table saw will not disappoint you. Our focus is on the outstanding safety features this table saw comes with. The saw table delivers up to 99% dust collection. Sawdust is considered to be a possible carcinogen. Therefore, this safety hazard is tackled by the shroud and dust collection blade guard capture function.
Another feature is the patented safety system. If coming in contact with skin, the blade stops spinning in less than five milliseconds. It also drops below the table, helping to avoid life-changing injuries and even meres scratches. The control box sores the on-off switch, the power paddle, and the onboard computer. This computer continually checks that all systems are working reliably to keep you safe while working.
Pros
Patented safety system
Up to 99% dust collection
3 HP, 1 phase, 230V, 13 amp motor
36″ Professional T-Glide fence
Cons
Motor cover is made from plastic
6. Shop Fox W1819 10-Inch Cabinet Table Saw
The Shop Fox  W1819 is a cabinet table saw with a blade tilt. Furthermore, it includes a riving knife. You can tilt the blade to angles between 0 and 45 degrees to the left. You can easily adjust your cutting angle by loosening the blade tilt lock. Then you turn the blade tilt handwheel to the exact position and desired angle you wish to have the blade adjusted to.
The riving knife works the same as a spreader. This metal plate prevents the newly cut workpiece from pinching the backside of the blade and causing a kickback. The miter fence with a flip stop provides you with more excellent workpiece support than a miter gauge alone. Hence, longer workpieces. They are better to handle, especially when making multiple cuts of the same width.
Pros
Heavy cast handwheels
Easy-glide T-fence system
Miter gauge with adjustable T-slot
Magnetic switch with thermal overload protection
Cons
Some users reported that too many parts need to be aligned and adjusted.
5. JET 708675PK XACTA Table Saw
The JET 708675PK XACTA cabinet table saw is a high-quality tool with a number of innovative features. It is considered to be one of the most accurate and smoothest-running cabinet saws currently available. The quick-release riving knife and integrated arbor lock provide a safe operation. An enclosed cabinet with a built-in sealed storage drawer keeps your tools neatly stored.
The cabinet table saw features a Poly-V drive belt system for stable operation. The blade is left-tilt, meaning it tilts away from the fence up to 45°. With the independent leaf safety guard, you are protracted from the blade while cutting. The 3 HP motor has a very low heat generation and runs stable, with only little vibrations. The magnetic on/off switch protects the motor from power fluctuations and prevents the saw from restarting after a power failure.
Pros
Wide-stance cast-iron trunnion mechanism for a nearly vibration-free operation
Built-in 4″ dust collection port
Features a modular blade guard
50-Inch commercial fence for improved accuracy
Cons
The assembling of the table saw is quite a time-intensive task
4. Powermatic PM1000 1791001K Table Saw with 50-Inch Fence
Powermatic delivers a gold standard in terms of the quality of its products. Hence, their PM1000 1791001K cabinet table saw is golden. This table saw is wired for 115V usage. It runs with a strong 1-3/4 HP motor with a poly-v belt, which reduces vibrations. Furthermore, it maximizes motor efficiency. The arbor lock allows you to make one-handed blade changes with minimal effort.
The ground-cats ironwork surface comes with beveled edges for a more convenient operation. The table saw also features a dust collector to protect your health and working space. The cabinet table saw includes miter gauge pivots of max. 60° both left and right for a convenient adjustment allowing the full range of cuts.
Pros
30″ Accu-fence system
Wired for 115V usage
1-3/4 HP motor with a poly-v belt
Arbor lock for easy blade changes
Cons
The dust collection suction is relatively weak compared to other table saws
3. DEWALT Cabinet Table Saw DWE7485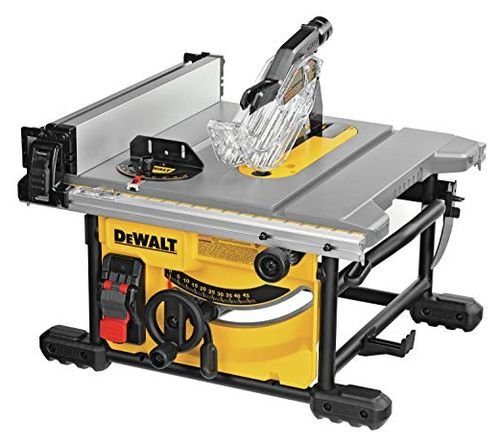 The DEWALT DWE7485 is a compact and portable cabinet table saw, which you can bring along conveniently outside your workshop. It is designed for easy transportation and storage. The handy table saw is suitable for several cuts with 24.5 inches of rip capacity for ripping 4×8 plywood or OSB sheets. The convenient onboard storage keeps the site pro-guarding components and pushes sticks neatly stored while not in use.
The cabinet table saw has a non-through cut riving knife, anti-kickback pawls, miter gauge, blade change wrenches, and a push stick. It runs with a powerful 15 amp, 5800 RPM motor. Its rack and pinion telescoping fence rails allow fast and accurate adjustments. A dedicated table saw stand can be purchased separately at additional costs.
Pros
Compact size, easy to transport
Onboard storage with easy access to accessories
Metal roll cage for job site durability
15 Amp, 5800 rpm motor
Cons
The table saw stand is not included
2. Grizzly Industrial G0623X Sliding Table Saw
The Grizzly Industrial G0623X Sliding Table Saw is a highly professional cabinet table saw, justifying its higher price. It is powered by a 5 HP, 230V, single-phase motor. The sliding table also supports large-size panels. Furthermore, it provides effortless ripping and cross-cutting. Its scoring blade prevents tear-out for immaculate edges. The 4″ main port and the 2-1/2″ port on the blade guard avoid sawdust in the air and protect your health. The blade can tilt up to 45°.
A magnetic switch provides thermal overload protection. Furthermore, the cabinet table saw includes a single-lever locking fence, a riving knife, and a fully adjustable crosscut fence with two flip stops. The table saw is suitable for Dado blades up to 13/16″.
Pros
Can grind up to 7 lbs per minute.
Features a storage drawer
Brushed steel finish
Five years warranty
Cons
The belts can break when used extensively.
1. SKILSAW SPT99-11 Cabinet Table Saw with Rolling Stand
SKILSAW has produced mechanical saws since 192,4, and the SPT99-11 cabinet table saw with stand comes in a design that slightly reminds of the company's early days. The rugged rolling stand features 16-inch wheels and comes with easy-load handles for outstanding mobility. The stand can be folded for space-saving storage. The design of the foldable rolling stand allows you also to load it effortlessly on your truck or into the trunk of your SUV.
Featuring the SKILSAW worm drive power train, the cabinet table saw delivers a strong torque that rips and cuts through wood perfectly. Its precision rack and pinion fence system allows you to adjust quickly and conveniently for accurate cutting. The table saw includes the rolling stand, a 24-tooth SKILSAW carbide blade, a miter gauge, a smart guard system with an anti-kickback device, a dust elbow, the push stick, and the rip fence.
Pros
The patented dual-field Motor runs cooler
Worm Drive power train for a superior torque
Rolling stand with 16-inch wheels
24-tooth carbide blade
Cons
The base is not as sturdy and stable as with a non-portable cabinet table saw.
Conclusion
A cabinet table saw is a significant investment. Hence, you should carefully consider what you expect and what the saw needs to deliver to match your requirements. If you have an extensive workshop already with tolls from a preferred brand, then it is worth checking if this brand also manufactures cabinet table saws. You can use your experience with the tools you already own and rely on your experience with these. Otherwise, we have selected a choice of the top 10 brands and manufacturers for cabinet table saws, which is surely helpful for you to find your best table saw model.
Buying guide
Cabinet table saws are usually manufactured for professional use. That means that as a home handyman, you will also take advantage of high-quality and highly professional features and functions. However, this also comes at a price; these cabinet table saws are not coming as cheap tools. Therefore, choosing your cabinet table saw carefully before buying is even more important.
As the table saws take up quite some space in your workshop, we recommend checking the measures carefully to see if they fit. Some models are foldable or come with a rolling stand for easy storing away when unnecessary. However, they should still be stable and sturdy for safe operation. The motor should be strong and powerful enough to cut harder wood or engineered products like MDF and melamine. Blades with tilting options are worth to be considered too. For safety features, please read our following article about cabinet table saw safety recommendations.
Cabinet Table Saw Safety
Unfortunately, accidents happen frequently with cabinet table saws. Reasons are usually inexperience in operating this, distraction while working, or being too careless. This can lead to high-impact accidents which can be potentially life-changing. Therefore, getting some experienced handyman training before working yourself with your cabinet table saw is recommended. Furthermore, please always read the operations instructions carefully from the manufacturers. It is also recommended not to work alone, as a "work buddy" can immediately come to help in case of need.
The cabinet table saws itself come with a number of safety features to help to protect you. Some models feature special safety sensors, which can "feel" when the skin touches the blade and shut down and retract immediately. Other models come with emergency switches to stop the blades.
Always use a push stick and install the blade guard properly. Heavy-duty protection gloves are recommended too. If your cabinet table saw does not come with a dust extraction function, then it is recommended to wear an appropriate mask to protect your respiratory system and also glasses to keep sawdust and shreds away from your eyes. Quality cabinet table saws also usually feature overheating protection, which will shut them down when the motor runs too hot.