There are many types of saw machines which have different saw shapes. And each one has unique usages. So today, this article will bring a special kind to introduce, circular saw machines. Like their name, they are sawing devices which are attached with circle shape saw. Unlike normal lengthy saw, the circular one is able to offer greater cut without having to move the saw back and forth. The circular saw machines are much lighter and smaller to use and store. For instance, they take less space to stay in any storage boxes and you can bring them along easier.
If you want to find out more details and advantages of this product, you can go through the whole text below. It is going to present to you with the top 8 best circular saw machines.
8. WORX WORXSAW Circular Saw – WX429L

Take a look at this portable electric corded circular saw machine. You don't have to spend so much effort and energy to cut off something since this machine offers ultimate performance. To be specific, it has sharp saw that has 24 teeth and 4.5 inches diameter. There is a durable handle for you can have tight grip. You just press a button and start slicing woods, metals, and more.
Has Black color
Bevel adjustment within 45 degree
Left-sided and Thin blade
Lightweight, only 5.3 pounds
7. Tacklife Circular Saw with PES01A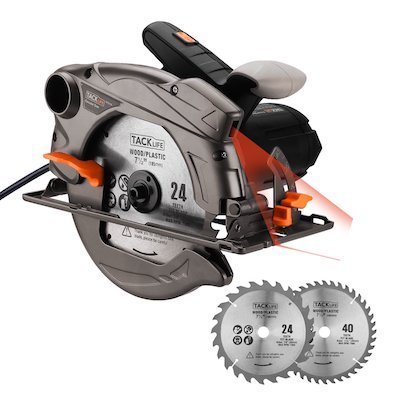 If you are searching for a perfect circular saw machine for construction, this product may satisfy you. It is a lightweight circular saw device which has two interchangeable aluminum blades. You will receive a 24 teeth blade and a 40 teeth blade. Each of them can cut through wood and metal precisely and smoothly. It enables you to set bevel cutting angle. For example, you may adjust to 90 degree or 45 degree.
Electric machine with a cord
Weighs 9.3 lbs
A powerful motor of 12.5 Amp and 1500 watts
Has dust blower
6. Makita 5008MGA Circular Saw
You will have even more comfortable life with this multi-functions circular saw machine. To be clear, it has a ruler built-in in the front so that you can measure length on items you are working on. More than that, it contains a wind blower to blow away dust coming from wood or metal. There is a LED lights attached in order to provide strong brightness for better vision.
Has 15 amp motor with 5200 rpm power for a great performance
Cutting angle from 0-50 degree and 90 degree
Has electric brake
5. Bosch CS5 Circular Saw
This product is implanted with left-sided blade design so you can see the cutting lines clearly. The circular saw machine has a spindle lock lever that is to protect the blade from falling and through it, you can change the blade in seconds. For more information, it comes with a 7.25 inches diameter circular saw blade which is large enough to slide woods or other materials quickly.
Works with 120 voltage and 15 amp motor
Has long cord for a distance
Weighs about 9.3 pounds
Built-in ruler
4. SKILSAW SPT77WML-01 Worm Drive Circular Saw
Well, for carpentry, nothing is better than having major great tools to use for the work. And this high-quality circular saw machine of silver color will be one of the favorites. It has great performance 15 amp motor which is always cool even after being used all day. It basically uses standard electricity of 120 voltages so there won't be a problem to start the operation. Moreover, it is a lightweight device so you can hold it comfortably.
Weighs only 11.5 pounds
Has anti-snag lower guard
Has soft grip ergonomic handles for stabilization
Saw blade is 7.25 inches wide
3. Makita 5007MGA Circular Saw
It is an easy to control circular saw machine that contains electric brake to push the productivity during sawing. This product is also constructed with two LED lights. Therefore, they can show the work area obviously even under less light condition. Isn't it nice? This product has a durable wide blade of 7.25 inches which gives faster cut than other normal saw machines.
Has rubberized levers
Comfortable grip handle for easy control
Has a ruler and a dust blower function
2. SKIL 5280-01 Circular Saw
Let's explore this large circular saw machine that has 7.25 inches blade with 24 sharp teeth. The blade plus its potent motor of 15 amps will be able to cut through everything. It is such a powerful machine. In addition, it has a single bean laser to shine light on a certain cut line for wonderful accuracy. It has a lengthy cord of 6 feet that allows you to find distant electricity socket.
Has 51-degree bevel
Weighs 8.7 pounds
Power of 2.5 horse
Includes a carrying bag
1. DEWALT DWE575SB Circular Saw
This is the last highly recommended corded-electric circular saw machine that you should consider. Due to its convenient handle and compact size, you can control it with one hand. The machine has 7.25 inches circle blade which has large 18 carbide teeth. Amazingly, it has brake function which can improve performance faster. The motor of this circular saw machine is 15 amp.
Light weighs only 8.8 pounds
Has dust blower
Moves counter clock direction
Conclusion
To sum up, the circular saw machines are great items to have in your hands. You can use it in households or in constructions. With them, you are able to fix, renovate, or create new things such as furniture stuffs. They are compact and convenient to use. Also, you have already seen several finest circular saw machines from above, haven't you? Each product has diverse and special designs and features. They are all high-quality products that you can trust.