Surprisingly, many women use flat iron hair straighteners to do their hair for parties or any events. It is important to find the perfect flat iron for your hair because it might affect the health of your hair. You might be wondering which flat iron you should choose, and you probably have like a million questions when it comes to buying a new flat iron. There are so many kinds of flat iron that make it very difficult for you to choose the perfect one for yourself. However, we have conducted a list of top 10 best flat iron hair straighteners in 2023 that you can choose.
Professional Flat Iron Hair Straighteners in 2023
10. Ovonni Professional Flat Iron
This is a 1.75 inches wide flat iron with Titanium plates which makes the flat iron distributes the best well and instantly. Moreover, Titanium is known for its protection for your hair from heat damage which would result in shiny, smooth, and healthy hair. On top of that, it features a drying vent that would evaporate any wetness from your hair immediately and make the straightening process better.
With the MCH heaters, the flat iron can heat up within 18 seconds, which could save much more time than PTC straighteners. On top of that, the heat can be adjusted from 300F-450F which could fir all hair from thin, thick to curly hair. Adjust the right temperature for the right hair will help you to achieve polished and healthy-looking hair. This flat iron is reliable to use as it saves energy and has an auto shut down function.
9. Entil Hair Straightener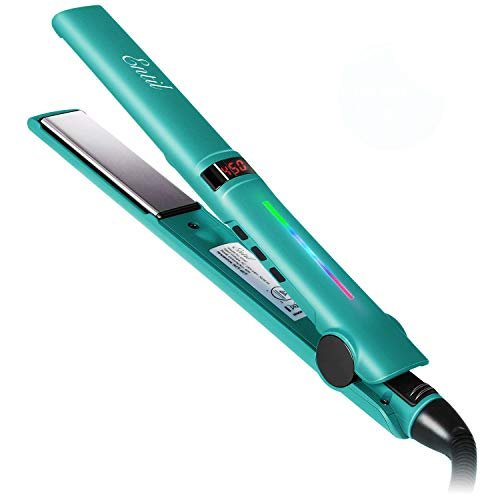 This is a Titanium flat iron from Entil that would provide heats up to 395F in just 30 seconds which is 30% faster than other flat iron hair straighteners, and it provides continuous heating. Moreover, the temperature can be adjusted to suit any hair type to avoid heat damage. With the MCH ceramic heater, it delivers heat faster and distributes evenly, emits negatively-charged ions to reduce the risk of hair damage from high temperature, and smooth out any curliness to make it look silky and smooth.
On top of that, it features a digital LCD screen that provides an optimum temperature for your hair. Most importantly, it has a 60-minute shut off function and safety lock that provides security and safety for users. It is a retro green design with a velvet pouch.
8. Deogra Hair Straightener
The hair straightener from Deogra was equipped with a specialized ion that emits negative ions that will smooth down your hair, seal in the moisture and make your hair look shiny and healthy. It has adjustable temperature settings that allow you to choose within 330F to 430F that is suitable for any hair types.
The hair straightener has a special feature that it will shut down by itself after 40 minutes of non-use. It also comes with a safety lock button and an 8.2ft extra-long cord that can prevent tangles, and you can conveniently style your hair.
7. MHD professional Flat Iron
This is a 10.8 inches long flat iron with a 1-inch width that is suitable from every type of hair, both long and short. Moreover, it can heat up to 450F with 30 seconds which is super-fast. The ceramic construction helps to smooth out the straightening process without pulling your hair.
Most importantly, the temperature can be adjusted to suits any hair from thick to thin, and the temperature range is from 285F to 450F. To ensure the safety of the user, it has an auto shut down function after 60 minutes of not using. You can also create curls with this hair straightener.
6. FURIDEN Professional Hair Straightener
This hair straightener has a new design, and there is the only way to rotate clockwise which gives you extra smooth and silky hair. It is a flat iron with MCH that would heat the iron curler within 15s. It saves energy, saves time, and durable. Moreover, it is a 360-degree swivel long cord with floating plates flat iron. With the curved edges of the floating plates, it would continuously adjust to every angle without pulling your hair, and it provides more control when it comes to styling.
Most importantly, this is a 2-in-1 curler so that you can curl or straighten your hair. It also has an auto shut off function. There are heat resistant glove, salon comb, 2 hair clips, and flat iron bag included when you buy the hair straightener.
5. SAM SARA Professional Hair Straightener
This has a 1.75 inches panel that is wide enough to make any curls or straighten hairstyle in just a short time. It is suitable for any type of hair from thick to thin. Moreover, you can conveniently find the perfect temperate for your hair by controlling the LCD screen. The padlock will automatically lock the LCD screen with it is used within 2 seconds.
Besides, there are 3D floating plates that are made of titanium to style your hair and make it soft and shiny smoothly. It is time-saving because it can heat up within 15 seconds and provide efficient energy. There is also an auto shut down function to prevent any disastrous accident. There are a travel velvet bag, hand hook, and an 8ft long line included in the set.
4. Remington S9520 Flat Iron
It is a 2 inches wide flat iron hair straightener that is 8 times more ceramic to provide less damage and frizz to your hair. With the 2 inches floating plates, it can take you very little time to style your hair, and it provides smooth glide during the straightening process. Moreover, the pearl ceramic technology will have significantly less damage on your hair, and it can heat up to 450F high heat.
3. KIPOZI Professional Flat Iron Purple
KIPOZI flat iron is made of titanium to reduce frizz and smooth out your hair. The 1.75 inches wide flat iron can heat up instantly within 30 seconds so it can save you a lot of time when styling your hair. Moreover, the temperate can be adjusted depending on your hair by using the LCD digital screen.
Most importantly, it has the safety lock and auto shut down feature to ensure the safety of our users. There are also a hanging hook and a 25M cord that comes about with the flat iron.
2. KIPOZI Professional Flat iron Black
The temperature of this flat iron can be adjusted from 170F to 450F that would provide you the optimum temperature that is perfect for your hair. It delivers consistent heat and distributes the heat very well so that your hair would not be damaged and provide beautiful results.
The 1.75 inches plates are perfect for straightening your hair and allows you to create any style you want. Most importantly, there is an auto shut down function if you don't use the flat iron for 60 minutes, and it comes with a non-tangled 8ft swivel cord.
1. HIS Professional Glider
The HIS Professional Glider that helps you to create dramatic results even with the frizziest hair. You can straighten, curl, and flip in just a short time. It is made of high-quality ceramic plates that use microsensor to monitor the temperature and distribute the heat evenly. The tourmaline crystal and ceramic ion plates help to create shinier and silkier looking hair. On top of that, you can adjust the heat from 140 to 450f to suit any type of hair to achieve sleek and perfectly smooth hair.
The Glider's worldwide is compatible with 110v to 220v, so you can quickly bring this flat iron with you when traveling. Most importantly, you can move freely in the swivel cord. Moreover, the width of the hair straightener is 1 inch wide which is narrow enough to style your bangs.
Buying Guide
Shape: The edges of the flat iron can affect the versatility of the hair straightener. It is easier to create soft curls with your flat iron if the sides of the iron plates are a little bit rounded or curved. If the flat iron has sharp edges, it is hard to adapt.
Width: the wider the iron plates, the quicker you can get your hair done. Of course, smaller plates can work the same. Plus, it is very travel-friendly, and it can fit nicely when you can to style your bank.
Plates: Titanium plates are perfect for coarse and very curly hair because it can apply higher temperature evenly. As for Ceramic plates, is for normal hair because it merges effectiveness and value. Lastly, Tourmaline plates are perfect for damaged hair because it emits more negative ions that will reduce frizz and create smoother looking hair.
Temperature: High heat can get the job done quickly, but not all hair needs the highest heat iron. Therefore, it is crucial to choose a flat iron that you can adjust the heat settings.