Did you know that drinking hot water or hot tea can keep you hydrated and fulfill the water that your body needs to restore fluids? What's more, tea can make you feel relaxed and improve your digestion. So, for people who want to stay healthy or want to drink more hot water but don't have enough time to heat it or you don't want to use the stove because it seems so complicated, we can help you to find the best electric tea kettles.
After doing some research we have gathered the top 10 electric tea kettles which are highly rated and best-selling products. Let's explore our findings below.
High Quality Best Electric Tea Kettles for Home and Office
10. HadinEEon Electric Kettle
This electric kettle comes with good quality glass and stainless steel and also, it has LED lights. The power switch is located on the handle and it is convenient for you to turn it on or off. If you don't want to be late for work or school, you might need this kettle, because it heats up quickly and comes with an automatic shut-off mode when the water is boiling.
Users can use it as many times as they want since this kettle was made from heat resistant glass. Moreover, it has a really big space, you can add up to 1.5L to 2L which means you can serve a lot of people. Another benefit of this kettle is, if you are a fan of smart home devices, this electric kettle will be a perfect match.
HadinEEon electric kettle received many positive reviews, also it has an acceptable price and admirable quality.
9. Chefman Electric Kettle
The electric kettle from this brand is great for tea lovers because the LED light fits the best temperature possible for every kind of tea. For example, if you're a fan of Green tea, you can set the color to green which is 175°F in temperature. This kettle also has a huge space that you can add up to 2 liters and it's easy to clean. Moreover, it has a place where you can put your tea in it. There is a safety mode that turns the power off when the water is boiling, and it can keep the water in a stable temperature for nearly an hour.
This kettle comes with advanced technology and a suitable price for you.
8. Hamilton Beach Glass Electric Tea Kettle
This model of kettle is very useful for your daily life because you can carry it everywhere and it's convenient to keep. It has an automatic shutoff, so you no need to care about turning it off. The special part of this kettle is it has soft blue illumination which is going to let you know when the water is hot.
7. BELLA 14522 Electric tea kettle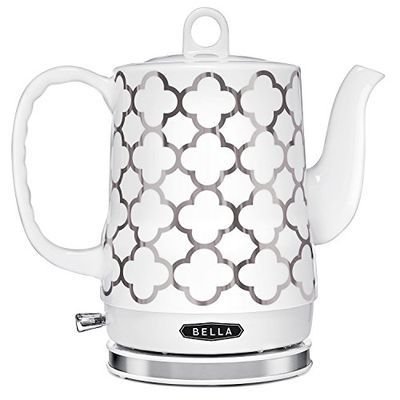 Tired from using the same design of tea kettle, now let's take a look at the BELLA brand. The electric tea kettle from this brand has a perfect design, which suits every kind of occasion. It comes in many colors and styles, also it features a faster boiling water system and an automatic switch off. This kettle has a big space, so you not only can use it to boil water or tea, but you can use it to boil coffee, soups and more. Don't worry if you have a small kitchen, Bella can fit in every place because it's small and convenient to keep.
6. Cuisinart CPK-17P1
What's different about this kettle is it's a cordless electric kettle which is made from 1500-watt stainless steel. It can keep the water warm for 30 minutes and takes a little time to boil it. This kettle has a control button, automatically shut off and boil-dry protection. You can use them for a long period of time because they are less resistant to damage and convenient to keep.
You don't need to worry after buying this kettle, this kettle not only has good quality also it gives a fashionable look in your kitchen.
5. Hamilton Beach Electric Tea Kettle
Hamilton beach makes tea making and water boiling safer and easier. This kettle comes with a safety handle, control button, and auto-shutoff. It boils the water faster than a microwave and a water level measure that allows you to know the right amount of water.
Hamilton Beach electric kettle is the perfect match for those who have a busy schedule.
4. Mueller Premium 1500W
Looking for a high quality and modern kettle? Mueller is always the best choice. A new premium 1500W electric kettle is equipped with all the latest gadgets, it's made from borosilicate glass and comes with LED lights. Another thing that is special about it is you don;t need to worry about getting burned, because it has a non-slip material and is durable and heat resistant. The maximum of this kettle is it can hold up to 1.8 liters.
The electric kettle from this brand will create a convenient environment for you and your family.
3. COSORI Electric  tea kettle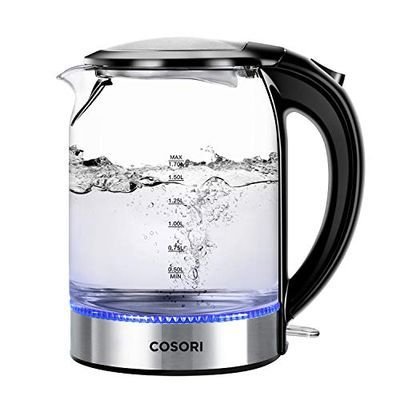 Many kettles use a lot of plastic wrapped around them, which may make the water or tea taste bad. But COSORI cares about their consumers' health, so most parts of the kettle are made from glass and BPA-free. It comes with the safety tech, auto switch off, blue LED light, wide mouth that makes it easy to clean. It is more durable and efficient than many other products.
2. Culinary Obsession
This glass electric kettle has a lot of functions and qualities such as fast boiling, big space, safety handle, and auto shut off. Many people worry about cleaning their kettle, but for this kettle it is easy for you to clean because you can open the top almost 90 degrees. The special feature about this kettle is, it contains an LED light and easy to pour water in any situation. You don't need to wait 8 or 10 minutes for your water to boil, this kettle only takes 2 minutes from the min fill line.
1. Zeppoli Electric Kettle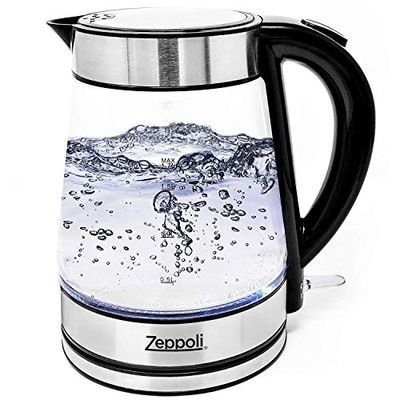 Zeppoli Electric kettle is one of the best electric tea kettles and useful in the kitchen. It heats up and boils quickly, also it comes with an LED light that is very useful and fits your living standard. Another thing is, it has an auto-switch off and safety handle. The huge space becomes more useful because you fit up to 1.8 liters in it. The design of this kettle is 100% BPA free and does not spoil the liquids.
Guaranteed with good quality and price, this kettle is surely one of the top recommendations for you.
Buying Guide
To further assist the process of purchasing one of from best electric tea kettles in market, we have listed some criteria the electric kettle should have. Make sure to keep these conditions checked before the purchase.
Functions: Before buying something, we must first understand its function. To choose the kettle we need to notice its size and what it contains. Do not choose the biggest one because it may not boil well. Besides, you need to choose carefully when it comes to the handle because some kettles don't have a safety mode, which can make your hands burn.
Water Gauge: Water Gauge allows you to see the level of water without opening the lid. With a water gauge, it is easy for you to measure the water, and it prevents us from wasting water unintentionally.
Power: Most kettles use the power 1500 watts, but there some kettles use more or less than that. The one that uses less wattage will take longer to boil.