You are here because you are looking for a perfect gift for your partner or you have just bought a home, and now you are looking for excellent starter home repair toolkits. Right? Well! Whatever the reason is you must always have a DIY basic all-in-one home maintenance kit. It makes home-fixing convenient as you have all the tools right in hand with it.
Best Home Repair Toolkits | Home Repair Kit
You can make one yourself by combining your typical hammers, wrenches, and screwdrivers into a box. But it is recommended to save money and go for a pre-made toolkit. Some of these toolkits offer more than just entry-level tools.
So, if you have made up your mind to buy one now, then follow the list, and you'll end up picking one for you for sure.
10. VonHaus Orange Repair Toolkit
This one is ideal for garage and home repairs. It just contains 39 pieces, but they are the most important ones. It is very light in weight and compact. So, you can carry it around or lend it easily.
Hammering, measuring, tightening, cutting can be covered easily with it. One thing that makes it amazing is that each tool has a slot that has been molded just for it. In this way, every tool stays in place. You get hex keys, 3M measuring tape, scissors, blade knives, and claw hammers mainly with other side tools.
9. Stalwart Roll Up Repair Toolkits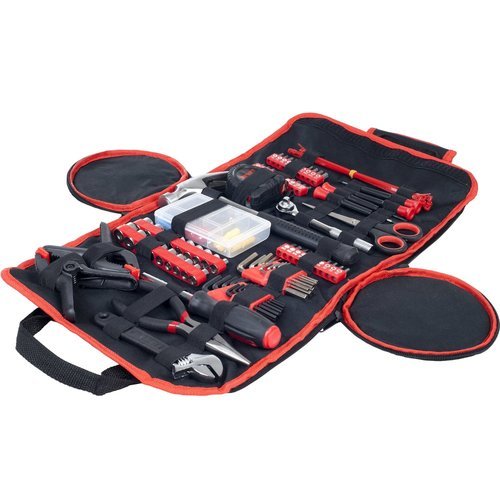 The toolkit comes with a roll-up bag. It is priced well, and most of the reviews are positive. Basically, you get pliers, hammer, useful clamps, screwdriver bit/socket set, and several other things.
It is an 86 piece kit so you can imagine what you can do with it. The tools are of good quality but not the best. Still, for its price, it is one of those best home repair tool kits.
8. Hi-Spec Computer Electronics
This is a precision toolkit and contains a total of 60 pieces. Trust me; this is the most fun toolkit. You can easily repair, construct, or do maintenance of your hardware upgrades or precision projects.
The best thing is that you get a 30W soldering set that can heat up to 570F in just 3 minutes. Plus, there are professional standard sockets and driver bits included which have been made from CRV steel for maximum torque, durability, and strength.
There are computer repair tools included as well.
7. Black & Decker Multi Project Kit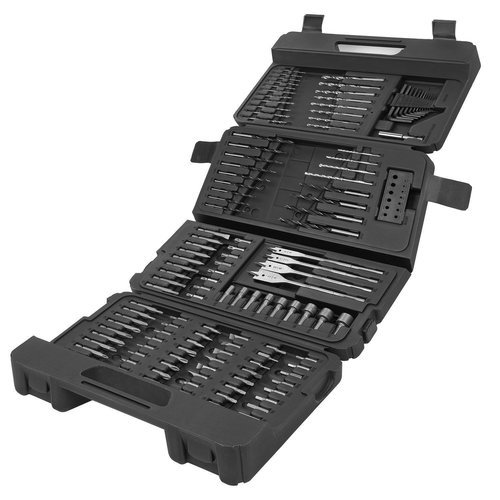 Black & Decker is a well-known player in this game. This multi-project toolkit consists of 129 pieces. The toolkit is not only good for indoor but outdoor projects as well.
It works best with materials like wood, plastic, metal, and masonry. Either your purpose is drilling, wiring, installing, or assembling; this Black & Decker 71-91291 Multi Project Kit is one of the most useful home tool kits.
6. WORKPRO Home Repair Toolkits
This 229 piece tool kit comes with a full-chrome finish for protection against corrosion. It features many daily-use tools like wrenches, pliers, screwdrivers, and sockets.
The metal box and the handles are quite durable. The reviews are positive mostly. It has pretty much everything that a basic toolkit must-have. The tools are well-built and sturdy.
5. Vastar Home Repair Toolkits
It consists of 102 pieces and marks itself as perfect for daily maintenance chores. It includes utility knife, pliers, tape measure, hammer, level, wrenches, screwdrivers, and much more.
All the handles of the tools have been designed ergonomically to reduce hand fatigue. The material used for its tools is called chrome-vanadium steel which is durable and long-lasting.
Apparently, it is not comparable to Kline tools or other next-level toolkits, and it shouldn't be. You can perform major amendments with its tools quite soberly.
It is recommended to buy it if you are starting out.
4. Apollo Home Repair Toolkits
This 39 pieces pink tool kit is perfect for those charitable craftsmen out there. Why is it pink? Well! Every time you purchase it, they donate $1 to The Breast Cancer Research Foundation.
Every tool is plated with chrome for anti-corrosion purposes and is put in a molded case for organization and durability. It's not just a show-off case. The tools present inside have been cleverly picked so they can come in handy in every situation.
3. Crescent Mechanics Toolkit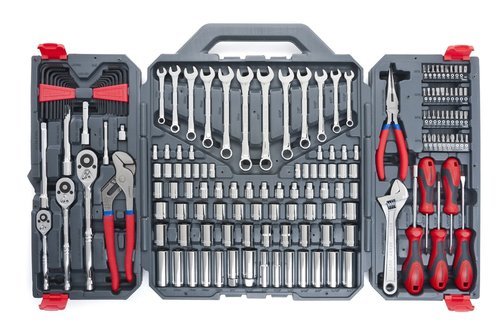 This can be listed in the top 3 home repair toolkits, and there is a good reason for that. It is a set upgraded with improved screwdrivers and sturdier case. The tools have been carefully assorted which are fine for consumers, mechanical and industrial applications. The tools come with ASME and ANSI specifications plus a satisfaction guarantee.
2. Apollo Precision General Toolkit
This 39 piece tool kit is durable and can last for many years. Every tool is easily grab-able and fits so perfectly that you want to work with it continuously. They are chrome plated and heat-treated and the complete kit comes with a lifetime warranty. It contains all the necessary equipment. You can have it if you live in an apartment and have less storage space.
1. STANLEY Mixed Toolkits
The tools have been polished to keep them from harm. It combines all the popular tools, and when closed, it looks like you are holding something from a science fiction movie; they call it Max-Design.
Thumb-operated reverse-switch mechanism has been introduced in every tool, so your hands don't get tired when using it. You get joint pliers, nose pliers, screwdrivers, retractable utility knife, adjustable wrench, tape rule, and other machine tools in it. It is the most professional of all.
Conclusion
So, you must have made up your mind by now, or at least you must have chosen a few. These best home repair toolkits are the best chosen one by keeping your basic needs in mind.
There are some precision kits among them, and some are mechanical ones. Know the difference before choosing any toolkit.
Overall, the kits are good for initial use, or first-time users expect for STANLEY mixed toolset.
Also check: Mermaid Tails on Amazon | Detail Floor Mirrors Review | Detail Ironing Boards Reviews | Detail Chest Drawers on Amazon | Best File Cabinets Comparison