Thanks to digital clocks – now we are able to tell the time with just a glance and set/snooze the alarm clock within an arms reach from our bed. Whether you are looking for your first alarm clock or to replace your old digital clock, this article is all you need to read. Here are our top 10 picks of the best digital clocks in 2020.
Best Digital Clocks Alarm Clocks
10. Philips Wake-up Light with Sunrise Simulation Digital Clock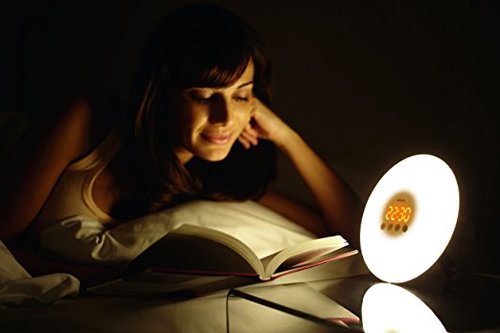 Who would have thought an alarm clock could enhance your well-being, too? This Philips Wake-up Light Alarm Clock is a light therapy lamp for improving your sleep and energy. The clock's wake up lights is proven to help you wake up feeling refreshed and energized.
Plus, the tap-to-snooze clock and beep function always ensure that you wake up on time. And, who doesn't love the idea of waking up to a fake sunrise? Especially in the wintertime!
9. Emerson SmartSet Alarm Clock Radio
This digital alarm clock is very multi-functional. It performs as a charging station, a phone charger with USB port for Apple devices as well as Android and tablets. As a USB clock, it has a USB output for mobile charging 1.5 A 5V. This digital alarm clock is certainly easy to program and easy to read with the 1.4 inches blue LED clock display/jumbo display.
Best yet, this radio also functions as an FM radio, too. With so many features, this purchase is definitely a bang for your buck.
8. La Crosse Technology Digital Clock
Next, we would like to introduce to you a high-tech digital alarm clock from La Crosse Technology. On the display, it doesn't show only time but also calendar (month, date, weekday) and indoor temperature. This one gives you two options to use it as a wall hanging clock or a freestanding clock. For sizing, the LCD is 5×3" big and the Temp digits are 1" tall. And, at this price, you can never go wrong with a La Crosse Technology product.
7. Zhpuat Morning Digital Clock
This bed alarm clock is not any less awesome than the previous ones. It comes in 3 colors – black, white, and blue, this one has a big screen and a clean and simple design. What's smart about it is the customizable backlight brightness that works automatically when surrounding light or dark surroundings. On-screen, there is some information such as month, date, alarm setting, and indoor temperature. The snooze button is pretty handy and easy to access/navigate, too.
This wakey home clock has an alarm that starts out soft and gets progressively louder until you turn it off. Therefore, it doesn't wake you up by blasting you out of bed as some other alarm clocks do. Besides, its price tag is very affordable as well.
6. Homtime Multi-function Alarm Clock Digital Clock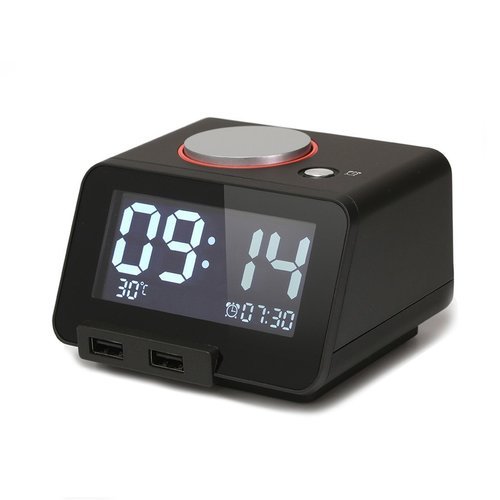 As a best-seller, you should trust the credibility of this digital alarm clock already. Available in 2 colors, this is a multi-function alarm clock that has 4 levels of LCD dimming and a 3.2" LCD large font display for easy readability during the day or at night. It is charged up pretty fast, too. The rechargeable alarm clock also has a snooze option and a gradual wake alarm like the previous one.
And, if you ever encounter any power failure or disconnection of the power cord, you can always use the Surealarm battery back up of the AAA battery. Looks like this one's got all the great functions we need!
5. Zhpuat 4.6″ Smart Backlight Digital Clock
Once again, here is another best seller – Zhpuat 4.6″ Smart Backlight Alarm Clock. It has very similar features to Zhpuat one reviewed earlier, but this one is an upgraded version. To highlight a few functions, this home digital clock has a big screen and a clean design, and customizable backlight brightness (according to daylight and nighttime).
On the screen, the information includes month, date, alarm setting and indoor temperature. The snooze button is just as handy and comes with the gradually increasing volume function as the other ones. Plus, it is more than affordable.
4. Mesqool AM/FM Digital Dimmable Projection Alarm Clock
This is another best-selling digital alarm clock of a great value. It is more innovative than the previous ones as it has the sleek 180-degree swivel projection, showing clear time and a cool look. The projection becomes even clearer when projected onto your walls or ceiling.
Sometimes, we also would like to switch from using the mobile phone to chilling with some radio channels. And, yes, you can always listen to the radio using this digital alarm clock.
Interestingly, this clock also lets you charge your smart devices with it, too. And, the charging is pretty fast. What's more, this bed alarm clock has dual alarms, which you can choose between a predefined alarm buzzer and an alarm radio station. How cool is that!
3. Sonic Alert Sonic Bomb Loud Dual Alarm Clock
If you need an alarm clock that is loud, it is a good idea to go for this one. Comes in 6 vibrant and gorgeous colors, this digital alarm clock is so powerful that it can shake you awake with the powerful bed shaker function and the adjustable extra loud alarm. For features, this one has built-in pulsating alert lights, adjustable volume, and tone, as well as a snooze defuser. The large red LCD and explosive red display can show you the time very crystal clear.
Besides, the purchase also gives you peace of mind as the product is backed by a 1-year warranty. With this one, you will never be late for your important meetings or classes again.
2. Electrohome Projection Alarm Digital Clock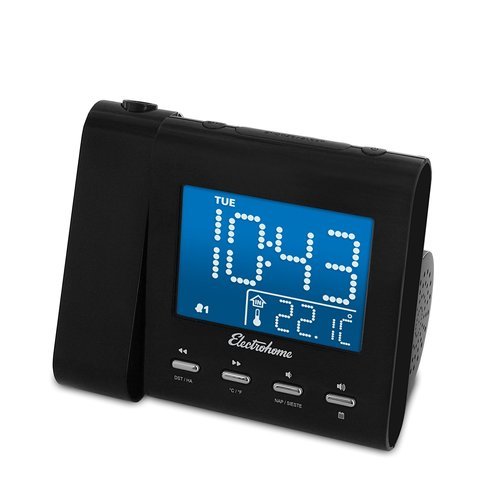 This is another small yet powerful home digital clock that comes in a number of functions. It has a large, clear 3.6" blue LCD display that can be dimmed according to your brightness preference. The clock is also capable of projecting time or temperature onto your walls or ceiling, seeing time in full view.
This guy automatically adjusts to daylight savings time and offers a pre-programmable daily dual alarm option. This option allows you to cancel the alarm for the weekend, wake to a radio, a buzzer, time projection, etc.
Best yet, you can blast music with this clock either through the built-in radio or connecting your smart devices to the clock through the 3.5mm aux input.
1. RCA Digital Alarm Clock
Lastly, this is the all-time best-seller RCA Digital Alarm Clock with large 1.4″ display. With a display of the size, you can always check the time out from afar. Its snooze button has a pretty large width, too, for easy access especially on days that you feel like napping a bit longer. The brightness is also controllable with high and low display settings. But, the most striking thing about this clock is definitely its super affordable price.
Conclusion
With so many innovative and reasonably-priced digital alarm clocks available on the market today, it is never a waste to get one for your room. After delving into these top 10 best digital clocks in 2017, have you found the one you're looking for yet?