It is happiness and also hard work to raise pets, especially when it comes to their mealtime. When you have work and away from home and no one is there to take care of your pet, it is a problem. Hence, you should find a responsible assistant to feed the pet. It is none other than an automatic pet feeder. It is a machine that stores food and releases regularly based on setting time. You don't have to worry if forgetting to prepare pet food. More than that, the automatic pet feeders has many great functions for your convenience and your pet's wellbeing.
Best Innovative Automatic Pet Feeders
Here is the list of best automatic pet feeders in 2023 with a buying guide.
10. Homdox Food Dispenser for Cat and Dog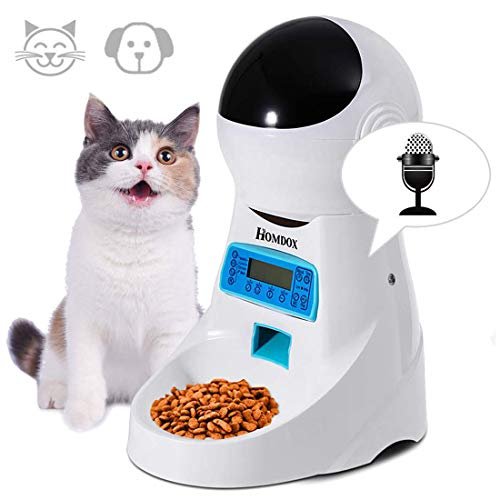 Starting from this fantastic automatic pet feeder that allows up to 39 portions to feed your cat or dog. Actually, it has a capacity of 4 litres; therefore, you can set a portion from 5 grams to 195 grams. It is suitable for both small and big pet who has a tremendous appetite. Moreover, this machine can distribute up to four times a day, from morning until night meal and never miss feeding. There are many setting buttons where you can adjust the feeding amount, the timer of the hour and minute, voice recording, and voice speaker too. All of these are seen clearly through an LCD.
9. BELOPEZZ 3Litres
Let's train your pet with particular eating time with this smart pet feeder. Setting timing for breakfast, lunch, dinner, and supper for him/her, this machine will automatically provide the exact amount of food as you have fixed. With the large capacity of 3.5 litters to store dry food, it is enough to keep your pet full about a month. Hence, it is not a problem if you are on a mission and out of home for several days or even weeks. Besides, this feeder has a built-in IR detector to prevent overflow or clogging when releasing food. Also, you can record a 10-second file to call your cat or dog over.
8. Arf Pets Automatic Feeder
If you have a small puppy or kitten, then a food feeder with lesser capacity will work well for you. This is a robust automatic pet feeder made of ABS material, having a 1.14-gallon container. Therefore, it can dispense up to 10 portions per meal— a portion is 24 ml. For convenience and mobility, this product has a lightweight of 4lbs and two operational power choices which are batteries or DC cable to the outlet. Additionally, its LCD screen and easy-touch buttons enable specific settings of timer and portion. It offers high technology lifestyle for the voice message that lasts 10 seconds to connect with your pet.
7. Iseebiz Automatic Cat Feeder 3L Pet Food Dispenser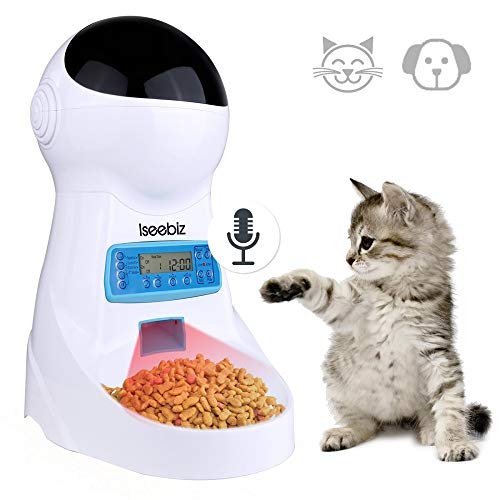 Taking pet's health seriously into consideration, this excellent automatic cat feeder uses BPA-free and durable materials to ensure longevity and safety. This product has a precise sensor function to control the food refilling from overflowing and will automatically stop. Moreover, if you worry that your pet doesn't know and get his/her food, you can record your voice as the machine contains a microphone recorder. So it's like leaving a voice reminder for your lovely pet. Also, this automated feeder for a pet has a built-in ratable container storing up to 3 litres. The food is well-protected by the cover to keep freshness.
6. WOPET Pet Feeder Stainless Steel Bowl
Anyone wishes for a high-quality and long-lasting product, and this pet feeder will offer incredible performance and resilience of its construction. You may choose this product for small and medium pets due to its capacity storage of 2.5 lbs. Despite the slighter volume, it still can distribute meal portions to 39 while the adjustable of each portion is from 5 grams to 195 grams. Additionally, to ensure food safety and durability, this automatic pet feeder uses a stainless steel bowl where the pet can enjoy their food. To add, you have to make food choices whose size range is 0.2 inches to 0.6 inches to flow smoothly from the dispenser.
5. BELOPEZZ 6Liters Smart Pet Automatic Feeders for Dog and Cat
You can make different settings for each meal, both time and amount. For instance, your pet may consume more food for dinner than breakfast. Hence, you can easily control through buttons on the top panel, and there is an LCD to check. This machine is perfect for controlling diet and solving starvation when the owner is not home. Also, the product contains two rotators that are suitable for all sizes, small, medium, and large. The small size food rotator allows 5 grams to 195 grams portion, while the bigger one is 10 grams to 390 grams. Amazingly, it can store approximately 6.5 lbs of dry food thanks to the enormous tank.
4. WOPET Automatic Pet Food Dispenser for Cats and Dogs
Ideally used with dry food of pellet size up to 0.6 inches large, this functional food feeder for a pet will relieve your day-to-day task. The product enables you to set for four meals at most, which you can either activate all or less. By the way, it also has two rotators for different quantities to feed small pets and big pets. And to prevent power cut off situation, the machine offers dual power operations. So you can use both batteries and power outlet source at the same time. Furthermore, you can effortlessly remove the tray and food compartment to clean in a dishwasher.
3. WESTLINK 7L Food Dispenser for Large Small Dogs and Cats
This Westlink automatic pet feeder is suitable for all pet sizes because its large food container can hold up to 7 litres. Therefore, it will last for days enough for your pet. It is also a time-saving to refill only once in a while. Moreover, this machine has a tight pull-out design lid, which prevents spilling and maintains the quality of the food. What's more, it has a voice recorder function that requires you to press a microphone button for 3-seconds, and when LCD flashes, you can start recording. It is for calling your pet over to eat. This product is sturdy, easy to clean, and provides precise portion size as you have set.
2. JOYTOOL Automatic
Don't worry and let this professional and punctual pet-sitter takes the job. Your pet won't be starved because this automatic feeder has an intelligent system always to maneuver. You can control it at ease with all those buttons of time setting, meal size, voice, etc. This product is more likely for small and medium dogs and cats. Actually, it can store 2.5 lbs of dry food which will last for 5 days to feed the pet. Additionally, it has a built-in bowl design to create a fixed station for eating. The machine is detachable and easy to clean.
1. PetSafe Smart
Fantastically, this smart pet feeder is the best of all. You will have peace of mind having this machine at home to take care of your pet. The device is connectable to a smartphone and user-friendly since you can monitor and control it from far away. For instance, you will receive a notification when a food sensor detects a low quantity in the storage. Eventually, it can automatically order pet food online too. In addition, you can schedule up to 12 meals per day, including a full meal, instant feed, and slow feed accordingly. Last but not least, this automatic feeder is convenient to clean and made from food-safe materials.
Conclusion
All in all, you can see that having automated to provide a regular meal for your pet is convenient, time-saving, and disciplinal, for it helps to schedule time. Therefore, your pet can adjust to the consistent hour of eating. Now with the automatic pet feeder, you will not concern when you are out the whole day, and no one feeds the pet. It is also perfect training for the pet about eating habits. Anyway, there are many pet feeders with various capacities, functions, and features that serve your needs. The 10 automatic pet feeders above are the best products which are beneficial, high-quality and won't disappoint users.
Buying Guideline
Before deciding to purchase any model of pet feeder, you should consider a few things. First of all, it is about storage capacity, which means you should decide the one with enough space to store food for your cat or dog. And it may depend on the appetite and how much your pet consumes. Second of all, the product should be easy to use and clean as well because you will have to operate it daily and wash it regularly. Third of all, you may choose the ultimate automatic pet feeder with programmable features, such as mobile control, voice reminder, LCD clock, and so on.