To support physical health, it needs food and water. Pets are no exception. They need good food and clean water to be robust, healthy and growing. And water is made up of the majority of the percentage of a body. Hence, it is urgent to ensure that the water you give to your pet is clean without any bacteria or harmful particles involve. However, it is quite hard to do that since you won't be home 24/7 to check on the pet. So the best solution is pet water fountains.
Pet water fountains will keep your pets hydrated through days and nights. With a filter to get rid of debris, they guarantee fresh, oxygenate water providing to your pets. Besides, you don't have to refill water all the time because fountains have a compartment storing a certain large amount of liquid. Cats or dogs will know their food and water station.
10. Hommii Cat Water Fountain
This BPA-free electronic water fountain is perfect for pets because it has activated carbon filter, which can catch hairs and debris, remove bad odor, and keep water fresh. Moreover, the product quietly works so you can run it without any disruption, and the operation won't annoy pets too. Since it needs only 2 watts, the machine won't consume much power. The product allows you to fill in up to 1.6 liters that enough for 5-7 days. So you need to refill once a week. Also, it has water flowing options, such as a faucet-like stream, bubbly flow, and quiet gently swirl.
9. Cat Mate Water Fountains 70 Fluid Oz
Let's get your pet a multi-level pet water fountain because the drinking station can be fun too! This product uses the Isolated Pump System to keep the water filtered and flows quietly. Furthermore, the basin contains a polymer carbon filter to purify the water eliminating impurities and pet's hairs. You can replace the filter monthly to maintain the quality of water provided to the pet. It can store up to 70 oz, which is enough to keep your dogs or cats hydrated through several days. In addition, you can remove parts of the water fountain and wash them in a dishwasher.
8. NPET Cat Dog Water Fountains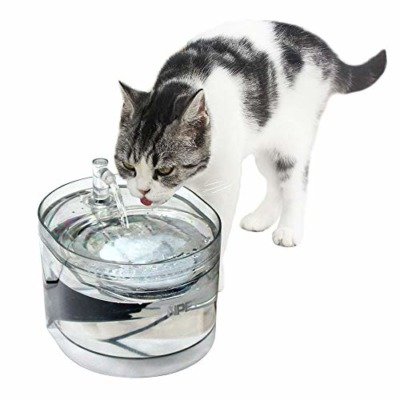 Your pet will get healthier by consuming clean water filtered by this multi-stage filtration pet water fountain. It first filters hairs and residues, then removes terrible taste and smell, and keep the water clean and fresh all the time. That way, your pet won't interface with urinary diseases. The interesting point is this water fountain is transparent and made from polished AS rein material. It is undoubtedly safe for the pet as the water bowl is BPA-free and non-toxic. And if you are not home for many days, this machine will be responsible for hydration for days due to its 1.6 liters capacity.
7. Beacon Cat Pet Water Fountain Stainless Steel
Amazingly, you will see the red indicator of the pet water fountain telling when the water supply is a shortage. Hence, you can see the notification and refill more water. By the way, this fountain can store about 2.4 litters. And due to the stainless steel compartment, it can keep the water fresh for a whole month. Moreover, this product provides you with three replaceable filters, which each contain a triple filtration system. For example, there is cotton to improve taste, ion exchange resin to filter hair residue, and activated carbon to get rid of chlorine. It also gives a silicone mat in case of spilling.
6. Pet Water Fountain Stainless Steel, Auto Power Off-Pump
Purchasing this product, you will receive many extra items, such as a mat, two cleaning brushes, and three carbon filters. Thus, you can clean its parts thoroughly, and enough filters to use for a few months. This pet water fountain's construction uses BPA-free plastic body and stainless steel bowl, which is dishwasher-safe. Significantly, this machine won't keep running despite the shortage of water. Then, it will turn off automatically. Additionally, you can add 2.4 liters to the container, so it will last for many days before the next top-up. About the filtration system, it will ensure sparkle and oxygen water.
Related: You should have an automatic feeder for your pets as well. Check it out now for great deals!
5. isYoung Cat Fountain LED Pet Water Fountains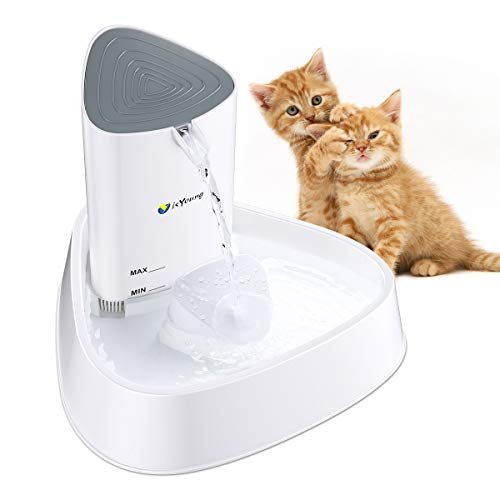 The noise-canceling automatic pet water fountain has many incredible features. For instance, it has an LED light design that will glow in the night for pets can find their way to the fountain. Moreover, the water will flow like a waterfall beautifully. You can control flow as well. There are water level measurements, max and min to tell when you need to add more water, and to prevent overflow water. It has a 51-ounce capacity. What's more, you can clean the parts with soap and warm water for hygiene. You should change the filter once a month, at least.
4. isYoung Pet Water Fountains 1.6L
Having a compact size and lovely design, this best pet water fountain is purposely for small pets. It can store up to 1.6 liters. In addition, it is formed by finely polished PP resin, which is BPA-free and good for health. More than that, the fountain has a premium activated carbon filter to catch debris, remove smell, and improve the taste. Despite working 24/7, this automatic water fountain consumes less power, which is about 1.5 kWh per month only. Likewise, this machine has a noise-canceling operation intended to avoid disturbing anyone in the house, as well as pets.
3. Veken Pet Water Fountain 2.5L
You can control and select one of the three water flow settings to attract cats and dogs differently. For instance, the flower waterfall will work to cats, the gentle mode offers a spacious drink area for large dogs, and the flower bubble is for both cats and dogs. To add, this automatic pet water fountain has 2.5 liters capacity. In addition, the product's filter has three layers of high-density cotton, coconut shell activated carbon, and ion exchange resin. The body is made from food-grade materials for safety. Incredibly, this machine will last longer than 20000 hours of use, and it produces a noise of less than 40 dB.
2. Veken 84oz/2.5L Automatic Pet Water Fountains
Let's talk about this lovely blue lightweight pet water fountain. Although it is only 2 pounds, it offers durability and hygienic quality. Constructed with numerous layers and parts, this automatic water fountain can store 2.5 litters for small to medium-sized pets. Moreover, the low consumption of 2 watts will save electricity bill for you. This product can drain hair residue, eliminate heavy chlorine metals, and vastly improve the taste with its triple filtration system. Similarly, it has three flow settings of a waterfall, bubble, and gentle. You can adjust based on your pet's preference and habit.
1. PETKIT 68oz/2L Automatic Pet Water Fountain
Proposing a lot of uniqueness, this automatic water fountain for pets contains high technologies and structures. For instance, it uses quadruple purification, including ion-exchange resin, activated carbon filter, mesh screens, and top filter tray to pass the quality control and offer clean water. What's more, the water flow is W-shape circulation that won't splash or spill. It gives a large drinking area to pets. With the smart function, this machine won't dry burning because it will turn off by design when the sensor notices the lack of water. However, before that, it will inform you with LED light indicating water shortage and the time to change the filter.
Conclusion
All in all, you can see that using a pet water fountain can bring a lot of benefits. It hydrates your pet with healthier and better water quality. So your pet won't get sick quickly because of fewer bacteria and impurities.
Also, the product is convenient for both owner and pet. Pet can always find freshwater 24/7, while the owner doesn't have to be there and keep refilling the pool.
You can genuinely think through the top 10 best pet water fountains above. They have different sizes and materials construction offering various benefits and conveniences. You have all the best choices to pick.
Buying guideline
Before deciding to purchase a particular brand or model of pet water fountains for your lovely cats or dogs, there are several points you should consider.
First of all, you have to choose a suitable size fountain to match the need for water for your dogs or cats. The bigger breeds, the more significant amount they require.
Secondly, the most crucial element of the water fountain is the filter. There are different types of filters that you may choose accordingly, such as carbon filter, foam filter, etc. The filter is to make sure to eliminate all debris.
Lastly, knowing about the materials of the product is necessary too. Some fountains are made from plastic, porcelain ceramic, or stainless steel. Yet, the product must be BPA-free and food safety.