After swiping and dusting off debris on the floor, the next mission is to wet wiping in order to complete the cleaning. In the traditional way, you have to mop the floor by using a piece of cloth and your hands to clean over the whole place. Isn't it too hard and time wasting? You can get better option by replacing with high technology products, steam mops. The steam mops are special household equipment that can save time and energy a lot. You don't have to kneel down and use hands as tools to clean anymore.
Here are the top 10 best steam mops which are highly suggested for everyone to use. You can get more details about them from the text below.
10. Shark Pro Steam Pocket Mop S3973D
Initially, this is a transformable electric mop among the greatest steam mops. To be clear, this product has a detachable handle so you can use it in an upright way or as a handheld to clean hard-to-reach areas. This steam mop has a big water tank having a capacity of 500 ml. You can use it for a pretty long period of time. It has a long electric cord as well which is 22 feet.
9. HOOVER FloorMate Deluxe Floor Cleaner FH40165
You can store the item aside easily after finishing the task. This is a foldable steam mop which has a flexible handle. You can adjust the handle for better position and direction during cleaning. Interestingly, this hi-tech mop has a wash and dry modes. It can use water to clean the floor and then absorb the water back to dry. Plus, it has dual water tanks for clean and dirty water.
8. BISSELL PowerFresh Deluxe Steam Mop
You may worry that using a steam mop cannot clean up all messes and stains on the ground. But you can relax with this super-functional steam mop. It has a built-in onboard spot boost brush kind that is able to remove all spots on the floor even sticky and stubborn stains. This product works well due to the 12 amp motor. You can also select levels of steam; low or high. Its 25 feet cord allows long distance washing.
7. PureClean XL Rolling Steam Cleaner
Wonderfully, you can use this steam cleaner product for both indoor and outdoor. The portable steam mop is attached with rolling wheels for smooth movement. Moreover, there is a handle on the top of the tank so you can grab and lift it away effortlessly. The tank can contain 1.5 litters and it can produce steam straight for 45 minutes. It is such a long operation, isn't it?
6. O-Cedar Microfiber Steam Mop
Hygiene is essential and everyone needs to get everything clean for healthy life. This product can fulfill the need for you. Thanks to the steam cleaning, it can get rid of 99.99% of bacteria on the floor. If you have little children at home or pets, they will be safe from germs. It has microfiber pads which can remove the tough mess. It is a lightweight steam mop that weighs 5 lbs.
5. Shark Steam Mop S1000A
Let's meet another ultra-lightweight steam mop of 4.6 pounds and white color. You won't have a problem to carry it around the home. It basically uses only hot steam water to clean; there is no chemical involvement. This mop requires only a few seconds to get ready and start working. All stains, grease, and grime on the floor will be detached. What's more, it comes with an 18 feet power cord.
4. Shark Genius Steam Mop System S5003D
You don't have to deal with dirty water and a traditional mop anymore. This is a touch-free technology steam mop that enables you to stay in comfort zone. It has a reusable pad to clean the floor and after using you can wash the pad in the washing machine. In addition, there is a button where you press to release the grip of the pad. All in all, you don't have to interact with dirty stuff.
3. Steam Mop Steam Cleaner Steam Mops for Floor Cleaning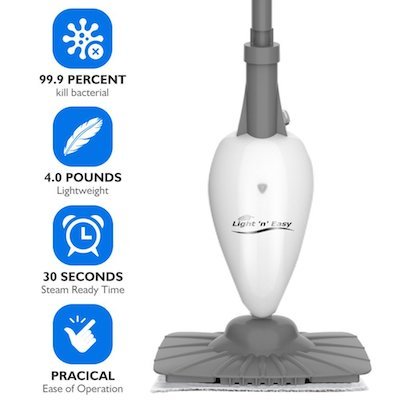 This product won't waste your time. It takes only 20 seconds to be ready and produce steam. At the same time, it also needs 20 seconds to dry the floor. Nothing can beat this extreme practical steam mop. You can grab the mop comfortably due to its ergonomic and soft designed handle. Since it is only 4 pounds, you can lift it on messy spots without trouble. It has pretty white color.
2. Shark Steam Pocket Mop S3501
Need a great assistant to clean the whole household? This is the one for you. It is a quick operation steam mop which barely takes 30 seconds to boil water and release steam. After plugging, you can get the work begin right away. Besides wetting the floor, it also has dry mode so that you won't slip or still has a chaos to deal with. It has a double sides pad so you can clean in flexible motion.
1. BISSELL PowerFresh Steam Mop
This is the last product of the best steam mops today. This product offers the most convenient functions for users. There are three steam levels which you can choose by pressing one button only. You just need to plug the 23 inches power cord and the 1500 watts motor will start operating. You will end the chore at a fast pace as the steam will be ready in 30 seconds.
Conclusion
In short, it is obvious that the steam mop products can give a lot of advantages to users. They allow good smell steam to spread in your home, clean the floor without wetting all over. You can do the house chore at ease. Why do you have to travel far just to get an item? This article has already introduced you many high-quality steam mops which are totally beneficial and trustable. You can compare them and choose one among all to be yours right now.