Do you want to have a real home gym? If so, now we would like to introduce a piece of necessary training equipment known as balance beams. It is for enhancing your gymnastic training experience and provide better fitness. Even if you are a beginner, it is still suitable for you as it can accommodate the demands of both adults and children.
From the consumer's perspective, we understand that you want to get your money worth by obtaining the best product with the highest quality. Therefore, we have done a lot of research and discovered the top ten best adjustable balance beams. Furthermore, the last section of this article will review the main features of the most outstanding adjustable balance beams.
10. The Beam Store
First of all, we would like to introduce a 30-inch beam from The Beam Store, specializing in retailing balance beams. This balance beam provides a sturdy base along with the adjustable height to suit your demands and preferences. It is constructed of wood which offers strength and durability.
Users can make the adjustment of the height between 15 and 30 inches. On the top, it is coated with synthetic and polyethylene foam to make it padded for additional comfort. Last but not least, the maximum loading capacity of this balance beam is up to 250 pounds. Its quality is ensured with a warranty.
9. MaxKare
Here is another great design of a balance beam with elegant black legs and a pink top. It is constructed of solid wood, and it features EVA foam as a sturdy base. It does offer not only durability but also a strength for you to enhance the training experience. Even beginners can start with this balance beam with confidence. It comes with 3 choices of height for adjustment, which ranges between 16.5 and 20.5 inches.
The maximum capacity that it can hold is 440 pounds. It guarantees to be non-slip no matter what the situation is. Therefore, it is always a nice gift for your family and friends.
8. Nimble Sports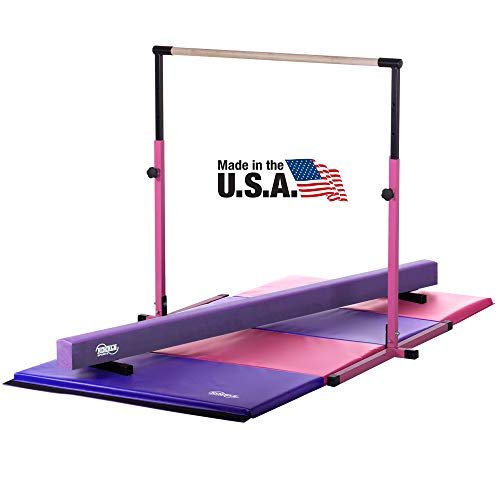 Nimble Sports features a wonderful horizontal bar in the beautiful pink and purple color design. It is made of suede as well as vinyl from the manufacturing industry in the US. The base of the bar measures its width at 4 feet, and its height can be adjusted between 3 – 5 feet to meet with different demands. Moreover, the wood dowel has its diameter measures 1.5 inches, which include rubber caps and lock bolts to add more stability.
The bar is able to hold up to 300 pounds. Last but not least, the mat is foldable to a much smaller size which users can carry it easily during transportation.
7. Giantex
Here is a floor balance beam from Giantex which is for gymnastic purposes. The base is made of suede fabric that is not only durable but also sturdy and stable. The top of it is constructed of suede which maximizes comfort and softness.
This beam is made of 2 parts, which can be connected, allowing more choices. This beam is designed for all trainers, from toddlers to beginners to experts in the training field. Last but not least, when not in use, users can always break the beam into a much shorter size for convenient storage.
6. Nimble Sports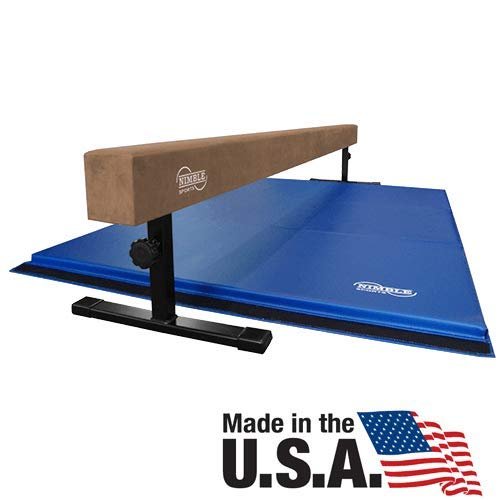 Here is another model of a gymnastic balance beam from Nimble Sports. It is the USA's product, and it features all the high-quality materials, such as wood core and premium foam. The wood core offers balance and stability to improve the training process for the users to enjoy. The brace is made of steel, and its height is adjustable according to your demands. The adjustable height ranges between 12 and 18 inches.
It also features an additional low brace to get the rubber fitted easily. If you want to connect more mats to it to have more space, hooks and strips are provided in the package to offer you a better experience.
Also check this: Best Tennis Rackets Reviews and Buying Guide.
5. EZ GLAM Adjustable Balance Beams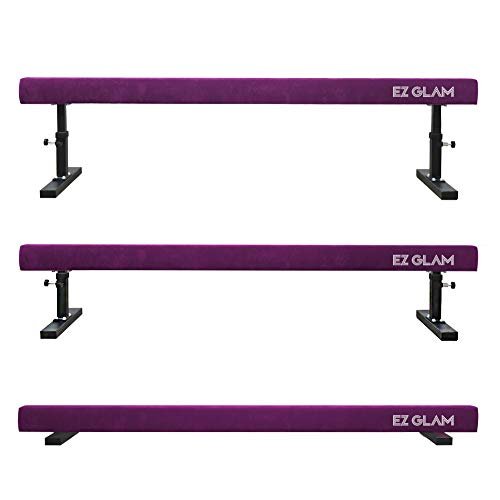 Now, it is time to explore one of the best gymnastic beams from EZ GLAM. It has its length at 8 feet, and it comes with 2 color choices, which are pink and purple. It is designed ideally for beginners who wish to start the training journey at their own home. The beam features an adjustable brace that adjusts the height from the ground for different types of trainers.
It includes non-slip feet for the best stability and durability. The height adjustment is divided into 2 modes. The lower one is about 4 inches, and the higher one ranges between 17 and 24 inches.
4. Best Choice Products Balance Beams
Here is another balance beam from Best Choice Products. It is designed perfectly from use in the home and other indoor settings. The width of the surface is 4 inches wide, which is suitable for both beginners and experts.
It is constructed of premium quality foam and vinyl to provide a comfortable and smooth environment for training, such as walkovers and handstands. It is lightweight and foldable for users to store it easily and conveniently.
3. Gym2Dance Adjustable Balance Beams
It is time to look at another gymnastic balance beam from Gym2Dance, which consists of sturdy black legs as the base and pink cover on the top. It has many sizes, which range between 4 and 16 inches in its overall length. The feet is constructed of wood along with stainless brackets for strong connections. There is a riser that ranges between 12 and 19 inches.
The surface has been upgraded with pads to provide extra comfort for users to enjoy. It is also wrapped with suede to provide a great feeling of realism. Last but not least, the installation is simple and easy, with detailed instructions provided.
2. Matladin Portable Balance Beam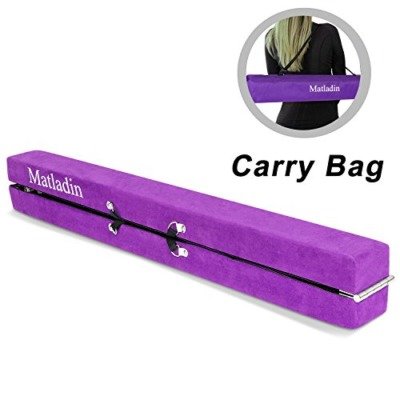 Here is a well-reviewed balance beam from Matladin, which is available in many beautiful color choices. At an affordable price, it is suitable for all levels of trainers, from toddlers to adults, both professional and unprofessional. It comes with a storage bag along with the strap for you to carry with you anywhere. The base is designed with an anti-slip surface that offers the best stability and durability. Moreover, it uses hinges to secure the floor from dents caused by this beam.
Its core is constructed from pine wood, which is sturdy and durable. It is padded to offer extra comfort for you. Besides, its weight is only 10 pounds, and it can be stored anywhere around the house, including in the close. Last but not least, to make it last longer than your expectation, all sides have been reinforced by double stitches.
1. Springee Professional Balance Beams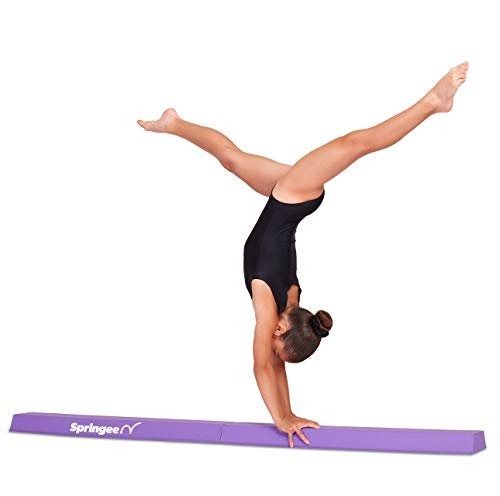 Last but not least, here is another adjustable balance beam from Springee. It is not too soft like other beams. It's just firm enough to enhance the training experience. It has the loading capacity of up to 160 pounds. Also, the base features 10,000 dots which are for non-slip experience.
It can be placed anywhere, including on tile or hardwood. It is 4 inches wide, and an additional foam core is provided. They are wrapped in vinyl which is easy when it comes to cleaning time. It is lightweight and foldable; therefore, it is very easy for storage.
Conclusion
To sum up, above are the top ten best adjustable balance beams that we have researched and offered to maximize your training experience and satisfaction with these high-quality products. The most important thing about training is that the equipment is safe and sturdy for users to well cooperate with. Therefore, from our list, you are ensured with all of the highest quality products which even exceed your expectations.
---
Buying Guide
Despite the description of the top ten best adjustable balance beams above, we still want to ensure that you get to know how to choose the right balance beam for your home gym. Thus, in this section, we will demonstrate the main functions and features that the excellent adjustable balance beam contains to maximize the quality of your training experience.
Height: the height is adjustable. Some come with a low and high mode in which the height ranges between 15 – 25 inches.
Loading capacity: it should be able to hold as much weight as possible. While some can load up to 160 pounds, others can even reach 450 pounds at its maximum.
Core materials: most of its cores are made of solid wood for durability and stability. Thus, it can last for many years without any possibility of the collapse of the structure.
Padded surface: This maximizes comfort while maintaining the right softness and firmness. Also, it has to be non-slip to ensure that the trainers are safe from any possible accidents.