Although you like golfing in a spacious field, sometimes the weather conditions and time won't allow you to travel and go out. Then, what should you do to practice golf? Well, there is a perfect solution that you should consider. It is none other than indoor golf putting green mats.
The green mat is specially designed for casual practices inside your home or office. It is like having a sports equipment for you can relieve stress and exercise. With the golf putting mat, you can save a lot of time and become more flexible in schedule. The product is a wonderful rehearsal tool for beginners to get used to golfing. You may check these amazing indoor golf putting green mats below.
10. SharperGolf 10′ x 20″ Premium Indoor Putting Mat
Perfect for golf practice, this non-slip premium indoor golf putting green mat has dimensions of 10 feet length and 20 inches width. Since it has an anti-skid rubber bottom, the mat won't move and ruin your ball movement. Moreover, it comes along with a putter mirror and storage bag, which is well-organized after using. Besides, you will also receive two green ball markers using to mark a line on the ball. The mat has three lines so that you can practice hitting the ball straightforward. This way, it benefits your skill to aim for the goal. It is a flat green mat for a speed of 8 to 9.5.
9. Putt-A-Bout Golf Putting Mat, 3 x 11-Feet
You can have fun with this flat golf putting mat featuring three socket goals. Hence, you can play like a real game. Although its main purpose is for indoor use, you can lay it outside and enjoy the sunlight and fresh air. It is a large one with a size of 11 feet by 36 inches. Space is enough for you to stand on the mat and swing your golf club to the ball at different angles. In addition, due to its rubber bottom, the mat is non-slip and suitable to place on various floor types such as hardwood floor, tile floor, ground, etc. The ball will roll smoothly as you direct.
8. Abco Tech Indoor Golf Putting Green – Portable Mat with Auto Ball Return Function
For lightweight and toughness against weather, this portable indoor golf putting green mat uses plastic material. Moreover, this mat has wonderful features, including line auxiliary, to guide you straight to the goal hole, and another lane is wider and clean with a bigger hole for a skillful hit. So you can start from the beginning until becoming professional. Additionally, there is putter and balls tray for you can organize them neatly; also, the tray works as a height raise making the mat more fun and challenging. Lastly, when the ball falls into the hole, it will reappear through the back fairway.
7. VariSpeed Putting System – Practice 4 Different Speeds
Incredibly, this multifunctional indoor golf putting green mat enhances dual-speed lanes, for you can play at fast and slow speed. Produced from polyester, the green mat is for both amateur and professional. Looking at its size of 10 feet and 20 inches, you can have fun with multiple players. Each side of the mat has a barrier to prevent the ball from getting out of the zone. It is great management. What's more, the product comes with an adjustable brake wedge so that you can set it up for realistic conditions. You can practice and prepare for the real obstacles other than just a flat surface.
6. PROADVANCED ProInfinity Putting Mat – 4 Speed Golf Green Simulator
Now you can build your-way of golf playground with this amazing putting mat. The indoor golf putting green mat provides 12 accessories in the package for you. For instance, there is a four-speed putting mat with the ball-tracking system, six of movable foam wedges, a silicon hole cup, a metal hole-basket goal, two slope creators, a ball backstop, a ball trace eraser brush bar, and a training book. To add, the mat is for speeds from 8 to 12.5 so that you can adapt and play according to the environment. Interestingly, this product enables up to four people to participate.
5. SKLZ Golf Indoor Putting Green
Having a compact size, this indoor golf putting green mat won't require much space at your place. The actual dimensions are 8 feet 6 inches long by 3 feet wide; thus, it is easy for portability. You can roll it and fit it in a travel bag. It also has rubber backing for durability and non-slip. Furthermore, there are three-hole cuts built-on the mat and bunkers behind to catch the missed balls. So there is nothing complicated for you to manage or set-up. It has slight upslope at the holes, and the true-roll surface matches green conditions. It is like you prepare for the real competition.
4. SKLZ Accelerator Pro Indoor Putting Green with Ball Return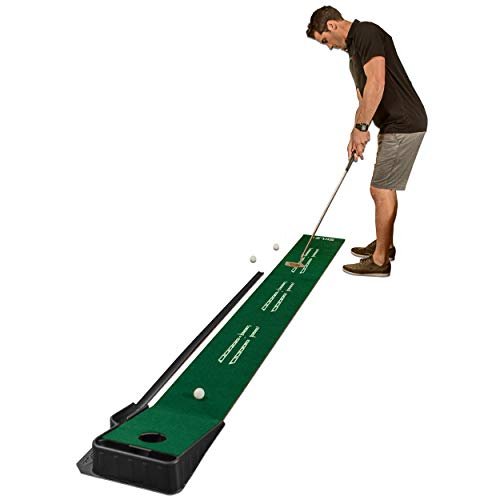 If you are looking for a game of small indoor golf putting green mat, this might be the one. It is only 9 feet long and 16.25 inches wide, which is perfect for home and office. It is suitable for a single player. Moreover, with this putting mat, you can play like a real game thanks to an upslope toward the cup. It allows you to estimate and accelerate the strength to hit the ball more accurately. When you want to assemble and play golf, it will take only a few minutes since the mat is flat with an anti-slip bottom, which is effortless to lay and roll-up. During the game, the ball will automatically return.
3. Putt-A-Bout Grassroots Par Three Putting Green
Designed with three cup cutouts, this best indoor golf putting green mat also has dual sand trap cutouts to catch missed balls from falling out of the mat. By the way, the product has a unique shape like a kidney; hence, it creates better challenges for the player, and it is sure more fun! For more information, this golf putting mat has quite a big measurement of 3 feet by 9 feet. The even flat surface of the mat promises no wrinkles. It will stay smooth to assist your play. Besides, the mat has non-skid backing and thick depth, ensuring durability.
2. EXPUTT Indoor Putting Green, Golf Putting Practice Mat
Purchasing this indoor putting green mat, you will receive a storage bag for portability and well-organized. Hence, it is not a problem. This product is a thin rectangular mat with approximate dimensions of 10 feet by 1.65 feet. Furthermore, this mat is sturdier than other ordinary products since it uses high-quality TPR backing material and heavy-duty nylon material. With the best density, it will last longer and enables great performance. Additionally, there are lines and marks on the mat, for you can track and check the right position and angle when stroke.
1. TrueBirdie Indoor Putting Green and Golf Mat with Travel Bag
Let's have fun wherever you are, at home or office. This TrueBirdie indoor golf putting green mat is about 10 feet long and 16 inches wide. The mat markers indicate a clear length and where to start so that you can practice well. Like other best indoor golf mats, this one also uses non-skid backing to stabilize itself despite the action. What's more, there is a silicone cup included in the package to be your destination goal. Therefore, it can stimulate the real situation. Last but not least, you will get a travel bag with drawstrings easy to carry.
Conclusion
As you can see, several benefits are coming from a game of indoor golf putting green mat. The golf mat is a practical item helping users to practice their skills. You can use it anytime you want, and it is budget-friendly. You don't have to go out on a crazy-busy day and spend much more money on the field. Also, you can invite friends and colleagues to play together for a fun time!
Moreover, the mats have marks to illustrate length and location for you can measure your hitting strength. Besides, many additional items are coming with the green mat to assist your play. A set of golf putting mats will light up your day despite bad weather and stressful day.
Buying guideline
The question is how to get the best indoor golf putting green mat. Greatly, there are a few things you should look for when deciding to purchase. First of all, you may want to get a good quality mat made from durable materials. It also indicates whether the surface is smooth or suitable for the golf ball's journey. Second of all, it is necessary to get the right length mat depending on your indoor space. There are many green mats with various sizes and lengths. The third thing is the design and shape because not all golf mats are straight rectangles. The shape and extra features can make the game greater.