One of the tools we don't use every day is the bevel miter saw. But when we have to cut a piece of wood at an angle, we are happy to have one around. The great advantage of double bevel miter saws is the versatility. They can act like a standard table saw, cutting straight and with great precision to different material kinds.
But when you have a workpiece that needs an angle in the cut, like a frame, then the bevel comes in handy. The double bevel saws make life even easier since they let you cut from left or right with just a simple tilt of the bevel. Precision is everything, and some devices even have a laser included to ensure the cut is perfectly aligned.
List of Best Double Bevel Miter Saws
We reviewed a few of the best double bevel miter saws in the market, most made from well-known brands.
7. DEWALT DWS716XPS Miter Saw
The Dewalt Double Bevel Miter Saw is a flagship of the company, seen in many workshops and carpenters. It has a powerful 15 Amp motor and an electric brake; the engine runs at a max speed of 3600 rpm. Most of the saw is made from metal, most notably the base, so it's sturdy and won't move while operating. Cutting through wood and plastic, laminate, and other materials are not only comfortable but very precise.
What we like is the precision for the adjustment of the angle. You can release and secure it quite fast, without compromising on safety. As with most double bever miter saws, the Dewalt swings quickly from left to right when you need different angles. It saves you a lot of time compared to a single bever miter saw. The cut capacity is impressive; it's 2×8-Inch dimensional lumber at 90° and 45° still 2×6-Inch dimensional lumber.
Features:
0 – 48 degree stops left and right
LED light supported positioning
Adjustable miter detent plate with 14 stops
Lightweight, only 49 pounds
Most of the device is made from metal
Accurate cutting straight and in angles
6. TACKLIFE Sliding Miter Saw with laser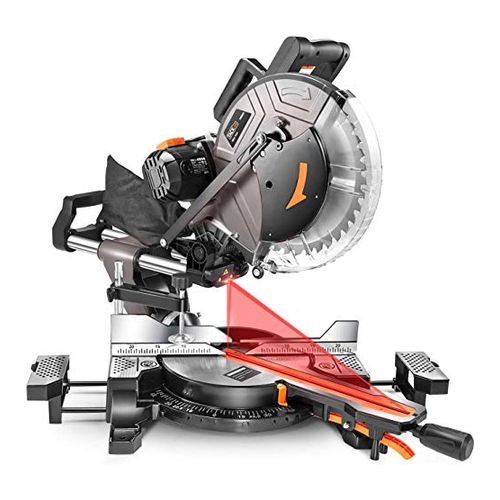 Tacklife is quite long on the market and brings unique tools into home use. The Sliding Miter Saw is no exemption. It comes with a 40 tooth blade, so you can start right away after unpacking. For your safety, extend the stands at the bottom of the device. The most remarkable feature is the laser, pointing you in the exact right position. You can switch it on and off at the control panel, where you can also adjust the two speeds for cutting wood or metal.
When unlocked, you can smoothly move it up and down, and with the slider even horizontally. The maximum length is 34″. The package also contains a clamp to fix the item you want to cut. Whatever the miter or the bevel level is, operating is just fun with the handle on the right, giving you enough space to watch the cut.
Features:
Sharp 40 Tooth TCT Blade
Laser Marker & Extensible Table
3800 RPM
40 Tooth TCT Blade
Dust bag
5. Metabo HPT C10FSBS Electronic speed control
As with many double bevel miter saws flipping the saw blade and leaving the material in place is an important task. Metabo makes it easy; you can flip in no time, cutting in 0-45 degree angle precisely and fast. The 12 Amps motor runs fast and with electronic speed control for different materials. To be accurate, you can use the positive stops on both the bevel and the miter scale.
The saw is heavy but as much as other models. You can still carry it around your workshop without hurting your back. There are four screws to recalibrate the bevel if necessary; the manual gives you further instructions. You will also notice the high pivoting fence, which improves stability but also keeps cutting flexible. The miter angles go 57 degrees to the right and 45 degrees to the left. The central handle is right in front of the saw, giving you a good feeling where you cut.
Features:
Electronic speed control
Soft-start function
12 Amp motor
Weight 54.9 pounds
Dust bag included
10mm Box Wrench
4. TACKLIFE 12-Inch double bevel miter saw
Are you cutting thick wood or metal, or you have to cut a large volume of material? Then you need power, and that's what Tacklife delivers you. The motor is 17 Amp, more than other models. It also comes with a powerful laser, although not for cutting purposes but for precise positioning. You will see that the saw is well built, with attention to details like the scale.
There is an outlet for a vacuum cleaner, but no dust bag is included. However, since it's a standard size 35mm port, you can use bags from other devices. The saw cuts not only wood but also metal, aluminum alloy, and PVC. Just make sure you are using the appropriate blade. The angle lever at the bevel moves easily and smoothly, although it's made of plastic.
Features:
3800 RPM
Laser marker
90 percent dust collection
Goes through wood, metal, PVC, tiles, and aluminum alloy.
40 Tooth TCT Blade
3. Bosch Power Tools GCM12SD 60 tooth blade
And then there is Bosch, the German manufacturer of tools and testing devices, well known worldwide. And since it's German, the blade has more teeth than others; the motor roars with 15 Amp,, and the glide system is not only one of the best but also patented German engineering. It also makes the tool more compact and saves space on the bench or table.
With the Axial glide system, you can make wider cross-cuts, and you can better align the items. When using the Bosch GCM12SD, it almost feels like working with a robotic tool. The ball bearings and the glider makes operations extremely smooth. Since you don't have rails anymore, the system lasts longer and deteriorate less. Also, you don't need to recalibrate the machine after every use.
Features:
4-inch horizontal capacity
Bevel detents: 0, 33.9 degree, 45 degree left/right
Weight 65 pounds
Patented axial glide system
15 Amp power motor
Base and most parts made from stainless steel
2. Milwaukee 6955-20 Sliding Double Bevel Miter Saw
The Milwaukee 6955 is a widely used double bever miter saw on the market for a long time. But it got some recent updates, one of them is the LED light. A bright light shines now on the working area, helping you cutting and adjusting more precisely. Another addition is the fence. Now you can slide it in and out, depending on the size of your material.
Releasing and tilting are easy with a visible lever on the back of the machine. You can hold the saw with one hand and then just use the lever. It will then be protected by the fence, which you also can secure with a simple screw.
Because you may want to keep your workplace clean, you will like the integrated dust channels. They will contain about 75 percent of dust and debris. The motor is strong enough to cut hardwood and, with the right blade, even certain metals.
Features:
3 AMP motor with 3.3. HP
Steel blade
Dedicated dust channels
LED light
Sliding fences left and right
Quickly adjust scale at the bevel
Metric measure system
1.Makita XSL07Z cordless laser double bevel miter saw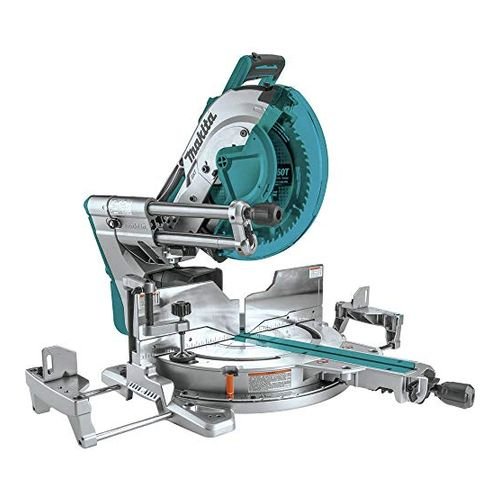 When working with saws, one of the safety issues is always the power cord, especially when moving the devices around. Even the best design can't avoid the cord dangling at the back of the machine. Makita has a different approach: it runs with batteries. While this might shorten the operation time a bit, you can make the time up by working faster and being more mobile. You can set up the double bevel miter saw anywhere, and you don't have to be close to a socket.
The brushless motor is optimized for battery power and brings 400 rpm to the blade. This technology deteriorates less, and you can use the machine for a much longer time. Additionally, the automatic speed regulation adjusts to the requirement of the cutting angle and the material.
Features:
Brushless motor with 400 rpm
Cordless operation battery powered
One charge lasts for 175 cuts
12″ 60T Carbide-Tipped Miter Saw Blade included
How to choose a miter saw
When looking for a miter saw, available space is one thing to consider. Most models these days don't occupy too much space on the workbench, but you want to be sure that the area fits your requirements. The precision level is different for some models, and you may want a laser-equipped saw for ultra-perfect cuts. A LED light is helpful to brighten up the blade and workpiece. Some models come with a handle on the front of the saw; others have it on the side. It is a bit up to your personal preferences, what you chose. Definitely look at a strong motor, especially when you have to cut through thick material.
Tips for maintaining and cleaning a miter saw
Some miter saws have a dust bag; others provide a standard outlet to attach a vacuum cleaner hose. Both help to reduce dust and debris from the base and the machine's parts. However, it would help if you cleaned the saw after every use. Areas that need attention are the blade, any gaps, the scale, and the base itself. An air-hose can do the job or just a towel. Avoid water since it can harm the electric system. Also, check the wiring of the power cord regularly.
Single vs. Double bevel miter saw
The great advantage of a double bevel miter saw is that you can cut in an angle both left and right by just tilting it. If you have to work a lot with angles, then the double bevel saw will make your life much easier. Most models use a simple release lever to help you flip the saw from one side to the other. Since this design is so convenient, you are just safe with a double bevel miter saw. They are not much different in size than single bevel saws and don't occupy more space. However, when it comes to pricing, the double bevel saws are slightly on the higher end.
Conclusion
A double bevel miter saw is a helpful tool when you need bevel cuts. This means you cut at an angle other than 90 degrees. Most miter saws with a bevel function allow you a maximum angle of 45 degrees. Another advantage is that the stationary saw is easy to use when you have a lot of pieces to cut. You just need to pace the workpiece, lower the blade, and the work is done. With the double bevel miter saws' versatility, they provide a good choice when conjuring the investment in a new miter saw.