Game tables bring families together, make parties more fun and interesting and are always the perfect gifts for game lovers. The fun is even greater when you can have several games in only one combo game table. This article lists down 10 incredible multi game tables and details each table's specifics in terms of games, construction of the table and other useful attributes. At the end of the article, we wrote a buying guide that explains the factors to consider when purchasing a combination gaming table.
10. MD Sports 48 Inch 12 in 1 Combo
Looking for a great game table that will make the best time with your friends and family, the MD Sports 48 Inch 12 in 1 Combo is what you need. This compact footprint table offers an interesting wide variety of game options that will please everyone. Some of these games are basketball, foosball, table tennis, archery, dice, backgammon, air soccer and stick hockey amongst others.
It includes all the necessary accessories to play each game. In addition to that, it is a very convenient game table perfect for frequent use; the game tops can be easily changed, and the leg design has been reinforced with a center lateral support.
9. Best Choice Products 10-in-1 Multi Game Table
We are proud to present to you the Best Choice Products 10-in-1 Game Table. It has all the features that gamers like and it is the perfect gift idea for kids, as well as, adults. This versatile 10-in-1 table features an easily interchangeable tabletop that includes games such as foosball, pool, shuffleboard, table tennis, checkers, bowling, hockey, backgammon, and the list goes on. Ergonomics, the table has been designed for space-saving; all the surfaces can be put between the billiard board and foosball table. As such, it does not take much space and is ideal for any room.
With its natural wood-like exterior, the combo game table will fit any interior décor. In addition to all that, it is very sturdy; the game tops lay on four strong legs which are supported by non-slip footing.
8. Combination 3-in-1 Multi Game Table
This amazing 3-in-1 game table features a dining table, poker and bumper pool. The table is available at Amazon with 4 rocker chairs. The popularity of this table is also attributable to its incredible look. The design is classic and the table is chestnut colored with mahogany finish. The table has adjustable leg levelers. The top is a solid one piece that is sturdy. It includes cup holders that have cork which is non-slip and good for water absorption.
The whole package is well-packaged and it can be put easily together within an hour. This definitely is a good deal in terms of price, quality, and functions of the table.
7. 4-in-1 Combo Entertainment Multi Game Table
This combo entertainment table is a great piece. It is sturdy, good-looking, and is a good value deal for its quality. It features 4 amazing games; billiards, table tennis, slide hockey, and table tennis. Putting up the whole table takes roughly three hours by a single person. It measures 54" and it has a nice wood frame.
The pool table's balls are of the same material as regular pools and the sticks are extremely light. Get your table now and start playing with your friends and family. It is also a great gaming table to have when having parties.
6. Fran_store 48" 14 in 1 Multi Game Table
Here is a game table that will mesmerize you. One table for 14 games. Galing at home will have never been so fun. The table includes games such as billiards, basketball, table tennis, backgammon, horseshoes, compact space, and many more. It is sturdy; it is well-constructed with quality materials that ensure its longevity for years. Designed with the convenience of users in mind, the effortless assembly was the main goal of the manufacturers.
This multi game table has been equipped to store accessories and pieces when users shift from one game to another. All in all, it is an amazing multi-game table and if you are looking for the perfect gift for a birthday, graduation or housewarming, for instance, you have found one.
5. IFOYO Multi Function 4 in 1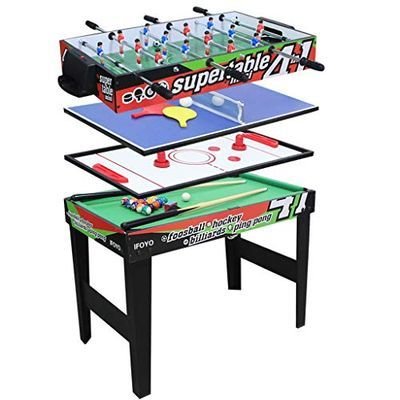 Another great combo game table that will amaze you and your kids. This 4-in-1 combo game table has overall dimensions of 31.5×18.9×23.6 Inches and has the quality and sturdy construction. Setting up the table for the first time is very easy and changing one game to another is very simple. You will spend the best time with your friends or family with the 4 amazing games; soccer, foosball, hockey, pool and ping pong.
All the instructions and accessories needed in the game are included in the game so that you have the most enjoyable of times playing. Do not worry if you have a small game room, as this table is compact and does not take much space. It can also be easily stored away. Moreover, this gaming table includes a 90-days hassle-free warranty.
4. AIPINQI 4 in 1 Combo Game Table
The AIPINQI multifunction combo game table includes four great games; pool table, hockey table, ping pong table and soccer foosball table. It is very practical for use and can be used even in a small room. This multi game table measures 31.5″x 18.9″x 25.6″ and is perfect for kids. It is a game table that has been well-constructed for durability; the table set is made of quality materials(MDF and PVC).
In addition to that, it can be easily stored without taking much room. Its assembly process is very simple and converting one game to another is also an easy task. All accessories needed for the games are included in the game table. This table is the ideal gift to give kids!
3. Lancaster 3 in 1 Pool Billiard
This incredible 3-in-1 game table features pool billiard, foosball combo arcade, and slide hockey. Invite your friends over and have the best time playing these amazing games on the Lancaster table. Users like how easy and practical the table is. When you receive your Lancaster table, all you have to do is to follow the clear instructions to set it up.
Beautifully designed and well-constructed, it has been made so that switching is easy within seconds. It features side locks that provide greater stability when you are playing. In addition to that, it has manual scorekeepers on every side.
2. Best Choice Products Multi Game Table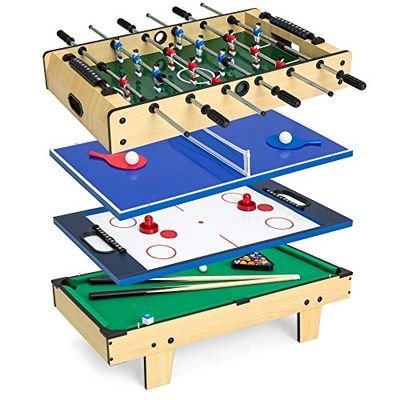 Bring your parties or get-together to a brand new level with this best choice product 4-in-1 multi arcade Competition game table – including foosball, billiards, air hockey, and table tennis. The table set includes all accessories needed for the four games; once assembled, the fun can start! It is extremely easy to switch from one game to another with its easy setup.
In addition to that, this is a table that will last for years as it is well-constructed with high-quality materials. The non-toxic MDF frame has 4 strong legs that ensure stability and sturdiness.
1. YouHi Kids
YouHi Kids Activity Table is your best choice for kids. It has been designed from its height to the materials used for the best gaming experience for kids. It offers a variety of uses for children to learn while having fun. This multi game table is large enough to accommodate several children playing altogether. It is a super large table set with double storage space that is perfect for classifying children's toys.
Having an eco-friendly approach in its production, the table is made of high-quality Finnish pine and has been painted with environmental-friendly paint to prevent chemical damage. To top that incredible game set, it comes with a lifetime warranty and 24-hour customer service.
Buying Guide
We want to ensure that you choose the right one that fits your needs. Below are the two factors that define good multi game tables you are looking for.
Games: The number and types of games might be the first decision-factors for gamers. Some game tables offer 3 different games while some may offer up to 10. You may also choose a table depending on the games that it features.
Size: Another factor to consider is the size of the table. You should consider one that will fit the room space where you are planning to put the table.
Conclusion
You should enquire about the materials used in the construction of these multi game tables. High-quality material will ensure the durability of the table.