A wall clock has existed for a very long time until now, and it is still one of the necessities of every home. Ranging from simple clocks to decorative wall clocks, we have included them all here in this ultimate list of the top 10 best wall clocks in 2023.
Best Selling Wall Clocks
10. DreamSky 10″ Silent Quartz Wall Clocks
Sometimes, simplicity is best. This DreamSky 10″ Silent Quartz Wall Clock is simple yet elegant. It has no ticking sound, ensuring a good snooze time and a peaceful work environment.
Its font and 3D intuitive numeric indicator are large and bright, allowing you to interpret the time from afar or any corner of your room.
Crafted with a solid plastic base, this home wall clock remains well function and dry in any weather condition, unlike some clocks that have a cardboard background.
9. Hippih 10″ Silent Quartz Decorative Wall Clocks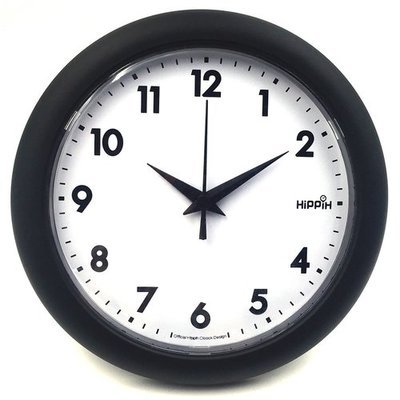 This decorative wall clock is high-performing and offered at a very affordable price. It is a quiet, sweep second-hand wall clock powered by an AA battery.
Its non-ticking function ensures that you can sleep and work well. The advantage of a simple-design wall clock is that it goes with all kinds of house decors.
But, please note that the battery it uses is the ordinary Carbon Zinc battery, not an Alkaline battery.
8. Universal 13 ½" Indoor/Outdoor Clocks
This is another simple yet heavy-duty wall clock that is shatter resistant and weather resistant. It is super lightweight so that you can hang it with ease.
The large bold black numbers are straightforward to read from any angle. And, it does not tick loudly. Besides, this home wall clock is powered by the standard AA battery, which is very easy to find.
Best Selling Digital Wall Clocks
7. Nalakuvara 12″ Wood Wall Clocks
A vintage wall clock can never be missed out from this list. This vintage wall clock from Nalakuvara comes in a colorful dial design and is 9mm thick. The material used is wooden MDF, covered by paper.
With the Taiwan Sangtai Scanning Quartz movement, this decorative clock is quieter than the typical wall clocks.
It is straightforward to install, and most importantly, it will keep you happy!
6. Utopia Home 12″ Silent Wall Clocks
Another recommendation from us is this 12″ silent wall clock from Utopia Home. It is affordable and comes with large, clear numbers with the perfect glass cover.
This clock's second-hand moves smoothly around the clock, and the clock produces no tick-tock sound at all. It uses the easy-to-find AA ordinary zinc battery as well.
And, with the nail slot provided, installing this decorative wall clock is a breeze. Plus, the sturdy and reliable construction guarantees that this home wall clock will last for a long time.
5. Adalene 13″ Silent Wall Clocks
Next, we would like to introduce to you the adorable Adalene 13″ Silent Wall Clock. Since it is 13″ big, it is one of the largest clocks out there.
This decorative wall clock has a touch of elegant bronze and a white dial with black metal hands. And, of course, the clock's non-stick sweep second-hand does not make any ticking sound.
Interestingly, this guy is shatterproof and scratch-resistant because of the acrylic crystal cover. Mount this modern wall clock into your dining room, living room, or study room for a new, efficient, and neat way of timekeeping.
4. Bernhard Products 10″ Black Wall Clock
As a best-seller, there is no doubt that this wall clock has such great qualities. It has large black bold numbers on a white surface, offering a clear, easy view.
Using the sweeping movement mechanism, this clock surely ticks silently. Some of the previous customers also mentioned how they love the font of this one better than other clocks on the market.
Crafted with a sturdy plastic case and glass lens, you can clean this decorative clock pretty easily. Plus, this clock can stand humidity well. Therefore, feel free to use it in the bathroom.
3. Hippih 10″ Silent Decorative Wall Clock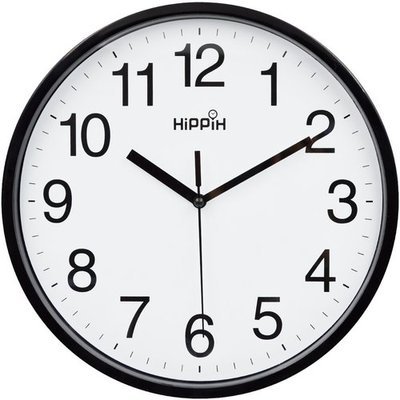 Some features of this great wall clock are quite a non-ticking sound and clear and big number indicators. It is powered by an AA battery (ordinary Carbon Zinc battery) and uses hooks for quick and easy installation.
This Hippoh wall clock is only slightly different from the previously reviewed Hippoh clock on the design (thinner frame line).
You can purchase this one with peace of mind as the clock is backed by the company's 100% no hassle refund guarantee.
2. Utopia Home 12″ Silver Wall Clock
Black and white are the typical colors of wall clocks, while silver is a bit rarer. In silver, this modern wall clock is unique for its very lasting battery – more than one year per battery.
This one also has large numbers that are easy to read and a front glass cover for a perfect view. Besides, it is equipped with the silent sweep function, ensuring no ticking, and a nail slot, offering easy and quick installation.
1. La Crosse Technology Atomic Outdoor Clock
As always, we are keeping the best for the last. With a size of 18″, this is one of the largest modern wall clocks on the market today.
What's extra about this wall clock is the fact that it comes with a temperature indicator and a thermometer. Since it can withstand humid very well, we can use this one both indoor and outdoor.
You should trust products from La Crosse Technology because this brand never disappoints.
Conclusion
Are you ready to get any of these great timekeeping tools to make your life easier and more stylized? Grab one now because these best-selling wall clocks can be sold out fast.