Today, we're browsing through the top 10 best table lamps in 2023. Whether you're looking for lamps of dramatic styles or lamps of simple subtle styles, we have included them all here in this very best selection.
10. Light Accents Touch Table Lamps, Set of 2
Firstly, this is a set of 2 high-performing brushed nickel touch table lamps with fabric shades. They look undeniably gorgeous and sophisticated, complementing your room environment when placed on the end of tables. Made of polished aluminum base, these 2 lamps are delicately buffed with a brushed nickel finish, so there will be no trace of any fingerprint. They both use a 1×40-Watt incandescent candelabra base bulbs. The lamps measure 6″ in diameter and 10″ in height.
9. 360 Lighting Flesner Brushed Steel Table Lamp with USB Port
Comes in 2 colors, brushed steel, and bronze, this table lamp is simple yet elegant. It is a table/desk lamp that measures 20″ in height, and it uses a 60-Watt light bulb. Interestingly, this table lamp has a built-in outlet utility plug and a USB 1.0-A port that you can use to charge your smart phone or tablet. This feature comes in very handy when you use your phone for your alarm and needs to keep it charged next to your bed.
8. Globe Electric Table Lamps, Set of 2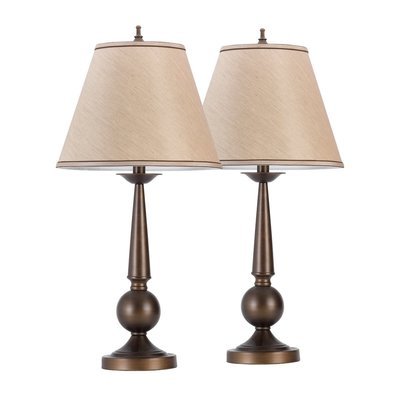 This classic set will surely illuminate your desk or nightstand beautifully. The extended cord of 6 foot allows you to place these lamps anywhere you'd like. They are turned off and on using the lamps' rotary switch that is very easy to use. These bulb table lamps are pretty and sturdy, yet they take only a little assembly. This is indeed an awesome value for the price.
7. Light Accents Traditional Iron Table Lamp
Another recommendation from us is this table lamp made of metal scroll and bronze painted finish. Looking sleek and antique-ish, this desk lamp stands 18.5″ high. Apparently, it has a lovely hand stitched fabric bell shaped shade, great for decorating and lighting your living room or bedroom. This accent light desk lamp uses a 1×60-Watt medium base bulb. Plus, the lamp is reasonably-priced, too.
6. Simple Designs Chrome Mini Table Lamp
If you're for a simple table lamp that is mini but vibrant in color, you should definitely consider this one. This is an adorable, inexpensive table lamp that meets your basic lighting needs. Featuring a chrome base and a fabric shade, this mini desk lamp is ideal for the living room, bedroom, office, kids room, college dorm, etc.
In case you're wondering about its size, this table lamp measures 11.8″ in height and 5.5″ in diameter. And, it uses the 1×40 Watt type B E12 Candelabra base bulb. We believe that this price is just unbeatable.
5. Finether Minimalist Romantic Wood Table Lamp
If wooden sophisticated items are your go-to, you should check this one out. When illuminated with the 40-Watt light bulb, this table lamp lights very warm and gentle, suitable for any room's decoration. It is also known to be energy saving and consumes low power. And, inspired by minimalist Japanese-style tatami desk lamps, such a simple, yet elegant style always suits with any room's decoration.
4. Simple Designs Home Mini Basic Table Lamp
This gorgeous color choice of this desk lamp really impresses us. Available in 9 different vibrant colors, this simple table lamp is a mini practical accent light desk lamp that can meet your basic lighting needs. This version of Simple Designs lamp is very similar to the previous one. The only difference is in the style of the lampshade.
Featuring a sand nickel metal base and fabric shade, this one is perfect for any room in your house. It uses a 40-Watt type B (E12) Candelabra base bulb. Plus, the location of the switch (on the power cord) is very handy.
3. Simple Designs Valencia Mini Touch Table Lamps, Set of 2
Once again, this is another great lamp from our favorite band, Simple Designs. This is a set of 2 lamps in 5 beautiful colors. These table lamps are mini yet they are innovative for the touch controls with 4 settings (low, medium, high, and off). For size, they measure 11.5″ in height and 4.88″ in diameter. And, they use a 60-Watt type A15 medium base bulb. If you need a perfect little light in your room, feast your eyes on this one.
2. Elegant Designs Modern Genuine Leather Table Lamp
This table lamp is a great option for you if you're hunting for a lamp of a higher quality material. Made of genuine leather, this desk lamp will not fail to add elegance and glamor to your room. It has a height of 21″ and a diameter of 6″. And, it uses a 60-Watt type A medium base bulb. This is definitely one of the best inexpensive table lamps that can illuminate your space beautifully.
1. Surpars House Minimalist Solid Wood Table Lamp
Lastly, we would like to introduce to you this handsome minimalist table lamp of wood stand and linen shade. It uses an E16 bulb base and has an on/off switch on the cord (UL plug). Whether it's for work, study, or decoration, this desk lamp will provide the right amount of light for your eyes while giving an ombre feel. This surely is a modern and classy piece you should invest in.
Conclusion
Provided above is the ultimate list of the top 10 best table lamps available on the market today. On a side note, these bulb table lamps do not come with the light bulbs that they use. Which one of these table lamps do you prefer most?
Detail Filling Cabinets Reviews in 2023 | Indoor Steam Sauna on Amazon | Best of Rectangle Cake Pans Reviews | Floor Lamps Review | Best of Modern Door Levers Review | Detail Corner Tv Wall Mount | Best Variable Temperature Heat Gun with Buying Guide | Wall Clocks with Buying Guide