A dead battery is a nightmare for everybody. It always happens at the most inconvenient times. While there are breakdown assistant services, they can take a long time to reach you. To avoid such stress and trouble, you can use reliable, high-quality lithium jump starters.
Over the years, the batteries of the jump starters have not only become smaller. With the introduction of lithium batteries, they have also become more powerful. These batteries can hold their charge for a long time without needing to be recharged regularly. Being of compact size, storing them is conveniently possible in your vehicle, but also in your home or garage. Furthermore, you can also bring them along in a backpack when on a motorcycle trip or boat excursion.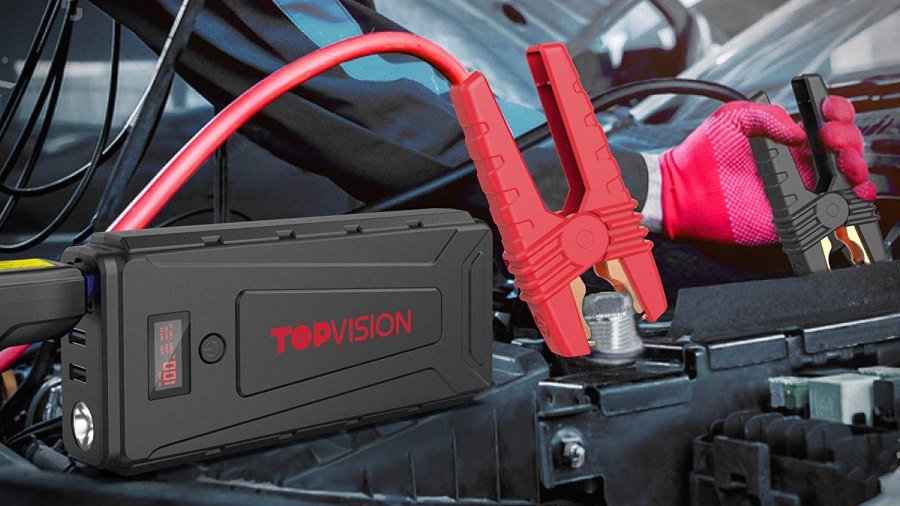 For inexperienced users, there is no worry about how to operate a lithium jump starter. All sets include a manual, and the equipment is safe and easy to handle. In order to find the best lithium jump starters for you, we have tested a number of these ourselves. We have also considered feedback from customers who already bought lithium jump starters. Our following overview compiles our top recommendations for lithium jump starters, which will hopefully help you select the starter most suitable for your vehicles.
Best Selling Lithium Jump Starters in 2023
10. NOCO Boost HD GB150 Lithium Jump Starter Set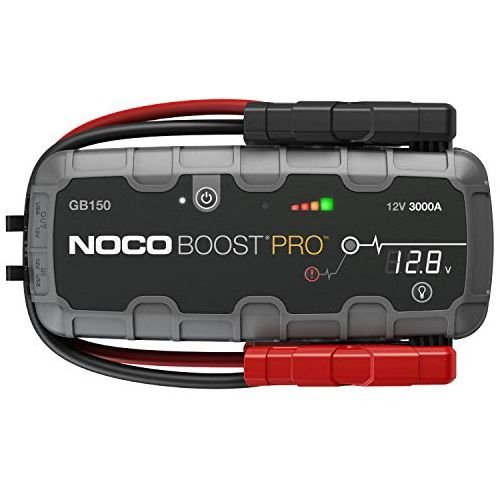 Our first recommendation is the NOCO Boost HD GB150 jump starter. It is a rather expensive lithium starter, but the price is justified due to the high quality and safety features. You can jumpstart a dead car battery within seconds with this 3000 Amp, 12-Volt lithium box. Moreover, it is suitable for gasoline and Diesel engines of up to 10 liters. You can perform close to 40 jumpstarts with a single charge.
The jump starter can hold its charge for up to one year.  It does not need to be recharged during this time. The integrated 500 lumens LED flashlight with seven light modes, including strobe and emergency SOS, is a nice feature. The set includes heavy-duty battery clamps, an XGC cable, XGC male and female connectors, a micro USB charging cable,  a user guide, plus a microfiber storage bag.
Pros
For engines up to10 liter
Safe and easy to use
Suitable to charge also mobile devices
Includes a LED flashlight
Cons
Higher priced than other jump-starters
9. TOPVISION 2200A Lithium Jump Starters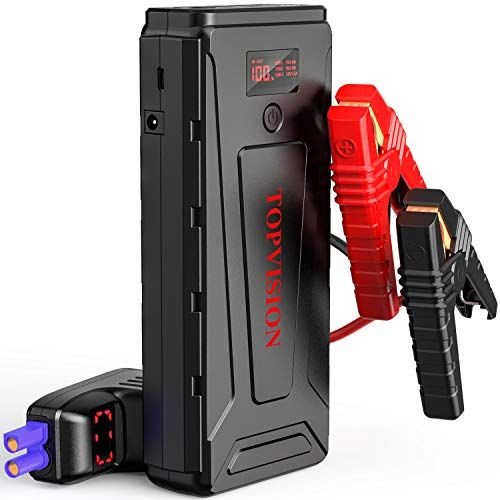 The TOPVISION jump starter is recommended if you own vehicles with up to 7-liter gasoline or 6.5-liter diesel engines. It can handle 12V vehicles but also doubles as a charger for your mobile devices. The device will start your vehicle in seconds with a peak current of 2200A. Furthermore, the jump starter features a bright LED light with three light modes:  flashlight, strobe light, and SOS light.
Safety is, as always, paramount when dealing with electricity. Therefore, the jump starter comes with excellent protection. The high-quality clamps feature a built-in safety circuit to protect against over-current, short circuit, over-load, over-voltage, and over-charge. Furthermore, the jump starter comes with LED jumper cables,  a type-C USB charging cable, a cigarette lighter converter, and a carry case. You get 24-month warranty and lifetime technical support.
Pros
2200 Amps
Can be used with cars, trucks, motorcycles, RVs or tractor
Safe to handle
24 months limited warranty
Cons
8. TACKLIFE T8 Lithium Jump Starter
The TACKLIFE T8 is a reasonably priced lithium jump starter perfect for vehicles with up to 7-liter gasoline or up to 5.5 liter Diesel engines. Thanks to its 800 amps peak current, the battery can jump-start 12V vehicles up to 30 times on a full charge. However, recharging the jump starter takes only 4.5 hours. Like most lithium jump starters, it also doubles as a power bank with its 18000mAh capacity. You can charge your phone with dual USB ports and other car accessories using a 12V/10A DC port.
You can manually turn off the lithium starter when not in use to slow down the battery's self-discharge. This way, the T8 can hold its charge for up to 12 months. However, it would be best if you remembered to turn it back on when it is in use; otherwise, it will not charge.
Pros
Suitable for up to 7-liter gasoline and 5.5 liter Diesel motors
Has an ON/OFF switch
LED emergency light
Two USB output ports
Cons
Not suitable for use in rainy conditions
7. DBPOWER Lithium Jump Starters
A dead battery is inconvenient, no matter when it happens. The DBPOWER will save you stress and calm your nerves, as your vehicle will start again within seconds with the assistance of the powerful battery. The jump starter is compact and lightweight and does not up too much space in your vehicle or home. It provides a powerful 2000A peak output, suitable for cars with gas engines up to 8 liters or diesel engines up to 6.5 liters.
A safe operation is ensured thanks to the advanced intelligent protection clamps and the LED screen. This protects you from over-current, short circuit, over-load, over-voltage, and over-charging. The lithium jump starter also includes a powerful LED flashlight and dual smart USB outputs to charge your portable electronic devices.
Pros
Provides 2000A and 20800mAh
Very safe to operate
Includes a LED flashlight
Features advanced jumper cables with a LED screen
Cons
Does not include a wall charger
6. Schumacher SL1463  Lithium Jump Starter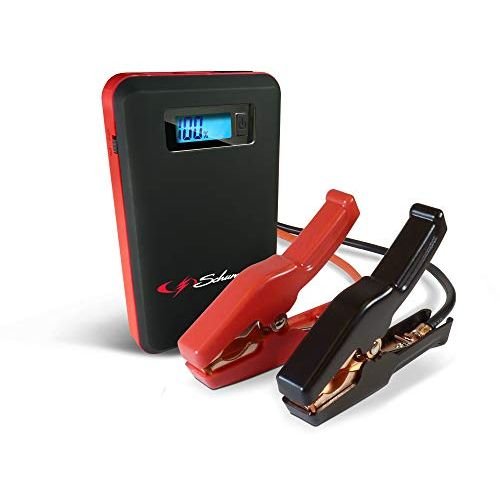 The Schumacher SL1463 is the perfect lithium jump starter in cold temperatures.  The powerful battery features a pre-boost function for cold temperature starting. Designed for smaller 4-6 cylinder vehicles and motorcycles, it will always be at hand when needed. It is compact and lightweight. Therefore, storing it or taking it along is hassle-free for you.
Its lithium-iron-polymer battery provides longer life than other lithium jump starters. On top of that, it also has more charge cycles. Smart cables and clamps protect spark-free against over-current, short-circuit, overcharge and overload, and overvoltage. The battery features a 1A USB power port and a 2.1A USB power port. Therefore, you can charge your smartphone, tablet, or mp3 player. Very convenient is the built-in 3-mode LED light with SOS mode.
Pros
Supports cold temperature starting
Comes with a 1A USB and a 2.1A USB power port each
Includes a 3-mode LED light
Weighs less than 2 lbs
Cons
Not suitable for gasoline engines larger than six cylinders and Diesel engines larger than four cylinders
5. HALO Bolt 58830 Lithium Jump Starters
The HALO Bolt lithium jump starter comes slightly higher, but this battery is worth the investment. There are several color choices available. But this is not the main reason to decide on this powerful battery.
This power bank delivers enough power to jump-start your car, boat, or motorcycle. With 58830 MWh, it can jump-start the dead battery of a standard vehicle up to 200 times. The matching jumper cables are, of course, included. Furthermore, this little power pack features two USB 2.4V charging outputs for your mobile devices and laptop. The lithium jump starter is compact and lightweight, with under 2 lbs. The set includes a LED floodlight, an AC wall plug charger, a carrying pouch, a car charger, and a USB phone charger.
Pros
Versatile to charge vehicle motors and portable devices
Comes with an AC wall charger
ETL listed and safe
Includes a LED floodlight
Cons
Slightly higher priced than other jump-starters
4. Schumacher SJ1332 Jump Starter with 150 PSI Air Compressor
The ultimate multi-function tool is the Schumacher SJ1332 jump starter. Besides jump-starting your dead battery within seconds, it is also a powerful inflator with its integrated 150 PSI air compressor. Do not worry about a flat tire with this device onboard your vehicle. You are prepared for these kinds of emergencies. The unit provides 1200 Peak Amps to jump-start your car with up to eight gasoline engine cylinders and six Diesel motors cylinders.
The air compressor is also great for inflating sports balls, bicycle tires, and pool rafts. The necessary pressure gauge and nozzles are included in the set. Furthermore, the jump starter includes a USB port and energy-efficient bright built-in LEDs. The digital display lets you monitor the battery's charge level and the vehicle battery's voltage.
Pros
Suitable for up to 8 liters gasoline engines and up to6 liter Diesel vehicles
Includes a high/low inflator/deflator
Digital display monitor
AC outlets and a USB port
Cons
Needs to be recharged regularly
3. LEMSIR Lithium Jump Starters
The LEMSIR lithium jump-starter is a very reasonably priced battery. Nevertheless, it will not disappoint you. It can handle vehicles with up to 7.2 liters of gasoline or 5.5 liters of Diesel engines. The battery is compact and fits easily into your vehicle's glove box. A full charge can provide up to 20 jump starts. The jump starter can be recharged in just 2 hours.
Its advanced lithium-ion battery chip QDSP (Quick Discharge Start Power) technology makes this jump starter two times stronger and more reliable than comparable batteries. Furthermore, it also works well in extreme temperatures from – 40 up to 176 F. The LEMSIR jump starter is CE,  FCC, RoHS, and UL certified.
Pros
Reasonably priced
Works in extreme temperatures
Suitable for engines up to 7.2 L gasoline or 5.5 L Diesel
15 inches extended smart jumper cables
Cons
Needs to be recharged after every use
2. Clore Automotive JNC345 12V Lithium Jump Starter
The Clore Automotive Jump-N-Carry JNC345 is the perfect choice to jump start gas and diesel engines up to 10 liters, even if the vehicle battery is down to 0.0 Volts. This is possible due to its override feature, surpassing the car's safety features, and send power to the clamps. The charger is compact and lightweight but very robust.
This jump starter includes heavy-duty #6 AWG Cables for a safe power transfer to the vehicle battery. The high-quality battery clamps prevent corrosion, and the high-density lithium power cells provide an above-average cranking duration. If necessary, you can perform several jumps per charge. The battery unit includes 2 USB ports (5V2.4A, 5V1.0A), allowing you to charge your portable devices.
Pros
High capacity lithium battery
It comes with a unique override feature
Includes 2 USB Ports
It comes with a fast charger
Cons
1. BUTURE Portable Car Jump Starter Kit, 2000A Peak 22000mAh (8L Gas, 8L Diesel Engine)
What makes the BUTURE lithium jump starter so unique is the reverse-charge option. You connect the jump starter with the EC5 cigarette lighter adapter to your vehicle's cigarette lighter using the included reverse-charge adapter. It allows you to charge your battery and start your vehicle within 20 minutes, all without even touching the vehicle's hood.
The lithium battery comes with 2000 amps of peak current. It is suitable for vehicles with up to 8 liters of gasoline or 8 liters of Diesel engines. With a single charge, it can jumpstart up to 30 times. The set includes durable, heavy-duty clamps and cables. The battery also doubles as a power bank for your portable devices like your smartphone or mp3 player. Furthermore, It features a bright LED flashlight.
Pros
Powerful 22000mah battery capacity
Includes a safety hammer and compass
Features audible alarms and visual alerts
Long standby time of up to 6 months
Cons
A few user report that the USB ports are unsteady
Conclusion
None of us wants to have nasty surprises when preparing to leave for work or university in the morning. It is even worse when it happens on holiday with plans to go on an excursion or return home. Breakdown assistance services can take time to arrive and can also be costly. Your lithium jump starter can save you all these inconveniences and hassles.
You need not be an experienced mechanic or vehicle specialist to operate a lithium jump starter. The available sets include everything you need, including a user manual. Furthermore, despite high voltage, they are easy to handle and safe to use.
Buying Guide
With a wide choice of lithium jump starters, you might feel overwhelmed to find the best option. They all look pretty much the same in terms of design and appearance. Also, their functions are clearly defined. As so often, the devil is in the detail, and there are a couple of points to have on your checklist to find a good lithium jump starter.
Price-wise, you will find a good value for money already within the lower price range of these batteries. When owning more powerful engines or having conditions that make jump-starting more frequent, investing n a higher-priced battery is recommended. This will save you from wearing out the battery and buying replacement starters.
Always check if the lithium jump starter suits the engine types you plan to use it for. Some jump starters have a performance limit regarding a motor's size.  Recharging times are short nowadays, but you might also want to check how many jump-starts your battery can perform with one charge. Furthermore, it is worth checking if your jump starter needs regular recharging or can hold the charge for a long period.
Accessories are always welcome. Built-in LED lights featuring different modes, including strobe and SOS modes, are an advantage. Further, USB outputs for your mobile devices should be standard nowadays. The sets should also include bags to store all equipment safely together.
Safety Notice
As always, safety and security are essential aspects when dealing with the electricity of any kind. Always pay attention that the lithium battery; all cables and connectors are made from quality materials so that they will withstand over-current, short circuits, over-load, over-voltage, and over-charge. Keeping all these points in mind, and with the help of our overview of the best lithium jump starters, you will indeed decide on an excellent option meeting all your expectations.