Is the weather too hot to endure? You need a solution to cool you off. It is none other than air conditioners. However, using the normal air conditioners can cost a lot of on electricity bill. You may enjoy the refreshing and coolness but you have to pay highly. Then what should you do? Window air conditioners can help! They are energy efficient and low-cost air conditioners. They have a unique design which won't take space on the floor in your room. Like the name, they are mounted on windows. You can use this kind of products in apartments, offices, etc.
The article will explain more about the product in the text below. Check it out for better understandings! Here are the top 8 best window air conditioners which are trustworthy.
8. Frigidaire 10000 Cool Window Air Conditioner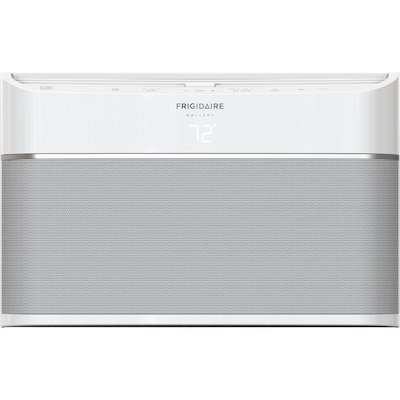 You can experience the most convenient and cold breeze from this smart window air conditioner. It has a built-in wife connectivity which enables you to control the settings on the mobile application. This air conditioner has three operation modes such as cool, eco, and fan mode. Hence, you can save energy and use a fan instead. It is able to cool room up to 450 square foot with the energy of 10000 BTUs.
Has a remote control
Air ionizer for clean air
Wireless connection
7. Emerson EARC6RE1 Kool Window Air Conditioner
It is a perfect cooler machine for small rooms. This is a window air conditioner with 6000 BTU unit. As mentioned, it is suitable to install in the room from 150 to 250 square feet and you can enjoy the chill atmosphere. The air conditioner has a digital display where you can see settings and modes. There are several controlling buttons on the panel and you can select speed and temperature.
Consumes less energy
Has a remote control
8 airflow options
Lightweight 44.1 pounds
6. Koldfront WAC10002WCO Window Air Conditioner
You don't have to worry about the bill anymore. This window air conditioner has auto shut off function. You can set the timer to countdown the operation time, therefore, you won't waste energy. It has the ability to provide low temperature from 62 degrees to 86 degree Fahrenheit. Besides being an air conditioner, it can perform as a fan with three speeds in case you want to use save electricity consumption.
Suitable for rooms up to 450 square feet
Fits in a window of 15.5 inches high
Input voltage is 115V
5. Keystone Window-Mounted Air Conditioner
Most of the time, people suffer from loud noise coming from the electric device. However, this product guarantees you for the quiet environment so that you can rest peacefully.  It produces sounds maximum 55 dB indoor, while the motor outside is only 62 dB loud. Due to its compact size, it is perfect for bedrooms or small offices that are no larger than 150 square feet.
Has 5000 BTU unit
LED screen showing the settings
24 hours timer set
4. Frigidaire Smart Window Air Conditioner
It is so elegant and power-saving air conditioner of the day. You are able to install this small machine in your place's window easily as its size is 18.5 inches by 19.8 inches by 13.4 inches. The product has a potent motor system of 8000 BTU unit. The airflow produced by this machine can go in two motions; upward or circle. It can make the space up to350 square feet full of chilling breeze.
Has white color
Wireless connection to a smartphone app
Transforms to fan mode
3. hOme Window Mounted Air
The indoor environment is very important. You have to breathe in clean air and this product is able to provide so. Inside the air conditioner, there is a reusable filter which blocks dust and particles before release the cool air. Furthermore, the filter is easy to take out and you can wash it thoroughly. This fast performing window air conditioner will take only 10 minutes to reduce heat and replace with coldness.
Has 7-speed adjustments
Two modes to choose; cool and fan
Suitable for windows over 13 inches high
2. LG LW8016ER Window-Mounted AIR Conditioner
If you have a limited budget, you can get this affordable and beneficial window air conditioner. It is attached with powerful 8000 BTU unit system that can influence any rooms up to 340 square feet. Moreover, it has 115 voltages and works with 12.1 energy efficiency ratio, so it won't consume much electricity. You are able to set operation performance on mode, speed, and time.
Comes with a remote control
Has small size of 19.6 by 19.4 by 12.4 inches
3 speeds each of air conditioner mode and fan mode
1. Frigidaire FFRA0511R1 Window-Mounted Air Conditioner
This is a quiet operation window air conditioner which has 5000 BTU unit. You can use it in households at ease as it uses the standard power of 115 voltages outlet. In the package, you will also get a mount kit so you are able to handle the installation without support from experts. To add, it is a healthy air producer due to the durable dust filter. You won't face the problem of air pollution.
Fits into them small room up to 150 square feet
2-speed options
Consumes low power, its EER is 11.1
Airflow in two directions
Conclusion:
In short, it is clear that window air conditioners can bring huge fortunate and benefits to users. They work great in small and medium space room and can save power consumption and as well as money. You will spend less and enjoy the cool and comfortable environment. This air conditioner type is easy to install and portable. Plus, the high-quality window air conditioners from above have individual features to serve your demands accordingly. You can compare them and pick the most favorite one.