When the weather is hot, you have to get something to make you cool and comfortable at home. Then the common methods come to people's mind are air conditioners and fans. But do you know that using air conditioners are way too expensive and not environmentally friendly? So you have another option which is fans. Yet, there are many types of fans in markets. For instance, there are ceiling fans, floor stand fans, portable fans, etc. Today, this article especially picks a great fan type, tower fans for home. The tower fans have the design similar to standing fans and as well as vertical air conditioners. They work quieter and offer cool air with less energy consumption.
You can get more information toward this product's usages and advantages from the text below. Here are the top 8 best tower fans for your home in this new year of 2018.
8. Dyson 63456-01 AM07 Tower Fan
You will be able to have a modern lifestyle with this nice tower fan. What makes this fan interesting is it doesn't have blades to run and produce air. Instead, it has patented air multiplier technology to produce stream wind. It is super safe to have at home as it won't endanger little children who go near to it. You will have a remote control and enjoy to set functions from distance.
Has white silver color
No spinning blades
Works quiet and powerful
Has a timer for auto shut off
7. Seville Classics UltraSlimline Tower Fan
What a wonderful tower fan package which brings ultimate beneficial to you. This product will offer you two black colored tower fans for home. To be clear, one fan is 40 inches high and another one is smaller, 17 inches high. Hence, you can use them to cool the whole space in your home. They come with a remote control as well, but you also can directly control them by button panels.
Two fans in the package
Has multi-speeds from low to high
Has long cord of 6.25 feet
6. Best Choice Products Tower Fan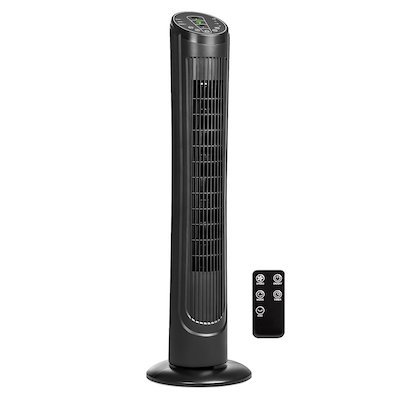 Welcome to this black lightweight tower fan for your home that you are able to move it at ease. This product's dimensions are 6.25 inches long, 5.25 inches wide and 39.5 inches high. Alongside, it weighs only 8.4 lbs. The powerful tower fan has 3 speed options to choose such as low, medium and high. Due to the dual blades, it has the ability to cool the whole room in short time.
Has cord length about 70 inches
Has a remote control with a 3V lithium battery
Standby up to 7.5 hours
5. Honeywell HYF023W Tower Fan
Of course, during your rest, you won't want anything to disturb you by sounds. And here this quiet tower fan will provide what you wish for. It has the elegant color of white and tall height about 32 inches. As mentioned, while operating, this fan will produce maximum noise up to 52 dB only which you won't even recognize and be annoyed. You can control it easily with the LED display.
Has automatically off timer setting from 1 hour to 8 hours
Weighs 18 pounds
Multi-speed performances
4. Lasko Fan (2551)
Do you want this energy saving tower fan at home or workplace? Well, it is a great air producing machine which works quietly and effectively. It has the plastic body for lightweight and portability. For instance, it weighs only 12 pounds. You can select a speed among three to operate and either one consumes low power electricity. In addition, you can set the timer to let it shut off within 7.5 hours.
Comes with a remote control
Three speeds with quiet performance
13 inches length, 13 inches width, and 42.5 inches height
3. Honeywell HYF290B Tower Fan
If you have a small room or tiny space left in your place, why don't get this space-saving tower fan? It has the tall height which is 32.8 inches and it takes space only 10.8 inches by 8.2 inches wide to stand. Wonderfully, there are 8 sound and speed modes which can choose, such as power cool, cool, refresh, relax, white noise, calm, whisper, and sleep. Thus, you can enjoy the cool air without any interruption.
Auto shut off timer set within 8 hours
Has a remote control, placed behind the fan
Has dimmable light
2. Seville Classics UltraSlimline Tower Fan
For those who love the environment and want to get a less consumption energy electronic product, this one is perfect for you guys. This oscillated tower fan offers four speed modes including low, medium, high, and energy-saving mode. Furthermore, this product can cool the whole room due to its 75-degree rotating blade grill. The controlling panel has LED light for bright and clear vision.
Has a remote control
Takes space less than 1 square feet
Has 6.25 feet cord
Timer setting up to 7.5 hours
1. Honeywell HY-280 Tower Fan
Let's take a look at this last recommended product of the best top 8 tower fans for home. It is a black standing fan that requires tiny space to locate and works silently. Amazingly, it has 8 operation modes which define speed and noise. You can select one according to the situation you are in. You are able to set the shut-off time as well so that it will save more energy and give less bill.
Black color
Adjustable timer from 1 hour to 8 hours
Weighs less than 10 pounds
Conclusion
In conclusion, it is clear that the high-quality tower fans to have at home or office can provide a lot of benefits. Firstly, they are space saving fans that you can place in every corner of your home and room. Secondly, the tower fans are stylish making your place modern and elegant. Thirdly, you can easily control them with their multi-functions. As you have also seen the greatest products above, you surely can compare and choose one tower fan among all to be yours.