If you have a garden or a field with plants, you often need to clean and clear all broken limbs and branches of the trees. With the remains, what do you do to make a use of them? It is waste to throw away those wooden pieces. Instead of trashing them, you should be creative and transform the unwanted branches into useful things such as protective soil mulch which can stand against weeds. In order to do so, you need a special helper. Introduce high quality wood chippers to you, the article will tell you about its benefits and usages.
Buying guideline
To purchase a right wood chipper, you should take a few features into consideration. The useful tips are; first is to know what type of the wood chipper is. You can choose either electric powered type or gas powered type depending on your preference. Next thing to think of is how powerful of the motor because it can define its capability to shred or chip branches nicely and quickly. Last but not least, you have to see the blade system. You should get the strongest and the one which can chip the whole wood into the size you want.
After knowing the criteria to look for the most appropriate wood chipper, you can get to see more details of the product. Here are the top 5 best high quality wood chippers.
5. Brush Master CH4M17 Chipper Shredder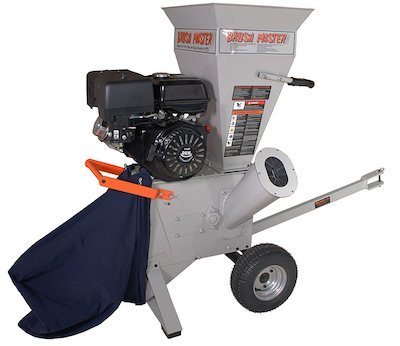 It is not just a normal wood chipper machine that is usable at home, but it is also suitable for business too. It is called commercial chipper which has a large capacity of 11 horsepower motor. Besides this strong motor, it has solid heavy gauge steel body that ensures durability and longevity of the product. Moreover, in order to shred and chip woods evenly, it contains 16 hammers and one hardened chromium steel cutting blade.
Product Features
Has durable steel construction
Provides a tow bar, a belt, a chipper blade, and a chip bag in the package
Chips big branches into 4X3 inches pieces
4. WoodMaxx Chipper
If you are looking for a large wood chipper for making a profit, this product can satisfy your need. You can attach this machine to a tractor in case you want to collect all fallen branches and limbs in your field. Amazingly, this wood chipper is an auto feed machine. Thanks to the hydraulic system, it is able to pull the raw materials into it without external support. It has a sturdy blade feature from the USA to guarantee the quality of the chips.
Product Features
Heavy-duty and long-lasting
Has 19 horsepower motor
Has reversible knives for flexibility
Offers 3-year warranty
3. Wood Chipper Model DR-CS-15HP
Let's meet this portable wood chipper which has the awesome construction of two wheels and fancy red color. Interestingly, this product uses gas to get energy so that it can provide an ultimate result. It has a potential motor system of 4 strokes that are able to work in 15 horsepower. Alongside, there is a hardened steel cutting blade operating together. You can put 5 inches branches into the machine and will eventually get a bunch of ¼ inch mulch.
Product Features
Gas powered motor
Has adjustable deflector vane
Works on 5 inches materials
Has rolling wheels for transportation convenience
2. Powerhorse Chipper/Shredder
You don't have to move around much to collect a pile of branches and bring the branches to where a machine stands. Instead of doing that, this house wood chipper enables you to just push it to the yard and start operation along the way. Actually, it has two 14 inches tough wheels for mobilization. It is a gas powered chipper which has 420 cc gas engines. It has the ability to work on 4 inches large branches.
Product Features
The wheels are pneumatic tires
Has cast iron sleeve and oil shutdown
Contains a free bushel bag
Large chipper chute
1. Patriot Products CSV-3100B 10 HP Briggs & Stratton
If you just need a product for household usage, this compact wood chipper is the perfect choice for organic lovers. The size of it is 35 inches by 24 inches by 37 inches which won't take too much space to stay. Although it seems small, it has 10 horsepower motor to work enthusiastically. It can turn any 3 inches big woods into a shredded pile. Then you can use the final materials as soils in your garden.
Product Features
Has powerful 10 horsepower engine
Wide chute to drop the woods in
Portable due to durable tires
Offers three results; chipped branches, shredded branches, and shredded leaves
Conclusion
To sum up, you can manage your yard and create resources for beyond usage through the performance of the wood chippers. You can turn wastes into useful materials with your creativity and the help from the machines. Also, from the text above, several great products are introduced and brought to you. There are gas powered wood chippers which can work in strong energy to help to produce different sizes of mulch. Pick one of these products to be yours right now!