A cake pan is one of the baker's most loved kitchen items. Cake pans come in different shapes and sizes, and a rectangular cake pan is one of the most popular and most-used types of cake pans today. In this article, we're about to discover the top 10 best rectangle cake pans in 2023. Let's take a look at it below.
List of Best Rectangle Cake Pans
10. Wilton Recipe Right 13″ Oblong Pan
Firstly, this is a great rectangle cake pan from Wilton. It has a light grey color, and has a size of 13 x 9″. Made of heavy-gauge steel, this pan provides an even heating, non-stick performance at all times. It is ideal for making brownies, bars, cakes, marshmallows, and more. It works great with baking meats or oven-fried vegetables, too. If you love to cook but dislike cleaning pots and pans, an easy-to-clean pan like this one should be your choice.
9. Nordic Ware Natural Aluminum Cake Pans, Set of 3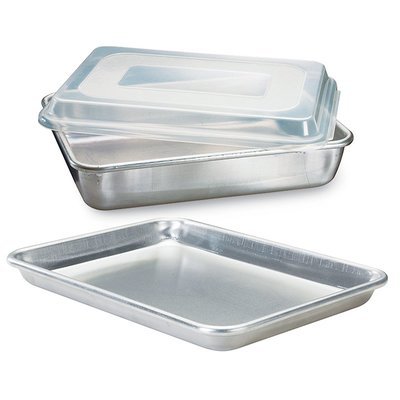 Next is the top-rated aluminum rectangular cake pan from the reputable Nordic Ware. Aluminum is the main construction material in this pan. It will never get rust and can last for a lifetime. This cake pan is capable of conducting superior heat and baking evenly. The exterior dimensions of these 3 pans are 13.5″ x 9.74″ x 3.63″.
What's more, the pan's reinforced encapsulated steel rim prevents the pan from warping, too. These are indeed restaurant-grade rectangle cake pans that are very sturdy and can last for a long time. However, it is recommended to hand wash this pan instead of dishwashing to give it an even longer use.
8. Vollrath Wear-Ever 18″ Cake Pan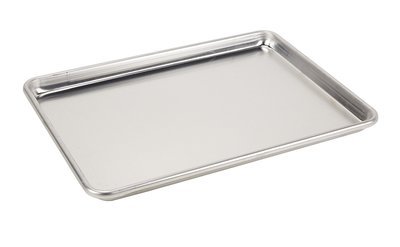 If you're looking for a rectangular cake pan of premium quality, check out this 18″ cake pan. This pan is made of durable 12-gauge aluminum, featuring an open rim. It is a bit heavier than other rectangle cake pans. The aluminum cake pan is capable of distributing heat evenly and browning beautifully. On a side note, for this specific cake pan, you should always wash it with hand only to preserve the product's quality and performance.
7. AirBake 13″ Natural Cake Pan with Cover
Another recommendation from us is this 13″ rectangular cake pan that comes with a cover. With air insulation, the pan prevents the top sheet from overheating, and hence, prevents burning as well. The pan is 100% non-stick. And, with the innovative micro-dome technology, this pan can decrease bake times by up to 15% over traditional insulated bakeware. Plus, the cover is break-resistant, too.
6. Cuisinart 13″ Chef's Classic Rectangle Cake Pan
Cuisinart can never be missed out from the top 10 best bakeware categories. This is an outstanding 13″ baking pan that is ideal for making moist, consistent cakes and brownies. The heavy-gauge aluminized steel construction allows the pan to heat evenly. The non-stick interior and exterior guarantee an easy food release at all times.
And, the thick rolled edges of the pan prevent warping. For cleaning, you can toss this rectangle pan into the dishwasher, and it will look good as new.
Related: Top 10 Best Bundt Pans Reviews.
5. Farberware 13″ Rectangular Cake Pan with Cover
If the previous rectangular cake pan with cover didn't match to your liking, here is another one. This one is a heavy-duty covered cake pan that surely resists warping, heats evenly and browns beautifully. The non-stick exterior and interior provide a great baked-goods release and an easy cleanup.
The lid makes this pan travel-friendly while preserving the appearance and freshness of the baked goods. Besides, feel free to heat this tough guy in the oven as it can withstand 450 degrees Fahrenheit of heat.
4. Nordic Ware 13″ Natural Aluminum Rectangle Cake Pan
Next is the natural aluminum cake pan of superior performance from Nordic Ware. It will never rust for a lifetime. And, it produces great heat conductivity at all time. The reinforced encapsulated steel rim prevents the pan from warping. The lid keeps food fresh and travel-friendly. Plus, cleanup (hand wash) is a snap.
3. Nordic Ware 13″ Classic Metal Covered Rectangle Cake Pan
Another highly recommended cake pan is the Nordic Ware 13″ Classic Metal Covered Cake Pan. This pan looks very elegant and sturdy for the metal construction of both the pan and the cover. The rectangular cake pan is lightweight, non-stick, stain-free, rust-free, warp-free, and evenly heated when baking. But, it is advised to hand wash this pan to keep its quality and performance going strong.
2. USA Pan 13″ Rectangular Cake Pan
As always, USA Pan always takes the lead in the bakeware industry. Made of commercial-grade and heavy gauge aluminized steel, this USA Pan 13″ Rectangular Cake Pan features the Americoat. It allows a quick non-stick release of baked-goods in addition to fast and easy cleanup. For safety, the coating is entirely PTFE, PFOA, and BPA free. It cooks evenly and never warps. Plus, this aluminum rectangular cake pan can handle toaster ovens, too.
1. Wilton Recipe Right 13″ Rectangle Cake Pan with Cover
The last item on the list is the 12″ cake pan with cover from Wilton. This item has received overwhelming positive feedbacks and surpassed many customers' expectations. To highlight some of its features, this pan is dishwasher-safe, non-stick and has a lid to help store moisture for cakes, pizzas, etc. You can also use this one for baking cookies if you don't have a cookie sheet. It also works excellently with ovens. An excellent product at an awesome price, indeed!
Conclusion
Provided above is the ultimate list of the top 10 best rectangle cake pans available on the market today. Have you found your favorite yet? Purchase these goodies today because you are just one step away from baking the best delicious desserts!
Best Selling Rectangle Cake Pans