If you love to bake, the baking supply you should always have in your kitchen is a springform cake pan. However, the choices of springform cake pans on the market today can be overwhelming. To help you pick the perfect springform cake pan according to your needs, here are our picks of the top 10 best springform cake pans in 2023.
10. Wilton Excelle Elite Heart Springform Pan
The first springform pan we would like to introduce to you is this one from Wilton. Looking so adorable in a heart-shape, this pan is perfect for baking mini cakes, mini cheesecakes, tortes and frozen desserts. It comes with a removable waffle-textured bottom with a springlock to release its sides. Thanks to the reinforced coating on the durable steel – this springform baking pan is designed for an easy food release and a breezy cleanup.
In addition, this pan has a superior non-stick performance, making your baking process more convenient. Plus, you can purchase this one with peace of mind for the company's 10-year limited warranty on this product.
9. Kaiser Bakeware Noblesse Mini Springform Pans, Set of 4
As a set of 4, this set from Kaiser is ideal for individual tarts or tiny fruitcakes. This set is very easy to assemble, release, and clean. And, it is reasonably priced, too. These pans from Kaiser Bakeware are also pans that are made of heavy-gauge metal construction with the non-stick finish. If you're wondering about the size, each pan measures 4 ½" in diameter.
All of these pans are dishwasher-safe, but if you handwash them, you can make a longer use of it. Besides, the buckles of these ones are backed with a lifetime warranty.
8. Cake Boss Novelty Springform Pans, Set of 4
Another highly recommended set of springform pans is this one from the reputable Cake Boss. These 4 mini springform pans are in mini size, ideal for making single-portion desserts. And, constructed of heavy-duty carbon steel featuring rolled edges, the pans are oven safe up to 450 degrees Fahrenheit and able to resist warping. The long-lasting nonstick finish can resist wear and tear, too, providing a perfect cake presentation and easy cleanup.
7. Norpro Silicone Springform Pan
Measuring 9", this springform pan from Norpro is made of removable silicone ring, ideal for making cheesecake, regular cakes, and other delicate desserts. Interestingly, the tempered glass bottom also allows you to bake, cut and serve on the same attractive platter. It can withstand heat up to 450 degrees Fahrenheit.
Plus, the lock and silicon sidewalls are very easy to remove, so your cheesecake will not have any disrupted layer. And, feel free to toss this guy into the dishwasher for a quick and clean wash.
6. Cuisinart Chef's Classic Springform Pan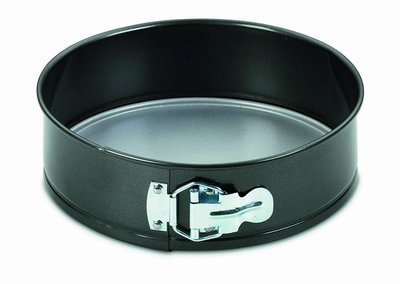 Knowing that this springform pan is from Cuisinart, we already love it. Comes in 2 gorgeous colors, silver, and champagne, this 9" springform cake pan is crafted of heavy-gauge aluminized steel for fast and even heating.
With the Whitford Xylan nonstick coating inside and out, you can release the cake out of this one easily by just latching the lock open. The extra-thick rolled edges prevent warping very well. And, this item is dishwasher safe and oven-safe as well.
5. Norpro Nonstick Springform Cake Pans, Set of 3
Whether it's making cheesecakes, tarts, or quiches, you can always rely on this springform cake pan set. The set includes 3 pans with the diameters of 9", 10.5" and 10". The durable steel construction with nonstick coating guarantees an effortless release. The spring latch holds form together, providing a tight leak-proof seal. On a side note, hand washing is recommended. Create delicious and impressive cheesecakes with this one!
4. Norpro Nonstick Springform Cake Pans, Set of 4
From the same brand, Norpro, this springform cake pan set includes a set of 4 pans of the same size (8" of diameter and 1.5" deep). Indeed, they also are non-stick coating pans with the spring latch that can hold form together, providing a tight leak-proof seal. Featuring a dark finish, these springform cake pans absorb heat rather than reflect heat. Handwash this goody to give it an even longer life!
3. Mcico Red Coating Nonstick Springform Cake Pan
Another recommendation from us is this durable heavy gauge steel construction with nonstick coating spring form cake pan from Mcico. Its red coating is indeed very appealing. Its 7" inch size is perfect for an instant pot pressure cooker. The springform cake pan is also guaranteed to have a tight leak-proof seal, for a mess-free baking and an easy washing. This heavy-duty springform cake pan is heat-resistant up to 445 degrees Fahrenheit as well as oven/microwave safe. For health safely, the pan is BPA free, too.
However, you should avoid rough tools to scratch the pan and use the mild detergent when cleaning. Backed by the 180 days quality assurance, you can always reach out to the company when facing any issue with the pan within that period of time.
2. Wilton Mini Springform Pans, Set of 3
As a set of 3, these mini pans are great for baking individual desserts/recipes. Similarly to the previous best pans, this springform pan has the non-stick surface for a quick release and easy cleanup. When used with other cake decorating supplies, these pans surely can create beautiful 3 layer cakes for any event.
1. Nordic Ware Springform Pan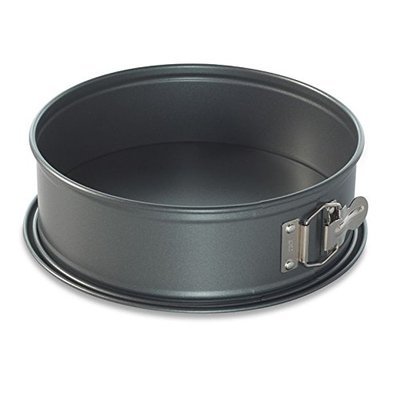 Lastly, we would like to introduce to you the all-time-best-seller, Nordic Ware 9" Leakproof Springform Pan. This 9" springform pan has a leak-proof tight seal and a nonstick coating. Therefore, your cooking situation will never be messy, and cleanup is always a breeze.
One thing you should take note when handling this pan is that you should hand wash it with mild detergent, not dishwashing. So, this pan will look always look shiny and last long. And, if a 9" springform pan is too big for you, you can choose a smaller size pan of 7" version of this best seller as well.
Conclusion
You don't need to do any further research to find the perfect springform cake pan. This is the ultimate list of the best springform cake pans available on the market today. Get one of them and level up your baking game!
Best of Loaf Pans Reviews in 2023 | Best of Indoor Steam Sauna Comparison | Best of Wall Clocks Reviews in 2023 | Variable Temperature Heat Gun Comparison | Best of Combo Shower Head in 2023 | Rectangle Cake Pans Reviews in 2023 | Detail Picture Frames Comparison | Best of Corner Tv Wall Mount