A softbox lighting kit, also known as a light modifier, is usually seen at any photography studios. It can also be seen in filming projects. Have you ever wondered what it is made for and why it is popular in the field of photography and videography? The answer lies in the fact that it is a hidden secret of our high-quality portrait and those great commercials we usually see. The softbox lighting kits are used as a method to control lighting effects in a particular environment.
List of Studio Softbox Lighting Kits Reviews
In this article, we will provide you a list of best lighting kits that have been narrowly selected by our team based on the quality and customer's feedback. We will look at their special features one by one and at the end of the article, you will also find a helpful buying guide.
9. Limo Studio
To start the list, we would like to introduce the umbrella lighting kit from Limo Studio. This kit is suitable for both beginners and professional photographers. The full kit includes two 33-inch umbrella reflectors made of nylon, three light stands, three bulb sockets, three pieces of CFL bulb, a carry bag for bulbs and other equipment carry bags. Amongst the three light stands, two of them are 86 inches while the other one is 28 inches.
The CFL bulb provides 1820 lumen and could save energy up to 80%. With this complete set of the kit, you will get a great-quality photo, resulting from the softened light, natural colors, and shadows. Please see the provided user manual before you kick start using this kit. Limo Studio will offer responsive customer support to their customers.
8. EMART
The next softbox lighting kit we have here is from EMART, which is recommended for both capturing still-photos like portraits and YouTube videos. It has two CFL light bulbs that are known for their brightness. Moreover, you will find two umbrellas that are covered with white cloth to soften the light. Two holders allow 210-degree angle adjustment.
You can also adjust the height of the light stand to the maximum height of 86 inches and the minimum height of 33 inches. It comes along with a cord that is approximately 10 feet long and a control switch that ensures safety. This is also very energy-saving. A one-year warranty is provided by EMART.
7. ESDDI
Coming up next is ESDDI's softbox kit that is capable of softening the light stream and removing unwanted shadows. It comes with two pieces of 110V-85W CFL bulbs that operate at a normal low temperature and help save the energy up to 80%. Those bulbs have the lifespan of around 8,000 hours. Its holder is adjustable and can extend up to 210 degrees angle in just a couple of minutes. ESDDI lighting kit is very portable and easy to assemble and disassemble.
The whole equipment travels in a long-lasting nylon bag. You will surely enjoy the photography experience more when you use ESDDI. Most importantly, you will also receive a six-month warranty along with after-sale services when you buy this product.
6. HPUSN
Another high-quality lighting kit is from HPUSN. This lighting kit here can maintain great performance as it is very reflective of the light. It has two 85W CFL bulbs that could save energy up to 80% while having the lifetime of 8,000 hours each. The softbox is rotatable, and it could rotate 210 degrees. Meanwhile, its three-leg light stand is built from aluminum alloy, making it very durable and long-lasting. It is also designed to be adjustable according to your preferred height.
HPUSN softbox lighting kit is suitable for portrait shooting and fashion photo shooting in studios. HPUSN offers a warranty that could last up to twenty-four months. Besides this, you will find the customer service very satisfying and helpful.
5. MOUNTDOG with 2pcs E27 Socket
Now, let us take a look at MOUNTDOG's lighting kit. This one here is very affordable and very handy to use. It comes with an extra 135W light bulb in addition to the existing one, so you will find two photo bulbs in a full package. You will also find an 80-inch light stand in a durable carry case. The stand tripod's height can be adjusted from 27 to 80 inches. It is made of aluminum; thus, it is very sturdy.
This softbox has an adjustable lamp holder, and it can be rotated 210 degrees, giving you a wide range of angles. The reflector is 20×28 inches big and is made of silver reflective nylon fabric. With this one, people will absolutely appreciate your products of photography.
4. Neewer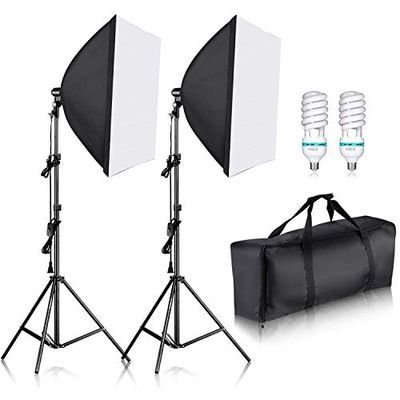 This list would never be completed without Neewer's lighting kit. This is a professional softbox kit that includes two CFL light bulbs, an 88-inch light stand, and one carrying bag for protection and easy transport. It is ideal to use for shooting commercial products as well as taking portraits. Each of the light bulbs has a low operating temperature and can be used for a longer time, if compared to others.
They can also save energy up to 80% too. The adjustable knob on the aluminum light stand is specially designed to give a 210-degree rotation of the soft box.
3. MOUNTDOG with 4pcs E27 Bulbs
Here is another alternative from MOUNTDOG. The quality is still the same as the previous MOUNTDOG's product we introduced earlier. However, this one here could save your more money since its complete set consists of three soft boxes. In addition to its three existing light bulbs, you will get an extra 135W CFL bulb.
Similarly, you can also save energy up to 80% with this kit. Moreover, you will also get a free carrying sandbag. All three light stands are well-designed, and each softbox is still rotatable like the previous one. You will be provided with a one-year warranty if you purchase this package.
2. FOSITAN
FOSITAN is one of the best assistants in the photography field. It is an ideal starter kit for home studios. It is very simple and easy to assemble this one. Its package includes two softboxes with two 79-inch adjustable stands. The head of each softbox can rotate 180 degrees. It also comes with three backdrops that come with three different colors: black, white, and green.
There are also tubes for the backdrop frame. Additionally, you will also find two umbrellas with two stands that are used to diffuse the light. You will get four CFL bulbs.
1. YICOE
Last but not least, let us look at YICOE softbox lighting kits, which is equipped with three LED energy-efficient light bulbs. The three colors of the bulbs are white, warm yellow, and warm white and yellow. The softbox kit comes with a remote control. The light is dimmable so you can adjust the brightness, the color, and the temperature by using the provided remote control.
The softbox has a high-quality reflector fabric. It is excellent for almost any photographic work – whether it is for YouTube video, for portrait shooting, fashion photo shooting, or even commercial. The lamp holder can rotate 210 degrees. The stand can be extended up to 78 inches! You will definitely love this kit.
Conclusion
In conclusion, softbox lighting kits are very indispensable in the field of photography. They help diffuse the light into a more pleasing, soft, natural look. In a nutshell, it increases the quality of your work. And after going thoroughly through these nine best softbox kits, we hope you have found your favorite one. However, you may want to spend some time reading the buying guide below if you are still having concerns about what to look for in an ideal softbox kit.
---
Buying Guide
As promised at the beginning of the article, we will provide you a buying guide that may be useful for you. Below are some factors that you should consider before buying softbox lighting kits or a lighting modifier.
Durability of light stand: The light stand is essential since it helps support the softbox. Therefore, you need to ensure that it is very durable and has sturdy legs.
Light bulbs are very vital: They should operate well and should not generate too much heat as it could be dangerous. Moreover, energy-saving light bulbs are recommended!
Size and Portability: Size matters when your job involves more travelling. If you only use a softbox in your studio, it is probably fine. But if you want to move it from time to time, then consider having a lightweight and not-too-big softbox kit in a portable case or bag!
---
Best Seller of Softbox Lighting Kits