One of the most neglected but most useful furniture is the bedroom nightstand. We bring to you the top 10 best bedroom nightstands, which can make your room the talk of the town.
Small nightstands for bedroom | Best bedroom nightstands
The nightstand is a small cabinet with storage space and drawer that can be placed right next to your bed.
The bedroom is one part of your house, which is your personal space. As such, it is the most exciting part of your home, too, since you can decorate it as per your choice, personality, and lifestyle.
The bedroom is your private haven of peace, sleep, and relaxation. However, what a nuisance it is to get up from your bed at night to get the things you require!
With a bedroom nightstand, you can store all your essential things like books, wallet, watch, alarm clock, medicines, mobile phone, sleep masks, hair accessories, a glass of water, family picture, etc.
Stylish bedroom nightstands not only add on to the beauty of your bedroom but also enhance the comfort of just extending your hand to reach your stuff, even in the dark.
10. Ameriwood Home Core Night Stand- Black
This Core Night Stand is modish and suitable furniture for storing your bedroom essentials within easy reach. Built with laminated particleboard, this chic nightstand is both cost-effective and practical.
It provides a snug bottom cabinet for open storage and a top drawer for concealed storage.
It measures 24.1-x 17.7 x 15.6 inches with an approximate weight of 30 lbs. Assembly would require two adults.
The conventional and straightforward style in black with a woodgrain finishes in gray makes this nightstand a fitting addition to any bedroom décor.
Product Features
Aesthetically pleasing and practical the unique design
An affordable choice for the nightstand
Durable laminated particleboard
9. Winsome Wood End Table/Night Stand with Drawer and Shelf- White
Created from solid beech wood to give it a classic look, this end table/nightstand is a versatile add-on to your bedroom.
The top is big and square. The straight-lined four-legged bottom forms an open storage shelf and a concealed drawer at the top. The curved front of the drawer, as well as the side rails along with the accented nail head and round drawer knob, complete the chic look.
The nightstand measures 18 inches in diameter and 22 inches in height. Elegantly carved to complement any interior décor, this nightstand comes in four colors- Natural, Walnut, Black, or White.
Product Features
One drawer with wood knob
Open shelf and curved top
Constructed of solid/composite wood
Ships in 1 box
Elegant and simple
8. Prepac EDC-2428 Fremont Tall 2 Drawer Nightstand with Open Shelf- Espresso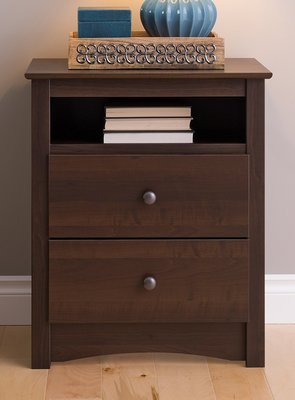 This nightstand features two solid wood, lacquered drawers with smooth metal gliders, fixed safety stops and bronze-finished drawer openers that give it an antique look.
Open storage space at the top ensures easy access to essential items. The top is curved on the edges and ideal to keep your books, pictures, clocks, etc.
This elegant nightstand with an embowed base is made from laminated composite wood that boasts of a robust MDF backer and is CARB-compliant.
The finish is in espresso laminate. The product dimension is 16 x 23.2 x 28 inches with a weight of 46 pounds.
Smart and versatile, the Fremont Tall 2 Drawer Nightstand with Open Shelf is what every bedroom needs!
Product Features
Two full-sized drawers which provide more space
One open shelf for items you need to access to quickly
Sturdy and good size
7. Sauder Palladia Night Stand with Select Cherry Finish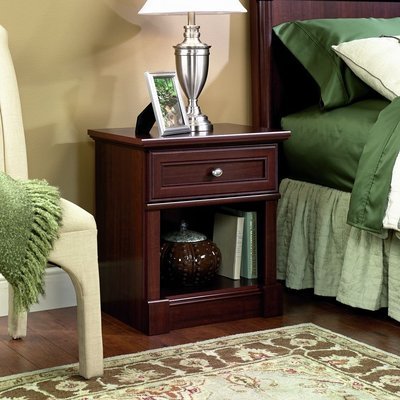 Featuring a very chic and contemporary look, this Night Stand is a great addition to a modern bedroom. This solid wood nightstand features a top drawer, with smooth metal glides and built-in safety stops.
The top is flat with curved edges to display your prized possessions. The bottom adorns an open storage space to store just about anything at all! The distinctive feature of this product is the T-lock assembly system.
Product dimension is 23.1 x 15.5 x 24.8 inches, and weight is 43 lbs. It also comes with a very chic, select cherry finish to add glamor to your bedroom.
Product Features
Open storage gives you more space to put items
The patented T-lock assembly system
Looks nice when combined with the Palladia Highboy TV Stand
6. Prepac White Monterey Tall 2 Drawer Nightstand with Open Shelf
This sleek and sturdy Tall Night Stand from Prepac is the perfect companion to a romantic or contemporary bedroom set up.
An open shelf at the top to store your favorite bedtime books and two drawers at the bottom to leave your other essentials are the unique features of this nightstand.
The top has curved edges along with a shell-shaped base for maximum style. The drawers rolled on metal glides with safety stops and adorned with Pewter finish, nickel knobs.
The wood is lacquered and made from high-grade laminated composite wood. It measures 16 x 23.2 x 28 inches and weighs 44 lbs.
Product Features
Open shelf for quick access
Built-in safety stops
Pewter finished metal knobs
5. Sauder Shoal Creek Night Stand, Oiled Oak
The Sauder Shoal Creek nightstand adds the final touch to your ever-elegant bedroom in the most stylish way. This nightstand features a spacious top for displaying your items, followed by a drawer and bottom open storage.
The drawers smoothly glide on metal rollers with safety catch and have nickel drawer knob. It also comes with the Patented T-lock assembly system. The Oiled Oak finish further accentuates your décor.
Product dimension is 20.9 x 17.5 x 24 inches, and it weighs 37 lbs. When placed beside your bed, this nightstand looks exceptionally charming!
Product Features
The patented T-lock assembly system
One open shelf for additional storage
Drawer comes with metal runner and safety stops
Easy assembly
4. Black Sonoma Tall 2 Drawer Nightstand with Open Shelf
This tall nightstand from Prepac Sonoma edition is an interior designer's delight! It features a wide top with an open cubby space below it to ensure quick access of items.
The two bottom drawers are crafted from composite wood with metal gliders and fixed safety stops. Rounded knobs made of nickel make for great looking drawer openers.
Product assembly dimension is 16 x 23.2 x 28 inches, and weight is approximately 46 lbs. The simple and smooth finish gives this nightstand a very refined look.
Product Features
Comes with 2 drawers and 1 open cubby storage
Drawers with metal slides with safety stops
Assemble right upon the delivery
5-year manufacturer's limited warranty on parts
3. Black Winsome Wood End Table/Night Stand with Door and Shelf
This shaker-styled nightstand gives a simple and robust look to any bedroom. It features a big top surface followed by a snug open storage for easy access to items.
The spacious closed cabinet at the bottom is designed to provide maximum storage. Made of solid/composite wood, the single-doored cabinet is adorned with a beautiful metal door pull.
The nightstand legs are tapering with accented wooden nail heads to give it a handcrafted look. Measuring 15 x 19 x 25 inches and weighing 18 lbs. This elegant piece of furniture comes in the natural or black finish.
Product Features
Elegant and sturdy
Crafted of solid/composite wood
Brushed metal door pull
Delicately tapered legs
2. Furinno End Table/Night Stand Storage Shelf with Bin Drawer- Dark Espresso Finish
This Furrino End table/Night Stand is simple and chic and is made from engineered recycled rubber tree materials. It has a strong flat top followed by a drawer with simple, straight-cut design
The drawer is followed by a non-woven bin storage space for displaying elegant art pieces. Product Dimension is 15.5 x 15.5 x 17.8 Inches, and it weighs 11.2 lbs.
This budget nightstand is unique in that it is made from eco-friendly products and has a dark espresso finish.
Product Features
Elegant and stylish design
Sturdy and affordable
Rounded edge design prevents future injuries
1. Furinno 2-11157EX End Table Bedroom Night Stand, Petite, Espresso, Set of two
These simple, elegant, highly functional nightstands from Furrino come in a set of two and can adorn both sides of a stylish bed.
Made from engineered recycled rubber tree materials, these nightstands feature a full top, an open storage shelf followed by a drawer with beautiful knobs.
The material is high quality, CARB-compliant composite wood and you can access them on delivery. Product dimension is 15.5 x 15.5 x 17.5 inches, and it weighs just 10.3 lbs.
This lightweight, pair of nightstands is an economic and aesthetic addition to your bedroom.
Product Features
Simple and stylish design
Affordable and easy to assemble
Provides sturdiness on flat surface
Prevents possible injuries with its rounded edges
Conclusion
Nightstands add grandeur to your bedroom. But selecting the right one is highly desirable.
This list of top 10 nightstands will help you to decide just that. Moreover, all these elegant furnitures are available online at Amazon.com with some fantastic offers.
So, order your night storage shelf today. Bring in style and comfort to your bedroom as per your choice!