Furniture, especially ones used in office or workspace, does always have to be useful and efficient. But, today, there is another thing that they should do – beautifying your work area. If you are looking for a file cabinet that is useful as well beautiful at the same time, this ultimate list of the top 10 best file cabinets is all you need to digest.
10. Hirsh Industries 18″ Deep 3 Drawer File Cabinet
Firstly, the file cabinet we would like to introduce to you is the basic 18" deep 3 drawer steel file cabinet. With the 3 drawers, the bottom 2 drawers are letter size cabinets while the top one is for storing small supplies. For other essentials, we can also store them in the full high-side drawers as well.
It operates using the smooth glide suspension and locks to secure the top 2 drawers. And, the fact that it is sturdy enough and easy to assemble is a bonus.
9. Hirsh Industries LLC 22″ Deep 2 Drawer Cabinet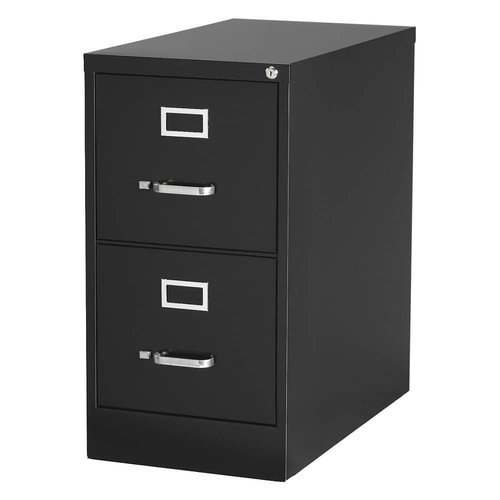 Office furniture can never go wrong in black. Looking so elegant, this is a commercial letter size cabinet of 2 drawers. Its steel ball-bearing slides provide a smooth and quiet drawer performance. And, its high-side drawers can store some file folders as well.
On a plus side, this good quality file cabinet is constructed with heavy gauge steel, nice roller gliders, and lock mechanism. And, the price is just stellar!
8. Office Dimensions Commercial 4 Drawer Cabinet
Once again, this is another vertical file cabinet of top quality. Some standard features of it are the ball bearing slides for smooth drawer action, aluminum handles, and label holder, a core-removable lock, etc. Interestingly, it is a green guard certified file cabinet, too.
And, indeed, beige color can blend seamlessly into any office background. Happy filing with this guy!
7. CommClad 4 Drawer Letter Size Commercial File Cabinet
This one is a commercial vertical 4 drawer letter filing cabinet in Black from CommClad. Of course, it has all the necessary features as the previous ones – precision steel ball bearings for a smooth and quiet drawer action, high-side drawers accept hanging file folders, locks installed for 2 keys and plenty of room for storage.
It takes a small space yet can store so much. If you are big on organization and in need of a sleek drawer that does the job perfectly, this should be it.
6. Lorell 17427 3-Drawer Mobile File Cabinet
We would be surprised if the Lorell 3-Drawer Mobile File Cabinet does not appear attractive to you. For features, it has 2 file drawers that accompany letter-size hanging files and a top drawer that accompany smaller office supplies. This one is very portable for the easy roll casters that it comes it. The top 2 drawers can be locked, too.
On a side note, this mobile file cabinet from Lorell is a best-seller. This should tell what a good cabinet it really is.
5. Space Solutions 3-Drawer File Cabinet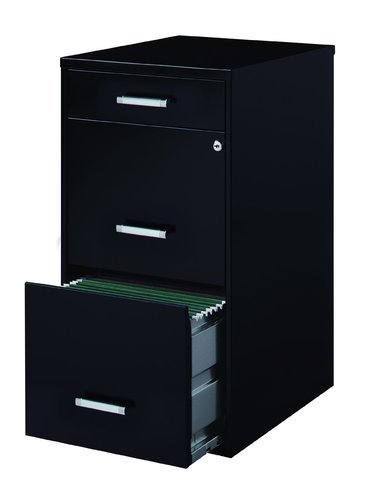 Here is another great bang for your buck. This letter size cabinet is definitely sturdy and has lots of room. They seem to slide open and closed smoothly as well. And, on top, there is a pencil drawer where you can put scissors, stamps, printer ink, etc.
It is lightweight, and the only assembly you need to do is putting on the handle. Plus, you can keep the top 2 drawers safe by locking them up.
4. Calico Designs File Cabinet
This one is not any less efficient. The Calico Designs File Cabinet accommodates letter or legal size files. You can always lock them for privacy. What's more, different from other portable file cabinets, this one has 5 casters (1 on the file drawer) for added stability. And, comes in small size, this one can fit under your home computer desk perfectly yet large enough to store files at ease.
3. Space Solutions 2 Drawer File Cabinet
Our first impression on this 2-drawer file cabinet is that it looks sophisticated. The 2 colors available – pearl white and platinum gray – can beautify any office space. The cabinet is great for personal use or any occasional file retrieval. For functionality, this vertical file cabinet has high side drawers for accommodating letter-size hanging files and, of course, 2 18-inch deep drawers.
Both drawers can be locked to secure. Plus, this Space Solutions 2-Drawer File Cabinet is greenguard certified. You can always have your printer sit on top of it for more space saving. This is certainly a great product at a great price.
2. Lorell 14341 18 Deep 2 Drawer File Cabinet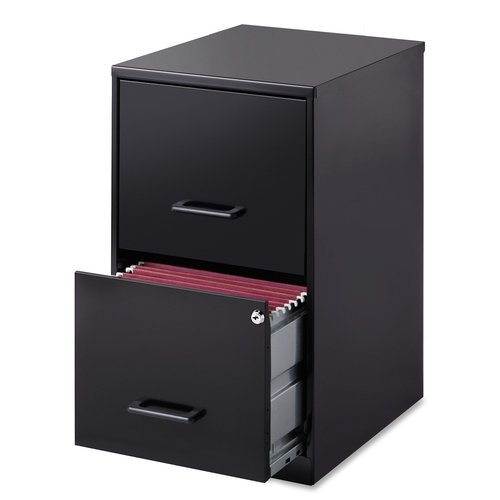 If the previous Lorell 14341 18 Deep 2-Drawer File Cabinet is too big for you, this one is probably just right. Comes in 2 gorgeous colors, black, and putty, this vertical file cabinet of high side drawers have solid steel construction and glide suspension. They can accompany letter size documents comfortably.
Being lightweight and sturdy, it is a compact, easy-to-move piece of office furniture, too. This is the best, economical file cabinet you can ever find.
1. Lorell SOHO 18 3-Drawer Vertical File Cabinet
The last recommendation from us is still another top-notch file cabinet from Lorell because we believe Lorell deserves so much respect for these great products. The handles of this one add a different feel to the cabinet, differentiating itself from other Lorell's vertical file cabinets. All the drawers accommodate letter-size files, and the top 2 drawers can be locked to secure.
Besides, the drawers are actually pretty deep –18 inches deep. And, you can move it worry-free using the installed wheels. But, be aware that this one is sized for 8.5"x11" hanging folders, not anything larger than that. At a great price and offer, you can never go wrong with Lorell file cabinets.
Conclusion
Are you ready to look at your office in a different light with a new file cabinet? You will be impressed with how a cabinet can save your space efficiently and aesthetically. Grab one of these now for a more effective work life.