With these top-performing irons, you're sure to get your clothes looking sharp as always. To help you with the selection process, here are the top 10 best clothing irons.
10. Oliso TG1600 Smart Iron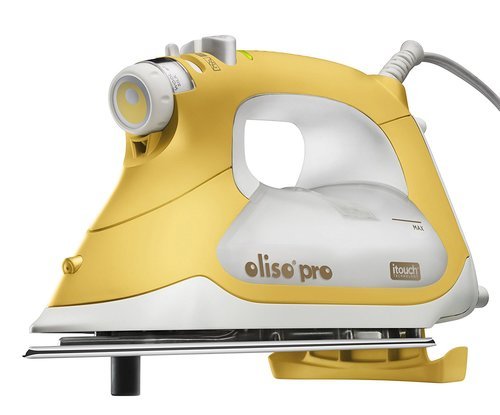 What's smart about this iron is technology. As soon as you release your hand from the iron, the iron will pop-up. It has the same technologies from what you have in your phone. It will release the iron so you'll never burn your garment again. You can actually put your finger underneath the iron.
If the phone rings, and someone calls you away, you don't have to worry about the irons tipping off. They're much more stable because the feet of the iron will keep it balanced at all times. The best seller TG1600 is 1,800 watts and has a thirty-minute on and off time. So as soon as you lifted your hand from the iron's handle, it will automatically start counting and then it will automatically shut off.
Oliso TG1600 Smart Iron also have side loading fill systems. It comes with a cup you can fill in with regular water. There's also something unique about it. You'll never ever going to put back up the way you usually do- standing on its base. You'll not burn yourself because all the iron is just pressing and releasing.
9. Sunbeam AERO Ceramic Soleplate Iron
The first thing you'll notice on the front of the box is the new ceramic soleplate. The AERO ceramic soleplate has improved dimpling and channeling which gives you five times better steam coverage, 27% superior glide. In addition, Sunbeam offers a new lifetime warranty on the soleplate and a three-year warranty on the iron.
The first thing that you'll notice is that the handle will feel really good in your hand with a nice smooth finish. It has a large shot esteem button which lets you add extra steam while you're ironing. There's a conveniently placed trigger as well so that you can spray water while you're ironing.
The size of the opening of the reservoir is really big which makes it really easy to pour water without getting water on the iron. You can also adjust the fabric settings depending on the clothing material you'll be ironing.
8. T-fal FV4495 Ultraglide Easycord Steam Iron
T-fal FV4495 Ultraglide Easycord Steam Iron is 1,725 watts with great features including an extra-long cord. The iron has a nice shape and size. It's not too heavy as well. It has nine ounces' capacity for water. The base has got a lot of holes so it gets a good amount of steam coming through there.
The temperature fabric setting is right below the iron's handle. It's a little awkward to get to but not really. It's good that it doesn't stick out too far. You're not going to accidentally be hitting it as you're ironing and accidentally changing the temperature which usually happens for many.
There's also a burst of the steam button and it really does have a good burst of steam that comes out but you can only do it a couple of times before it has sort of reload. The water reservoir is filled by a fairly substantial spring-loaded lid and you can fill it with the iron flat down. It has an auto shutoff and it's also going to shut itself off after eight minutes when you leave it just straight up.
7. Steamfast SF-717 Home-And-Away Mini Steam Iron
This may be the world's smallest steam iron but this Steamfast SF-717 Home-And-Away Mini Steam Iron is super-hot in the market since 2010. It was even one of the best travel irons for travelers prefer a small kind of more compact set up that they can take with them. it has steam capabilities. You pop the water reservoir and put steam in it.
The bottom doesn't have that many holes in it. Just a few holes for steaming. This iron heats up really hot. Another thing is its handle is convenient. But if you notice the bottom portion that gets hot, that can also make your hand hot. So just try to stay away from the bottom.
6. BLACK+DECKER IR1010 Light 'N Easy Compact Steam Iron
The BLACK+DECKER IR1010 Light 'N Easy Compact Steam Iron has a two-way auto shut off safety feature. It has a non-stick surface and also has steaming. This BLACK+DECKER iron has a two-year warranty. It has a nice long cord so that you may not have to use an extension cord with it. There are an indicator light and steam functions with a level of water indicator.
5. Sunbeam Hot-2-Trot 800 Watt Compact Non-Stick Soleplate Travel Iron
Also known as the Hot-to-Trot iron designed for travel, the Sunbeam GCSBTR-100 has dual voltage capability- 240V and 120V. Also with its seven steam vents that are found near the tip of the non-stick soleplate, a shot of steam feature is available with only a push of a button located on the side. You can find the steam switch at the top. Also, you can shut it off by choosing the dry setting if you want to use it as a dry iron.
4. Sunbeam Steam Master Iron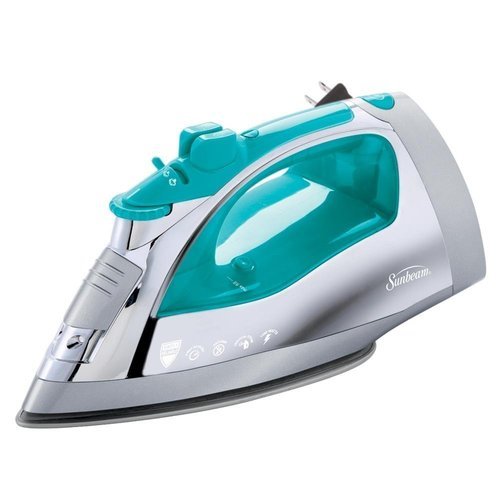 This Sunbeam Steam Master Iron has an anti-drip so when you're ironing your clothes, it doesn't leak onto it. It also has a really long cord with a cool Velcro that you use when you're finished using the cord. Once you turned it on, you're going to select what kind of fabric you use. The fabric setting that you choose will blink and will then turn into solid blue which means that it's warmed up and ready to go. If you're not going to use steam, make sure that it's fully turned off or some steam will come out.
3. Eureka Champion Super Hot 1500 Watt Iron
Eureka Champion Super Hot 1500 Watt Iron comes with a little travel bag. It is a heat-resistant travel bag. You also get a cup to fill the iron all up. It's pretty pink and does have a ceramic plate but it doesn't have a ceramic top. It has a pretty nice reservoir for water. You can adjust your steam. This iron does have large burst of steam with a self-cleaning button and adjustable temperature. The cool thing about it is that is has a retractable cord so you no longer have to wrap it around the whole thing. It also has a spray and a big pop of spray.
2. Rowenta DW5080 Focus 1700-Watt Micro Steam Iron
It comes with a measuring cup and has a line which tells you how much water to put in. The knob on the front has a silk, wool, cotton, linen and steam feature. Its steam feature is controllable. You can control no steam to gradual steam to full steam. It also has a spray if you want to spray on your garment before you iron. It also has a pop-up steam feature which is nice especially if you have a garment hanging. You can just press the steam on the garment- it's that simple.
1. BLACK+DECKER D2030 Auto-Off Digital Advantage Iron
BLACK+DECKER D2030 Auto-Off Digital Advantage Iron is one of the best irons on the market and many people are buying them up and rating them with four and a half stars. This is a 1,500-watt iron with a digital display temperature and fabric setting. The fabric setting covers all of the standard fabrics that you would have in your wardrobe. It has an easy-to-read mini LCD monitor with stainless steel soleplate and soft grip on the iron- that's the great part.
Make your ironing experience simple and convenient with these top 10 best clothing irons. Not only that they make it easy to blast away tough wrinkles, they also keep your clothes looking fresh. But whichever clothing iron you choose to have, always take time to read its manual. That's what most people forget the most, but that's the best tip you can ever get- seriously.
Also check: Best Indoor Steam Sauna Reviews | Best Mermaid Tails of 2023 | Best of Floor Mirrors with Buying Guide | Combo Shower Head Reviews | Detail Picture Frames of 2023