A floor mirror is a great piece of furniture used to reflect light into your room and decorate your space nicely. Plus, we can't deny that we all love to have a quick check on our entire outfit before heading out. These are why we believe a floor mirror is a necessity for every house. Check out these top 10 best floor mirrors that we have curated for you to help you with your floor mirror shopping.
Best Selling Floor Mirrors
10. eHomeProducts Wooden Cheval Floor Mirror
First off, we would like to introduce to you the Wooden Cheval Floor Mirror by eHomeProducts. This vintage-looking piece is made of rubberwood and measured 21"W x 19"D x 58"H. It can be tilted for full-body reflection at ease. At this price, the mirror sure looks more expensive than it is. Being super sturdy, it is surprisingly easy to assemble even for non-mechanical persons.
9. Adesso Alice Floor Mirror
Comes in 2 colors – steel and copper – this Adesso Alice Floor Mirror is 59″ tall and 13-1/2″ wide. To store, you can fold it flat to 2 inches easily. Therefore, it is a compact mirror that can fit in small rooms. The lines of the frame of this mirror are pretty clean and appealing. The mirror can also stand well and stable on carpeted floors. In short, it is a great product at a great value.
8. Black Mirrored Jewelry Cabinet Amoire Floor Mirror
This one is crafted with a number of materials – wood veneer, hardwood, MDF, and glass. And, it finishes up elegantly with black. The overall dimension of the mirror is 60 inches high, 16.5″ wide and 19″ deep. The mirror frame also can be tilted and adjusted, supporting the mirror body.
We almost forgot how handy the jewelry cabinet (attached to this floor mirror) is. It indeed can hold a tremendous amount of accessories. And, assembling it is totally a breeze.
7. Roundhill Furniture Queen Anna Style Floor Cheval Mirror
Another favorite from us is the antique-looking wooden floor mirror that comes in 4 beautiful colors – black, cherry, oak, and white. This one is in traditional design and can be titled for full-body reflection. It is in the shape of an elongated oval glass mirror with wood frame and stand. Some assembly may be required, but setting it up should take only minutes when followed the right instruction and proper hardware.
6. Sandberg Furniture Leaner Floor Mirror
The next lovable framed floor mirror is this one from Sandberg Furniture. It is a glass length leaner mirror with an option of 6 sophisticated colors. You can use this one as either a leaner mirror or a mounted-on-the-wall mirror vertically or horizontally.
If you want to mount it to the wall, you can do so by using the provided D-ring brackets. And, don't you worry about safety as the package includes an anti-tip hardware kit for you to use.
5. Legacy Décor Swivel Wood Cheval Floor Mirror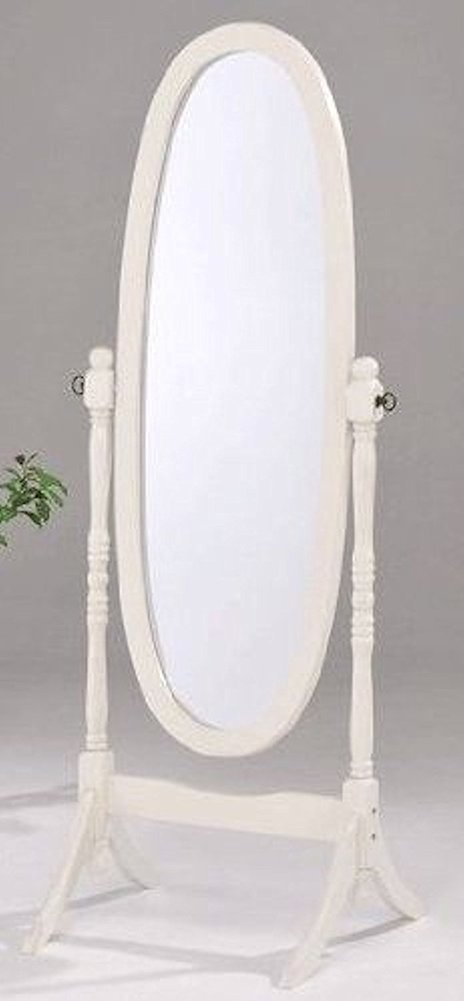 This one has 4 color options – black, cherry, old, and white – that can match with any room/home décor. It measures 21″W x 16″D x 59″H. Constructed of solid hardwood frame, it is a sturdy piece and can be tilted easily on pivot arm. Besides, setting it up is super easy.
4. eHomeProducts White Jewelry Cabinet Armoire Floor Mirror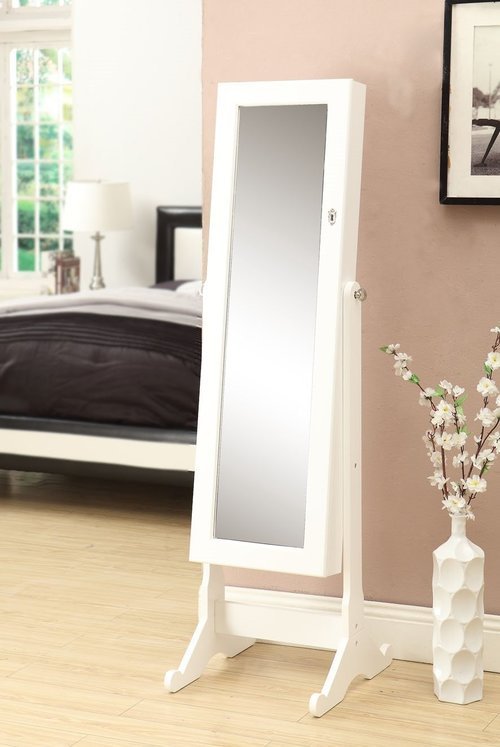 Since this is a 2-in-1 product – a jewelry cabinet and a floor mirror, this item is made of 3 materials (wood veneer, hardwood and MDP). The overall dimensions of the item are 60″ high x 16.5″ wide x 19″ deep while the inside Armoire Dimensions are 48″ high x 15 inches wide. Its adjustable tilt frame solidly supports the mirror body.
The wow factor of this one is that it takes a small space while you can have a body-length look of yourself. And, the floor mirror/cabinet is magnetized to keep the door shut.
3. eHomeProducts Wooden Cheval Bedroom Floor Mirror
This full body framed floor mirror with sleek white finish is very simple-looking yet attractive. The dimensions are 58″ high x 18.5″ wide x 18″ deep. The tilt function of this one is very useful, and can be locked in place where it will not move up and down. Overall, it is pretty, sturdy and lightweight, and can be placed at any corner of the room at ease.
2. Crown Mark Cheval Mirror

We like to save the best items for the last. As a bestseller, this Crown Mark Cheval Mirror has a versatile design and 4 color options – black, brown, espresso, white and 2 shapes – oval and rectangular. It also surprises us with the very-affordable price tag. Interestingly, for girls, they always want mirrors that don't make them look fat or skinny. And, this mirror is one of them. Plus, it also makes you room look spacious and more beautiful.
1. eHomeProducts Wooden Cheval Bedroom Floor Mirror
Lastly, this is another reasonably-priced bedroom floor mirror with the gorgeous espresso finish. This wooden floor mirror measures 58″ high x 18.5″ wide x 18″ deep. Funny but true; this floor mirror doesn't distort you like some other bedroom floor mirrors. This mirror works fine even for people who are as tall as 6'0. And, assembling it is a snap.
Conclusion
We hope this article gave you some insights about the best floor mirrors on the market today. A good mirror is always a worthy long term investment. Have you picked the perfect one for your home yet?