Could you imagine what would happen if Thomas Edison did not invent the light bulb? Probably, we would not be able to enjoy the beautiful nightlife in our city or to work overtime or travel safely at night. However, thanks to Thomas, we could see how significant bulbs are. Over the years, smart light bulbs have evolved gradually and in this digital era, everything is all about technology.
The future of Smart Light Bulbs
Today, we can see that smart light bulbs are becoming popular on the market. Unlike a normal bulb, a smart bulb is more convenient in many ways. This article will give you an insight as we will introduce you to 10 best smart light bulbs. At the end of the article, you will also find a useful buying guide.
10. TP-Link Smart Multicolor Light Bulb
The first product we would like to recommend is Kasa smart light bulb from TP-Link. This one bulb can offer a variety of colors. Its dimming level is also adjustable, making it perfect for any occasion – whether you want to use it for a party or in your study room. It is called smart for a reason, which is the fact that it can be controlled wirelessly by your smartphone. As long as you have a Wi-Fi connection and its mobile app, you can control it remotely from anywhere.
Moreover, it also has a voice control feature, meaning that you can command the bulb by using Alexa, Google Assistant, or any other voice commands. It's important to note that this smart light bulb requires a 2.4 GHz Wi-Fi connection.
9. LE Smart WiFi LED Bulb
The next product we would like to introduce is LE's Smart LED Light Bulb, which also has voice control supported by Alexa and Google Assistant. This is a dimmable white light bulb that can be controlled remotely by using mobile applications. Similar to the previous one, it only supports 2.4 GigaHertz Wi-Fi network connection.
Besides being a dimmable light bulb, we can also adjust its temperature as well as set up the schedule for on or off. Plus, it also has preset scene modes such as read, leisure, working, and night. This smart light bulb has a lifetime of 25,000 hours!
8. Philips Hue LED Bulbs Smart Bulbs
We must not overlook Philips Hue when talking about LED bulbs. By using Bluetooth or voice assistants such as Alexa and Google Assistant, you will be able to control up to ten light bulbs in a room. If you want to get a full experience of this one, you may want to expand its capabilities by using Hue Hub which is sold separately.
Having this smart bulb at home, you will definitely find it convenient since everything can be commanded at your fingertips. Philips Hue's smart bulbs are known for its long lifespan, which could last for 25,000 hours, equivalent to 22 years.
7. Peteme Smart LED Bulbs
Now, let's take a look at Peteme's smart LED light bulb which comes with a pack of four. Peteme is compatible with voice control assistants such as Alexa, Siri, Google Home Assistant, IFTTT, and Echo dot. It works with a 2.4GHz wireless network. What makes it special is that you can change the color and adjust its brightness and other effects.
Moreover, it is an energy-efficient bulb that could save energy up to 80%. It doesn't require Hub to use this one. By using its mobile app that supports normal mode and Access Point mode, you can both control a single bulb and a group of bulbs in your home easily. Peteme could be used for up to 27,000 hours.
6. Wyze Labs Multi Pack LED Light Bulbs
There are three alternatives to sets that you can choose: one-pack, two-pack, and four-pack. Wyze has a voice control sensor that is compatible with Alexa and Google Assistant. Furthermore, you can connect your light bulbs to a 2.4GHz Wi-Fi by using the free-download Wyze mobile application. Each bulb is dimmable and can be scheduled to turn on or off according to your daily basis.
You can also control multiple bulbs simultaneously. It is a 9.5-watt smart LED light bulb that could produce a maximum of 800 lumens.
Related: Best LED Light Panels for Photography.
5. T TECKIN 2800K-6200K RGB Smart LED Bulbs
This one here offers 16 million colors of the bulb and a variety of effects. You can control it remotely by using your smartphones. Plus, this one also has a voice control supported by Google Assistant and Alexa. By just giving your command, it will get to work instantly.
It is an energy-saving light bulb that could save energy up to 60%. Moreover, it has a lifespan of approximately 27 years! With this one at home, you can customize the light system as much as you want.
4. OHLUX Smart LED Bulb 4-Pack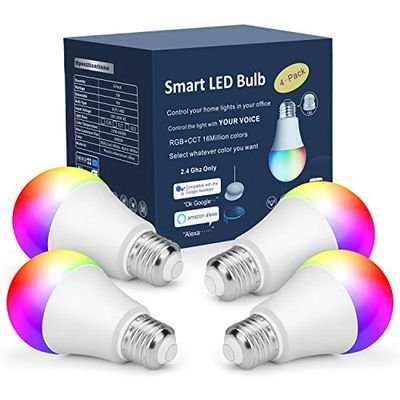 Another smart LED light bulb on this list is OHLUX. This item comes with a set of four bulbs in which each bulb can be connected to any 2.4GHz Wi-Fi network. Similar to others, it also has voice control that is integrated with Alexa, Google Assistant, and IFTTT. You can perform many things on this light bulb such as adjusting the colors, brightness, temperature, and scene modes. Moreover, you can also use the timing feature to schedule the time for turning on or off the light bulb.
Not only can it save energy up to 90%, but it also has a lifespan of 50,000 hours. You will get 1000-day technical support from the manufacturer. Besides this, if you don't feel satisfied with the product, you can return it back within three months.
3. AWOW Smart LED Light Bulbs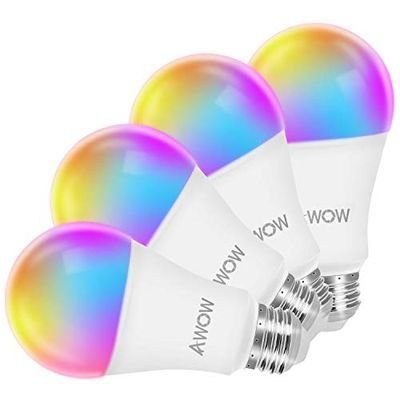 AWOW offers two sets: a pack of 2 and a pack of 4. Alexa, Google Assistant, and IFTTT are compatible with this smart light bulb, maximizing your experience by using voice control. It does not require a hub and is effortless to install. It works with a 2.4GHz Wi-Fi network. AWOW smart bulb can save up to 60% of your energy consumption. You can adjust the colors as well as its brightness and shades.
This bulb is ideal for any place including for indoor and outdoor home decorations, hotel rooms, restaurants, bars, and more. AWOW offers a free replacement service. Therefore, if you encounter any problem, please seek customer support.
2. NOVOSTELLA
Novostella offers color-changing light bulbs. It is a 3-in-1 light bulb and the reason behind this is that it can be controlled in three different ways. One is by using the provided remote controller. Another is by using a Wi-Fi network. And the last one is by using voice control. The bulb also offers a total of eight scene modes to suit your mood.
It has a longer lifespan as it could work for approximately 50,000 hours. Moreover, a one-year warranty along with a one-month return guarantee is provided after your purchase.
1. LEGELITE
Last but not least, we want to introduce another great-quality product from LEGELITE. It is a LED Wi-Fi smart light bulb that can also be controlled by voice command. The bulb is compatible with Alexa and Google home assistant. With just a few seconds, you can change the light in your room from white to various colors. Its brightness can also be adjusted. It could also save energy up to 80% of total energy consumption if compared to ordinary light bulbs.
For all of these features, this is a perfect light bulb that you shall buy! The quality of this light bulb is fully guaranteed, so you will get a three-year warranty right after you purchase this one. Moreover, if you are not satisfied, you can also return back and get refunded within two months.
Conclusion
To sum up, we have looked at the 10 best smart light bulbs by going through its special features one by one. All of these products mentioned in this article are quality-guaranteed and they are sold at reasonable prices. All of them can be controlled by voice control assistants and they have a longer lifespan. Further, their brightness is adjustable! We can guarantee that you will definitely enjoy your experience with one of these at home!
Overall, we hope you find your own favorite light bulb after reading this. However, if some of you are still not sure, the section will ease your mind down a bit since it will tell you what to expect in an ideal smart LED light bulb.
---
Buying Guideline
Here are some factors you should consider when you buy a smart LED bulb.
Voice control compatibilities
This mainly refers to the programs or devices that the bulb works with. Most of the bulbs we introduce above usually work with Google Assistant and Alexa.
Colors and adjustable brightness
This allows you to adjust the light to different kinds of modes according to your current mood. You may want a brighter light when you study, but a dimmer light if you want to have a romantic dinner or party.
Lifespan
The longer working hours that a light bulb has, the better it is!
Energy-saving mode
This is also an important factor you should consider. You may wish to buy an energy-efficient bulb which can help save you the electricity cost.