Food wasting also means wasting money. But very often, kitchen scraps are unavoidable. We bought too much salad or too many bananas and could not finish them before they decayed. There is no need to waste precious food if you own a home with a garden or vegetable beds. Compost tumblers are the perfect solution to avoid throwing away organic kitchen scraps. They are also turning your not eaten food supplies into precious compost. Furthermore, you can also compost eggshells, fruit or vegetable peels, husks from grains, and even tea bags and coffee grounds. Leafs and other organic plant scraps like chipped wood or small branches are suitable to be composted.
Compost tumblers can deliver you within only 30 – 45 days nutrient-rich compost to fertilize your garden eco-friendly and without buying expensive chemical fertilizers. The handling is easy and convenient thanks to the rotation function these tumblers have. All you need is a sunny spot outside.
We have tested a selection of the most recommended compost tumblers to help you find the best fitting composter for your garden.
List of Best Composting Tumblers in 2023
10. Mantis CT08003 Back Porch Compost Tumblers
Mantis is a well-known brand for garden compost tumblers. Their composters come in various sizes and focus on your private garden. You can create quality compost you can use as eco-friendly fertilizer for your trees and bushes or your small beds if you grow some vegetables or fruits at your home.
The CT08003 back porch composter is designed with small spaces in mind. Therefore, it is compact enough to take up only a little space. It has a volume of 37 gallons. The drum is made from durable plastic, while the frame is tubular steel. The compost tumbler has two wheels and a solid handle, so you can pull the composter along with you to the exact area you work in. Its easy-grip grooves allow you to rotate the compost drum with little effort. The composter can be closed securely to contain odors and keep rodents out.
Pros
Can compost quickly in just 4 to 6 weeks
The compost tumbler does not take up much space
Vented caps permit proper airflow and drainage
37 gallons volume
Cons
Some customers reported the assembling instructions were not clear enough
9. Good Ideas 7-Cubic-Foot Compost Tumblers
The EZCJR-BLK from Good Ideas is a compact garden composter that needs no assembling.  All you need to do is to drop the barrel onto the base and fit the lid. The tight closing lid keeps rodents out of the composter. Simply place your compost tumbler into a sunny place in your yard or garden and start to fill it. All you need to do is to turn the compost tumbler once a week or after each addition of new material. Your compost is ready in just 30-45 days.
The compost tumbler features vent-holes and turn-wheels. Its black color helps to absorb heat, which speeds up the composting process. The composter is made in the USA, and it is FDA approved as a safe product to be used around children and pets.
Pros
Made from 100% recycled materials
Needs no assembling
Aeration holes to provide airflow
Can hold 52 gallons of compost
Cons
Not enough handholds or grooves to turn it without some efforts
8. Mantis CT02001 88 gallons Compost Tumblers
This composter is a larger model from Mantis. It can hold a volume of 88 gallons. Therefore, it is the perfect composter for medium-sized gardens. It features a gear-driven "easy-to-spin" handle to allow you to turn and mix your compost conveniently even when the tumbler is fully loaded. The solid removable door also includes the aeration and drainage units, which are needed to help process your organic waste into rich compost. The door is removable for the convenient filling and unloading of your compost.
The compost tumbler weighs 60 pounds and is made from powder-coated and rust-resistant steel and food-grade plastic. The stable frame is fabricated from tubular steel. It has durable interior mixing fins, which help to mix the compost thoroughly. Therefore, you also never need to worry that compostable material will stick to the inside of the composting drum.
Pros
Made from BPA-free materials
The large volume of 88 gallons
Big lid for easy access
Two years limited warranty
Cons
Higher priced than comparable products.
Tips on how to make compost from kitchen waste
7. SQUEEZE master Dual Compartment Compost Tumblers
The SQUEEZE MASTER dual compartment compost tumbler is ideal if you need fertilizer regularly for your garden or vegetable beds. It allows you to use the ready compost from one compartment while filling the second compartment with your organic waste to create new compost. Therefore, you will never run out of your own eco-friendly organic fertilizer. Each compartment has a volume of 21.5 gallons.
You can rotate the composter easily.  Air holes provide good air circulation for effective composting. The tumbler is made of high-quality PP, with a reliable and sturdy steel frame. Furthermore, the composter is BPA free. The sliding doors keep the compost safe from rodents and provide you easy access. Just rotate the tumbler 6-7 times every few days, and with 30 to 45 days, your compost is ready.
Pros
Dual compartment composter
Easy to rotate
Can take 2 x 21.5 gallons
Maximum load bearing 352 lbs
Cons
A few buyers reported issues with the small door size.
6. EJWOX Dual Rotating Compost Tumblers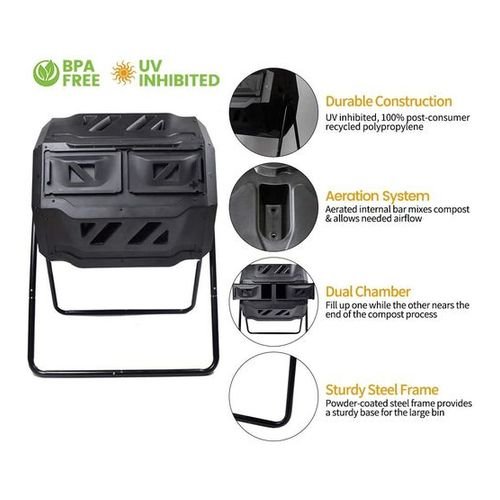 This is another quality dual rotating compost tumbler from EJWOX, a brand known for high-quality gardening equipment. Therefore, this composter will not disappoint you. The dual-chamber system lets you produce compost continuously. You fill up one compartment, while you can use the compost already processed in the second compartment. With this composter, you will never run out of your home-made fertilizer.
The aeration system provides sufficient airflow during the composting. The black double-wall panels absorb the heat needed for the process. The sturdy powder-coated steel frame and the balanced rotation add to the stability of the tumbler. The composter stands high enough to fit a cart underneath to transport it effortlessly within your garden or yard. The sliding doors keep the compost safe from rodents and keep any smell inside the tumbler.
Pros
Dual-chamber composter
Solid construction
Rodent-proof
Relatively easy to assemble
Cons
Higher priced than comparable composters.
5. Miracle-Gro Dual Chamber 37 gallons Compost Tumblers
MIRACLE-GRO has designed a compost tumbler with two independently rotatable compost chambers. Furthermore, these chambers come with stoppers to block the rotation function when needed. Besides, you have a steady supply of organic fertilizer for your garden and vegetable beds. The internal mixing bars help to speed up the decomposition process.
The chambers can take a volume of 18.5 gallons each. They have excellent aeration to supply the necessary oxygen needed for the composting process. The high-quality materials are durable, sturdy, and completely BPA-free. Tight locking sliding doors keep rodents out of the composter. MIRACLE-GRO is a trusted US brand and gives you a two years limited warranty on this compost tumbler. You also receive a free pair of heavy-duty gardening gloves.
Pros
Comes with rotation locks
2 x 18.5 gallons volume
Mixing bars for even curing
A pair of gardening gloves included
Cons
Smaller volume than other composters
4. RSI MCT-MC Maze Compost Tumbler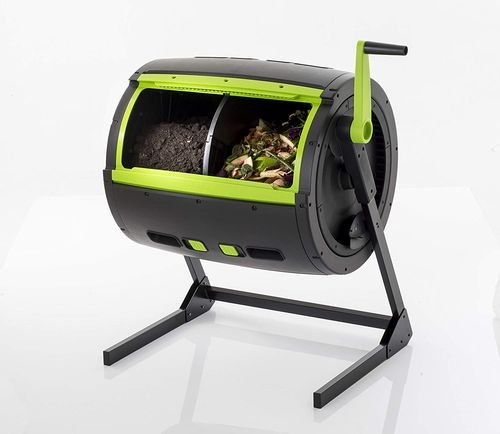 With this compost tumbler, RSI has delivered a high-quality option, including a garden cart to transport the compost conveniently within your garden. Moreover,  this composter also comes with two separate compartments. The tumbler features a geared locking handle, allowing for the composter's easy turning, even when it is fully loaded. Each container has a volume of 32.5 gallons.
The sliding doors keep the contents safe from rodents and allow you to mark which compost is ready for use and still processing. The stable frame is made from rust-free zinc-coated metal, and the tumbler compartment is made from high impact UV protected plastic. The composting cart features a bucket and fits easily under the tumbler. Two rear wheels help you to transport the compost conveniently.
Pros
Includes a 12 gallons cart to transport the compost
Total composter capacity of 65 gallons
Made from high impact UV protected plastic
Comes with a two years limited warranty
Cons
The product ranges on the upper price-end
3. Lifetime 60058 Compost Tumbler, 80 gallons
The Lifetime 60058 compost tumbler is a reliable gardening tool with a capacity of 80 gallons. Therefore, it is suitable for larger gardens. The composter is constructed from UV-protected high-density polyethylene plastic and powder-coated steel. This makes it an excellent and durable tumbler. With its black color and double-walled panels, the tumbler absorbs and retains the heat needed to decompose your organic waste.
An internal bar mixes the compost when the tumbler is turned and improves the flow of oxygen.  The large id closes tightly to keep rodents away. Furthermore, it allows you convenient access to the compost due to the large opening. The compost tumbler allows an easy and balanced rotation. Several handy grooves support you to find a stable grip when turning the composter.
Pros
Large capacity of 88 gallons
Sturdy and balanced construction
Double-walled panels
Includes a DVD: "How to compost."
Cons
Requires extensive assembling
2. FCMP IM4000 37gallons Composter
The octagonal FCMP IM4000 compost tumbler comes at an excellent value for money.  It is an ideal composter when you have no experience yet, and you are new to composting. The tumbler is easy to use and handle. No digging by hand is necessary, as the rotation mixes the compost with oxygen. Thereupon, the adjustable air vents guarantee sufficient air supply to keep the composting process going. On top of that, deep fins break up clumps inside the compartment and mix in further oxygen.
The composter body is constructed from BPA free and UV inhibited recycled polypropylene for extended durability and safe use. The stable and well-balanced frame is fabricated from corrosion-resistant galvanized steel. The compost tumbler has a volume of 37 gallons in total, which is suitable for a small- to medium-sized garden.
Pros
Features 2 composting chambers
Very aeration
Comes with deep fins to break up clumped compost
High-quality materials
Cons
The opening is small compared to other composters.
1. Miracle-Gro Large Dual Chamber Compost Tumbler – 55.4 gallons
If you have a larger garden and a constant need for good organic fertilizer, the Miracle-Gro large dual chamber tumbler with a volume of 55.4 gallons will be your composter of choice. Same as its smaller sibling, it comes with two independently rotatable compost chambers. Each of them can take a volume of 27.7 gallons. Additionally, each compartment is locked tightly to keep odors controlled and vermin out of the compost tumbler.
The compost tumbler rests on a strong galvanized steel base. The composting chambers are made from BPA-free and UV-protected plastic, which emits no toxins. Mixing bars inside enhance and accelerate the curing process. Furthermore, the rotating chambers save you the inconvenience of turning and mixing the compost by shovel or by your hands, making the whole process cleaner and convenient.
Pros
Hexagon shaped for better mixing
Mixing bars in the chambers
The volume of 2 x 27.7 gallons
Rodent proof doors
Cons
The material of the plastic clips can deteriorate faster than expected.
Conclusion
Making your own compost is no rocket science, and with the compost tumblers available these days, you even will not make your hands dirty anymore. Our selected composters are all made from high-quality materials. They feature handles or grooves that will make the turning of the compost a clean and convenient matter. You don't need to use a shovel or your hands to mesh and turn the decomposing scraps.
The compost tumblers keep your garden or yard clean and safe from rodents or vermin, as they shut tightly and let no rotten odor come out of the chambers. The models were chosen for our Top Ten list also come at reasonable prices and help to save you in the long-term costs of buying fertilizer.
Buying Guide
At first sight, it might look not so easy to decide on a compost tumbler that suits your garden size and expectations most. However, you should consider first what exactly you require when making your own compost.
Garden Size
First, your garden and yard size is important to determine the ideal volume and size you require for your composter. You need sufficient space to place the tumbler without standing in everybody's way. Also, consider how much compost you need regularly.
Type of Composter
If you need to fertilize your garden or vegetable beds regularly, then a dual compartment composter will be the ideal choice for you. You always have a supply of readily fermented compost at hand, while in the second chamber, a new batch is decomposing already. Keep in mind that making compost takes around 4 – 6 weeks on average. Please avoid filling in high-protein food scraps like meat or fish, as these are not suitable to be composted.
Durability
As usual, the quality and durability of the materials used to construct the compost tumbler are important too. The composter shall last you for a long time; hence the materials must withstand the elements and the wear and tear. You also want to rotate and turn the compost chamber without big efforts.
Oxygen and Accessories
The aeration is another point to pay attention to. Without oxygen, there is no decomposing process. The same is for the heat absorption of the compost chamber, as heat is needed as well for the process.  However, the compost chamber must be closed tightly to keep rodents out of your garden and house. Further accessories like wheels to pull the compost tumbler conveniently within your garden or an extra garden cart are welcome features too. So are integrated mixing bars for even curing of the compost. And last but not least, the composter's assembling should not be too complicated; most of them are not pre-assembled upon delivery.
We hope our recommendations will help you find the most suitable compost tumbler for your garden.