If you are in constructions or workplace with wide space and many people, it is hard for you to share great music with everyone. You need to have special devices to help to spread the quality sound. Now everyone, welcome worksite radios which have the ability of radio and gigantic speaker. Most worksite radios have the Bluetooth function which you are able to connect to your smartphone or other devices and play music as you like. Besides these functions, they are durable and suitable for travel and transport. The worksite radios enable users to handle at ease due to their comfortable handles and lightness.
In case you are interested in the product and want to get deeper details about it, please check out the text. It will also introduce you to the top 8 best worksite radios with good quality.
8. Makita XRM04B LXT Job Site Radio
How about this durable worksite radio constructed with a foldable handle? You will love it for both appearance and quality. It has a vertical rectangular-like shape of 7 inches by 12 inches by 13 inches. It has lightweight too so that you won't have a problem carrying it around. This blue radio and speaker device has wireless connection feature allowing you to synchronize to smartphone and play.
Has weight of 11 pounds
Needs a lithium-ion battery to work
MP3 port and a USB port to charge the phone
7. PORTER-CABLE PCC771B Radio
This product is even lighter and has a small size to pack with. It is a battery powered worksite radio which weighs only 3.25 pounds. You can store it in a carrying bag and enjoy the songs everywhere. Although it is small, it has powerful dual speakers to provide ultimate audio volume. You can use radio mode or Bluetooth mode for connection to a smartphone. You can control it easily through the button panel.
Has an LCD display
Contains digital clock
Bluetooth connectivity
Radio AM, FM and AUX stations
6. Bosch Power Box Jobsite Radio PB360C
Nothing is more convenient than this great worksite radio that provides choices of power. To be clear, to run this device, you can either use 18-volt lithium-ion batteries or plug it into a 120 voltage electricity outlet. Therefore, it makes a perfect portable worksite radio. Since it has a heavy-duty aluminum body and rubber roll cage, it becomes weather and rust resistance. It is quite heavy but you still can carry it around.
Weighs about 25 pounds
Multi-handles for carrying
Produces 360 degrees sound surrounding
Stream internet radio
5. DEWALT DC012 Worksite Radio
Surely, you will find this wonderful cordless worksite radio amazing. It runs by the power of batteries. You will get a charger to refill energy to the batteries. This device is attached to a flexible and lengthy antenna of 11 inches in purpose to catch frequency of radio channels. Furthermore, it can remember your 15 favorite stations and set them to the memory. You can check out the channel and settings on the LCD display.
Black and yellow color
Comes with a battery charger
Auxiliary port for a CD player, MP3 player
Weighs 14 pounds
4. Bosch PB180 Radio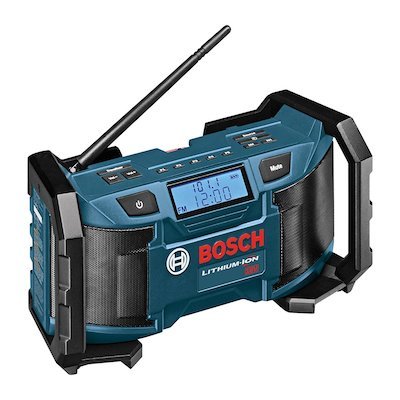 You can choose whether AC adapter or battery for the cordless function of this worksite radio. This handsome blue radio device contains dual speakers of 5 watts so that you can listen to clear and deep sound quality. Since it is a job site radio, it is made of the sturdy body with the ability to absorb shocks and bumps. Thus, you won't have to worry about taking it to the field. You can listen to the radio in AM or FM.
Has an antenna for better frequency
Has 10 preset options of radio station
4 pounds with size 13 by 6.5 by 4.8 inches
3. Makita RM02 Job Site Radio
Meet this lightest radio of all best worksite radios. It weighs only 1 pound so there is no trouble to pack and mobilize it at all. It is a cordless worksite radio which runs with a 4 Ah rechargeable battery. This battery enables the device to work continuously up to 30 hours. Therefore, work all day and party all night! It has a built-in antenna and you can listen to the radio without the presence of the internet.
Has an LCD display to show channels
Enables earphone for personal
Has an input port for MP3
2. Milwaukee M12 Job-Site Radio 2590-20
It is a durable and weather-proof worksite radio which has red color and aluminum speakers. This radio also has a narrow size which is only 10.5 inches in length. It is easy for portable and can be used everywhere at any time. This device can either use power from a lithium-ion battery approximately for 12 hours or consume electricity through AC adapter. It can catch frequency both AM and FM.
Weighs about 3.5 lbs
Has sealed compartment for MP3
Has 260 voltages
1. DEWALT DCR015 Worksite Charger Radio
This is the last worksite radio to introduce. It is a marvelous worksite radio with multi-functions. For instance, it has a USB port where you can charge your smartphone or other devices. You can use a battery to run the machine or plug it into a power outlet. Additionally, it is also a digital clock telling you time through the LCD display. There is a safe compartment, you can place the phone.
Both corded and cordless radio
Weighs 13.5 pounds
Has 3-year warranty
Conclusion
All in all, there are a lot of advantages and conveniences that the worksite radio devices can offer to all users and listeners. You can have fun and a great time with many people at the workplace or party. They are more than just normal radios, but they have multi-features such as digital clocks, long-lasting running time, Bluetooth connectivity, and more. According to the finest and high-quality worksite radios mentioned above, they share commons and also have different features which you can consider and decision to get one to use.