It is a 100% sure that all of you have doors in your own houses, shop, stores, offices, school, hotels, and toilets and everywhere around you. It seems strange if one of these places don't have any door, it would be called a secret place, I guess. Anyway, there are many types and styles of the door in this whole universe and of course, you need a lever to open every door. Except for the kind of doors which look Chinese or Japanese – there is no lever. Well, the lever is very important since it keeps the door locked and safe.
Here come your choices, you can pick any types below with the functions that you like.
10. Dexter by Schlage J10SEV716 Seville Hall and Closet Lever
This lever has no locking function and is free turning on both sides which is suitable for hallway or closet. It is easy for installation that fits standard door prep with field reversible lever style. Three colors are available – aged bronze, bright brass and satin nickel including the dimension of 
7 x 4 x 6 inches and weighs 2.4 ounces. A deadbolt is featured to secure an entrance or back door which is used in conjunction.
9. Schlage F10 LAT 619 CEN Century Collection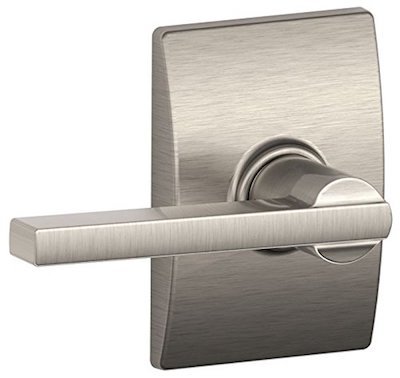 There are different types of inches of this lever which are existed of depth: 2-3/8-Inch – 2-3/4-Inch – Latch 1-3/8-Inch – 1-3/4-Inch and these are perfectly fit all standard of door preps. This design has also no lock that is suitable for your closet. With just one tool installation of a Phillips screwdriver, you can get a unique lever of your door. It is a lifetime limited mechanical and finishes warranty, so you don't have to worry about it is getting broken.
8. Legend 809125 Adj Bs Bronze
It must be the best product due to its name "Legend", with grade 3 wave style lever and non-handed adjustable 2-3/8 inch or 2-3/4 inch RC radius corner strike Bronze, the handle reverses to fit in both right and left handed doors. It can be fit in 1-3/8-Inch-1-3/4-Inch doors and weighs 1.43 pounds. A very special feature that designed for this lever is concealed screws and contemporary style. The color of US613 oil rubbed bronze makes this lever more stunning.
7. Kwikset 91540-001 Halifax Square
Not very different from others, this one can be fit in every type of standard door preparations. The style is designed with superior security that meets ADA/ANSI A117.1 requirements, ensuring accessibility to all disabled people, this is very kind of the producer. With the color of satin nickel and perfect dimension of 7.5 x 6.2 x 3.7 inches gives this lever more outstanding for hallway and closet.
6. Kwikset Tustin Keyed Entry Lever
This is a great match for front door lever where keyed entry and security is required. Both sides of the door hands can be installed by this amazing product with the reversible function. 3 steps are needed to get this lever locked and secured including 2 types of installation which are superior security with SmartKey re-key technology and simple installation re-key the lock yourself. You don't have to worry about losing your key when you can re-key yourself.
5. Ohuhu Wave Lever Keyed Entry Door Lock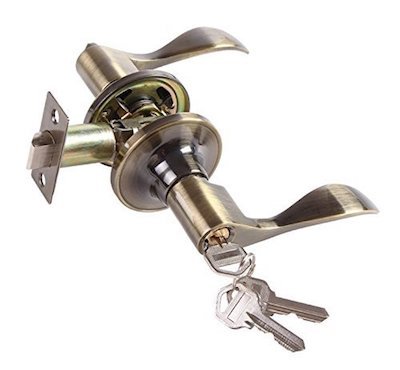 Well, here comes your front door locked for security, it can be matched for the right-hand side door and fit the size of 1.3"-2.1" doors. If you need privacy, grab this one when this lever is designed for bedroom and bathroom door that is made of zinc alloy material which is metal. When there is an emergency, you can use a flat object to turn the slot button from the outside of the door.
4. Berlin Modish Dummy Lever door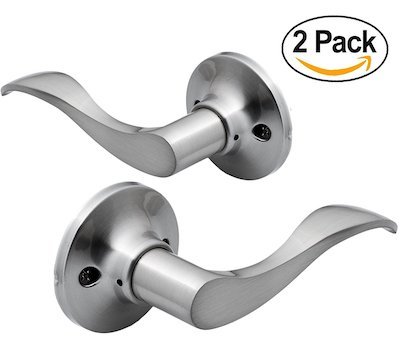 If you want to decorate your home in a more modern way, then this is a great choice for you since it is designed to complement commercial and residential applications. It is a non-turning door but is uniquely crafted as a set of 2 3/8 inch- 2 ¾ inch adjustable backset latch and square corner striker. The door knobs are an ideal decorative accessory. You will get a pack of two door bumper for wall protection too.
3. Wright Products VMT115PB SERENADE Style Mortise
Well, this lever looks so pretty, which is perfect blend with your bedroom door. The key of this lever is on the screen of it and only exist of a single-piece faceplate. The design is so great that coordinates with wright impression serenade entry locksets and fit out-swinging metal storm. Security of this lever is offered by the built-in deadbolt and available in brass and satin nickel finished of its colors.
2. Schlage F10VACC619 Accent Passage Lever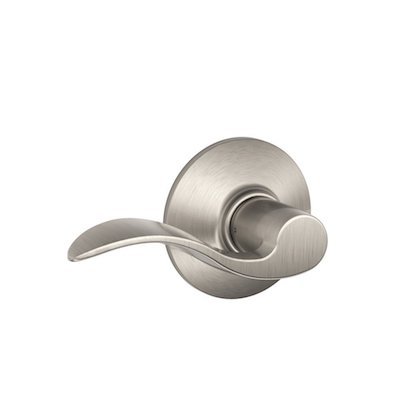 It is 2 pounds which is quite heavier than other levers but it featured a very high-quality locks of lifetime mechanical and finish warranty. It has the key-entry locks with nickel silver cylinder pins and keys for long life performance. Its design fits with hallway doors, laundry rooms, and closet door. You just pull it to open the door in a few seconds.
1. One of the Best Door Levers: Legend 809121 US15 Lever Handle Privacy
The design of this door handler looks old but gold because it is perfect for both accent and modern style. It is available for right- and left-handed with the adjustable basket between 2-3/8-Inch and 2-3/4-Inch and a dead latch style basket is included. By a clear powder coat, it is protecting the color of US15 satin nickel and contemporary style.
So what are you waiting for? Do you like accent or modern style? Better hurry and grab your privacy with these door handler. Just read its functions and manufactures, then you can choose the best one for your place. With the weight and dimension provided, you don't have to worry that it won't fit your door. It's your life, you can choose to lock.