When it comes to bathroom decor, shower curtains can make a big difference in transforming the appearance and creating a pleasant theme. But beyond aesthetics, they serve an important function in the washing space or tub. Carefully selecting a shower curtain can beautifully frame your bath and enhance its visual appeal.
Choosing the right one can seem overwhelming with so many colors and materials available. To avoid the added costs of frequent replacements, it is crucial to consider the durability of the best shower curtains. We've rounded up the top-rated shower curtains to simplify your decision-making process.
10. InterDesign Chevron Shower Curtain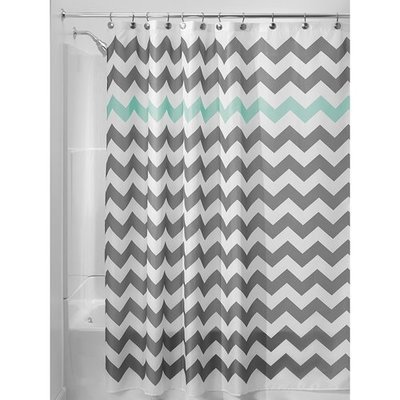 Looking to spruce up your bathroom's style? Check out InterDesign's collection of liners, available in five different colors to match any aesthetic. Their linear design adds a pop of vibrant color that coordinates effortlessly with your existing accessories, giving your bathroom a modern touch. Plus, these liners are made from soft and durable 100% polyester fabric that is easy to clean in the washing machine. InterDesign also offers a range of customizable bathroom accessories to pair with shower curtains. With great quality and design at an affordable price point, InterDesign is a top choice for upgrading your bathroom decor.
9. InterDesign Zeno Waterproof Shower Curtain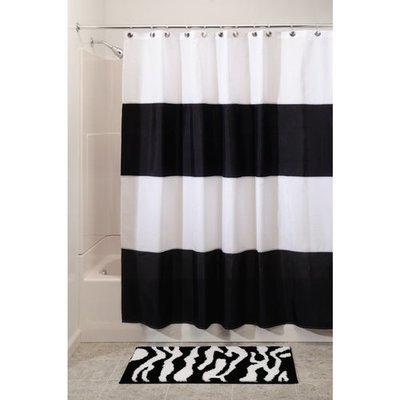 This waterproof curtain from the same company boasts a unique design featuring bold lines of color, available in 12 different shades and 5 sizes. Moreover, made of waterproofed fabric, it hangs naturally to create a beautiful monochromatic transition in your bathroom's stylistic direction. Additionally, it pairs perfectly with other neutral bathroom decor elements. The curtain is machine-washable and its fabric structure acts as a repellent against mold and mildew, making it a great choice for maintaining a hygienic environment. The rust-proof metal grommets ensure longevity.
8. Maytex Sylvia Printed Faux Silk Fabric Shower Curtain
Add a delicate touch to your bathroom or wash space with this whimsical print and lightweight semi-sheer faux silk curtain. While the curtain is made entirely of fabric, it is not waterproof and requires an additional plastic liner. Get creative and add different hooks to accentuate the floral design thanks to the buttonhole top construction. This curtain is easy to clean with just a damp cloth, ensuring maximum impact with minimal maintenance. It is made from 100% polyester with a sheer finish.
7. InterDesign Mildew-Free Shower Curtains
Looking for a high-quality shower curtain that's both water-repellent and mildew-free? Look no further than the InterDesign model. This brand of curtains is easy to care for and offers eight different shades to suit any bathroom design. Whether you want to add a pop of color or keep things sleek and monochromatic, this shower curtain has you covered. With reinforced buttonholes, you can even add stylish hooks to complete the look. Plus, it can be used on its own or as a liner to protect a decorative curtain.
6. Geometric Patterned Shower Curtain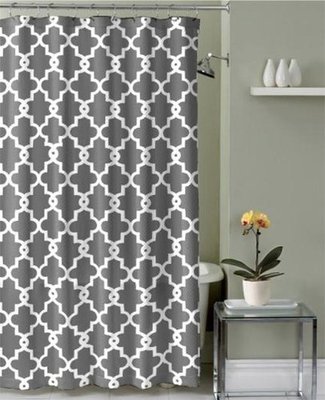 The patterned shower curtain by EurCross draws inspiration from shabby-chic and romantic surface design to offer a contemporary solution for your bathroom. Made from 100% polyester, the curtain is machine-washable and easy to upkeep for an addition to your bathroom design that will continuously stun. While functionality is a given with this model, the true differentiator is the stylish design that instantly transforms the decor and adds a snug feel to your bathroom. This curtain is available in gray and a rich blue tone. The contrasting white pattern revives the shower space and finishes the design with a modernistic edge.
5. Maytext Mesh Pockets PEVA Clear Shower Curtains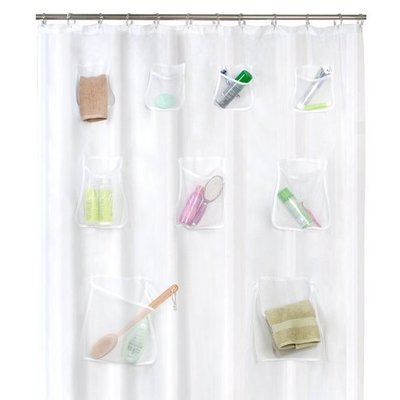 Maytex's innovative storage solution creatively displays your products and shower accessories while keeping your bathroom splash-free. The clear curtain is a decorative element you can layer atop a fun liner to play on functionality and novelty. Effectively store the family's personal care items, organize your space creatively, and take advantage of having all those necessities within reach every time you shower in a hurry or decide to relax with a long bath. The PEVA vinyl material is a great choice for easy maintenance and can be gently cleaned with a damp cloth when necessary. Ideal solution for smaller spaces that could do without the clutter of bath products.
4. Custom Space Nebula Universe Cat Eating Pizza Shower Curtains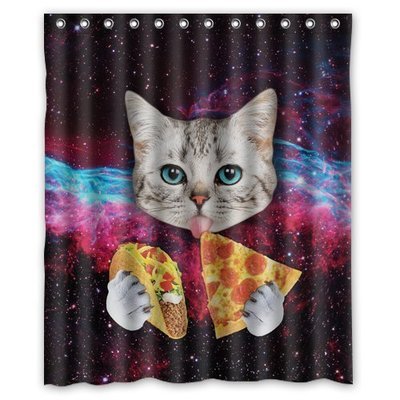 Custom Waterproof Shower Curtain have made their way into the hearts of every cat lover with this novelty curtain that was unarguably a 2018 best-seller. It comes with rings, so you can easily hang it up straight away to enjoy the quirky design. Although it is recommended to purchase a liner separately to increase the durability of the printed fabric. The unique design appeals to young and old and undeniably adds an element of fun and a splash of individuality to every bathroom.
3. InterDesign Shower Curtains in White
Looking for a shower curtain that fits seamlessly into your bathroom decor? Look no further than this sleek design. Whether you use it on its own or as a liner, this polyester curtain is water-repellent, mildew-free, PVC-free, chlorine-free, and extremely soft to the touch – making it an excellent choice for the entire family. And when it's time to clean it, simply toss it in the washing machine, tumble dry, and hang it up again – either on its own or paired with another one of InterDesign's best-selling models.
2. Utopia Bedding Clear Shower Curtain
A best-seller due to its efficiency and dedication to keeping the bathroom hygienic. The model is crafted from 100% water-proof material, and its surface is anti-bacterial, mildew resistant, and prevents mold build-up in any shower space. The sturdy material features reinforced nylon mesh headers against ripping, while the rust-proof metal rings prevent visible rust from forming around the rings. This affordable and practical shower curtain is ideally used as a liner but is just as popular on its own.
1. Utopia Bedding Mildew-Resistant Shower Curtain
This model made it into the best-sellers list for a reason; it is a go-to choice for most looking to combine practicality and a pleasant appearance in a guest bathroom minus the hassle. Convenient for most shower and bath spaces, this model promises longevity and is mildew-free and anti-bacterial. Made of 100% PEVA material, which is PVC-free, the curtain will remain odorless and repel bacteria that thrive in moist spaces. This eco-friendly option is easy to care for and will last longer thanks to its composition.
When choosing a shower curtain, consider your personal preferences and budget. Many eco-friendly options are available, along with a diverse range of designs to choose from. Select what's most important for you and your home's style.
Also check: Best of Digital Clocks | Detail Rectangle Cake Pans in 2023 | Loaf Pans | Best of Mermaid Tails Reviews